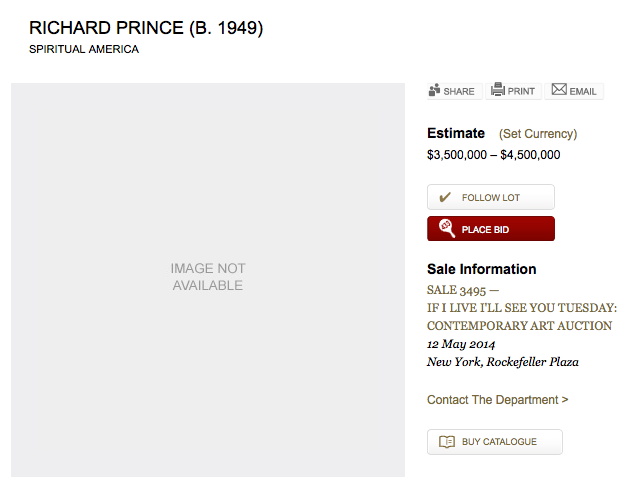 Christie's is selling a 20x24-inch print of Richard Prince's Spiritual America in their extra-edgy sale, titled "If I Live I'll See You Tuesday...." Though apparently it's not so edgy they feel comfortable running the image of the work. Maybe the added attention to the image that comes from a 100x increase in the pre-sale estimate--since 1999, the last time they sold the same print, 10/10 is it right that this is the only one of the 12 prints to ever come up for auction?--makes even auctioneers uncomfortable.
But the price spike has not spurred any new interest in when Prince actually made the object being sold. In both the 2014 and 1999 catalogues, the print is listed as "Signed, numbered and dated 'R Prince 1983 10/10' (on the reverse)" and so "Executed in 1983. This work is number ten from an edition of ten plus two artist's proofs."
Except it's not. Christie's quotes Prince's recent bird talk post where he recounts the creation of Spiritual America in unprecedented and fascinating detail. He'd scored a copy of a "pamphlet" Gary Gross self-published, which included an image of the sexualized photos of a 10-yo Brooke Shields, from Gross's agency. He rephotographed it, developed it, selected the image to print, and ordered a single 8x10 proof, which is what he ended up showing as Spiritual America in 1983.
Christie's' doesn't quote the part further down, where Prince writes,
eventually gave the 8x10" of Spiritual America to Myer Viceman. Frame and all.
In 1987, after I joined up with Barbara Gladstone, I editioned it. Ten copies and two APs. I had my lab print it on ektacolor paper at 20 x 24".
Which clarifies, or changes a bit what Prince said in his 2009 deposition in the Cariou v. Prince case. Cariou's lawyer was asking about a "settlement," with Gross over the rephotography of his image:
I mean Mr. Kennedy is talking about a 1992 discussion at the Whitney, and I believe at that time I bought the rights to the image for $2,000.

Q. From Gary Gross?

A. Yes.

Q. Because he threatened to sue you?

A. No. I was told by the Whitney that I--in order to exhibit that image I made a concession, or they advised me that it would probably be best that--and I believe I sort of reached out to him at the time.

Because up until then, that image that I rephotographed from that pamphlet that he had produced in 1983, I made one copy, an 8 by10, and I gave it away. And it wasn't until 1992 that it came back into the limelight, and I think my attitude changed a bit and I was sort of willing to become more part of the process I suppose.

Q. And at that time you made ten copies plus an artist proof?

A At the time there was ten copies and i believe two artist proofs, none of which I own.
So until just now, I'd thought this meant he made the edition to release in time for his Whitney show, but I think he's actually not saying that. He's saying that the Whitney was requiring him to get a license from Gross before they exhibited
Spiritual America
. But the editioned prints already existed. So maybe the right date is Executed in 1987. Or maybe, you know, call someone to confirm it. RP's tweet about the execution:
@gregorg Immaculate Conception.

— Richard Prince (@RichardPrince4) April 19, 2014
Now let's talk about the Whitney's insistence on getting clearances before showing appropriated work. How often does that happen?