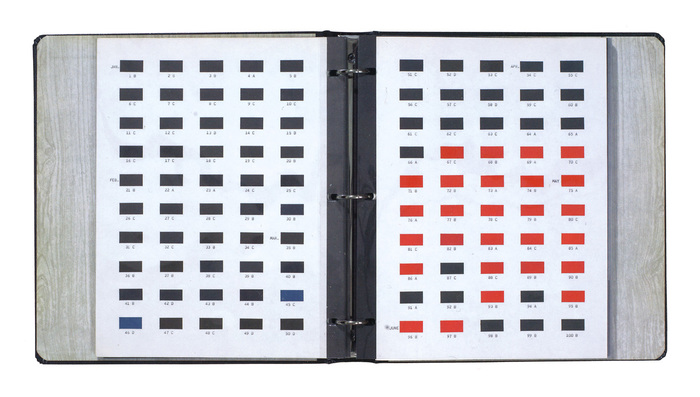 I've had this image of a spread from On Kawara's Journal on my desktop for months now. I love the reduction of the Today Series paintings to desk calendar size. There is one binder journal for each year since 1966, when the series began. [chungwoo has more images and details the content and format of the journal. In Korean.]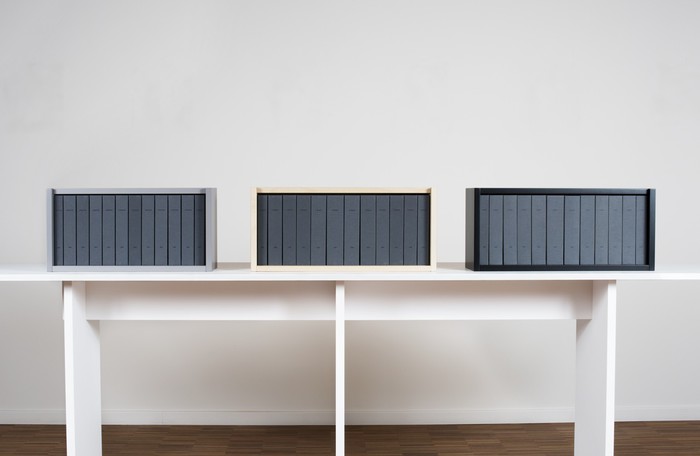 Anyway, while surfing through Michele Didier's site just now, Kawara's Trilogy stood out for a couple of reasons. First, and obviously, is its sculptural presence. They look so Juddy, especially with the sliding front covers on.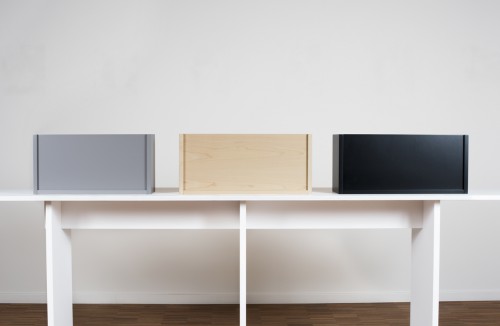 Kawara's not necessarily known as a sculptor, but then, it's not just these boxes, is it? The paintings are objects in boxes, too. And books and binders and CDs, however unreadable their information, always read as physical objects. [The file name on this image even turned out to be on_kawara_boites.jpg,]
Didier published the Trilogy over four years: I Met (2004), I Went (2007), and I Got Up (2008). Each twelve volume set is an edition of 90, with 10 APs. I Met is now only available as part of Trilogy.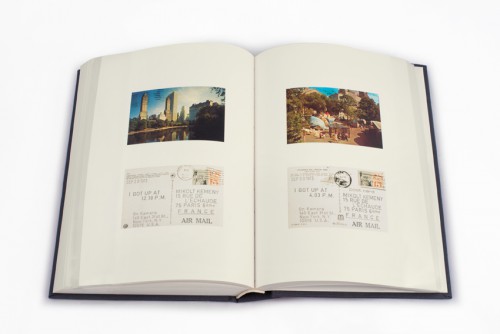 I Got Up, detail. Wait, so will there also be a I Photographed Postcards? How did he get pictures with postmarks? Did he get the cards back? This is no small task. [images: micheledidier]
The sets overlap in time, an 11.5-year period from May 10, 1968 to September 17, 1979. Actually, I Went, in which Kawara traces his movements on a map of whatever city he's in, didn't start until June 1st. Which now makes me curious. Did it take a couple of weeks to figure out? Did the idea only come once he'd started logging his interactions [the people he met and the ones to whom he sent his wake up postcards]? Did he have somewhere to hide?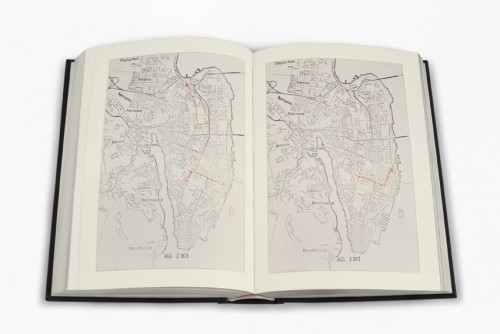 Or to use Didier's term, "the information within [I WOKE UP] intersects with the facts reported in I MET and I WENT." Information and facts. Data. Kawara was logging by hand exactly the kind of information our computers and phones now track automatically. As metadata. For Kawara, metadata is the data. The difference, of course, is that he's tracking himself, intentionally marking his passage through time and space, and across his social matrix. [btw, does I Met include the cashier at the deli? Does he live in a doorman building? Is his partner in there? His hookups? What do these maps of Kawara's mindfulness communicate?]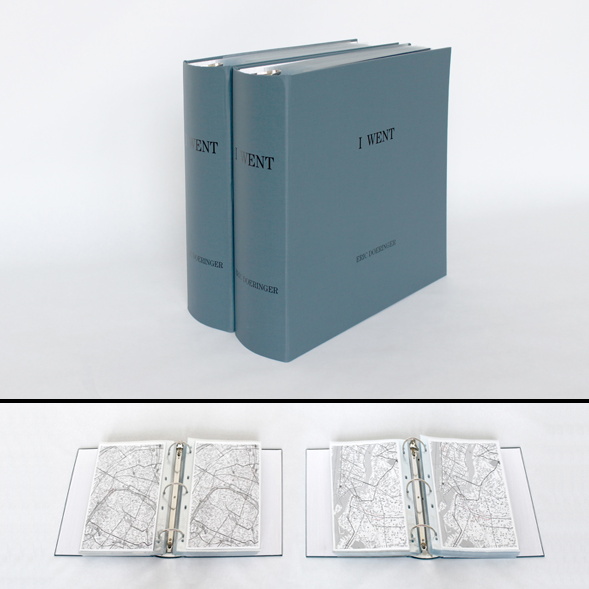 The takeaways here are clear: What IS it like maintaining such total personal information awareness? Since Kawara's not talking publicly about it, we can turn to Eric Doeringer, who has re-enacted three Kawara projects, including I Got Up (2008-13) and I Went (2010) [above].
Also, who's going to digitize the 14,000 pages of Trilogy to create the On Kawara Database Beautiful boxes of books are great, but information wants to be free of the box. Why flip through a book when we could be reliving Kawara's 1970s day by day on Street View? At a time when we're all unwitting, indifferent, or dispirited subjects of constant surveillance, the lessons of Kawara's project have never been more important.
UPDATE: Or it might be the exact opposite, hard to say.