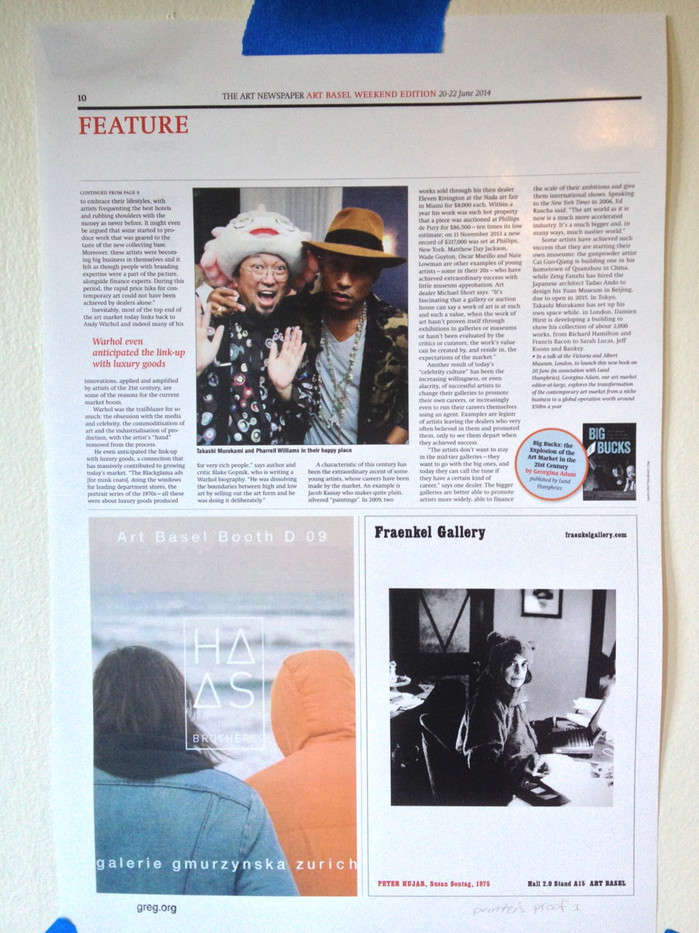 Untitled (happy place), 2014, 15.5x11 in., digital print on glossy stock, ed. 25+5AP, $100, shipped.
From Robert Smtihson & Mel Bochner's "The Domain of The Great Bear" to Gerhard Richter and Ellsworth Kelly's special editions of Die Welt, I've been interested print as art. A couple of years ago Printed Matter turned up a big stack of Inserts, a tabloid-sized portfolio of full-page artworks by the members of Group Material. The Public Art Fund helped the collective produce 90,000 copies, which were inserted in the Sunday New York Times on May 22, 1988, and distributed downtown and in Greenpoint/Bushwick. [even then.] A few turned up at Printed Matter a couple of years ago.
Group Material member Julie Ault recalled that they'd negotiated for nearly a year with the NY Daily News, but that when they submitted the artworks, they were rejected "on the basis that 'it wasn't art it was editorial.'" That tension or ambiguity is one of the things I like most; it upsets a seemingly small but persistent expectation.
I also love The Art Newspaper's art fair editions, reported and published on the spot every day. And when I saw this page from this summer's Art Basel paper, it seemed like an almost perfect object. It includes an excerpt from TAN editor-at-large Georgina Adams' book, Big Bucks: The Explosion in the Art Market in the 21st Century which, like so much of the page, provides a salient, vital picture of the moment.
It's taken me a little while to get it just right, but I am pleased to present Untitled (happy place) as a print in an edition of 25, with 5 artist proofs. It is digitally printed on gloss stock, handstamped and numbered, and measures 15.5 x 11 inches. It will ship flat for USD100.