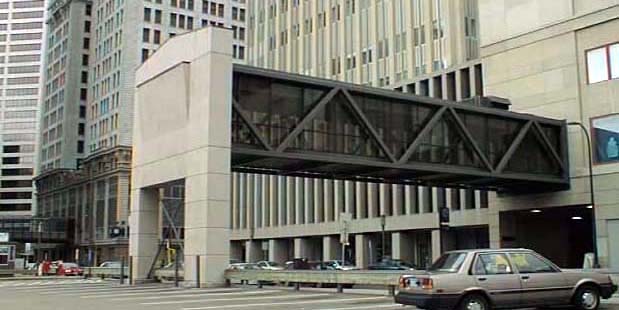 Skyway in situ, before the U of MN bought it for $1, and City Desk Studio bought it for $5,000
City Desk Studio is still selling the epic skyway they rescued in 2006. They originally planned to adapt it into a timeshared Skyway Retreat lakefront cabin for $1.2 million. Then when the economy imploded they offered it for sale for just $79,500. A year later they dropped the price to $49,500.
And now they're willing to pay $5,000 to whoever removes it from the vacant lot near the UofM where it's been parked for nearly a decade. There's an RFP, and if no qualified bidder steps forward by the end of the month, the skyway is slated to be demolished.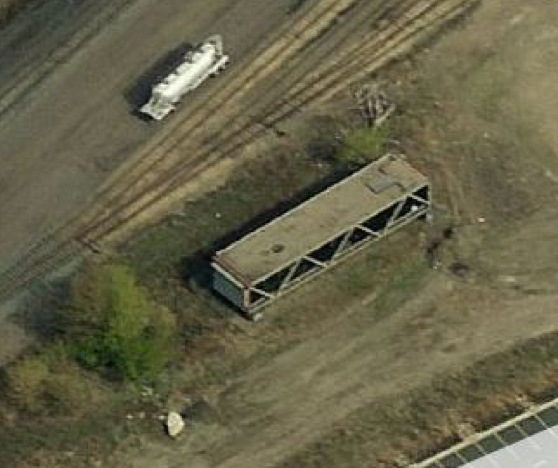 bird's eye view via bing
The skyway, designed by Ed Banks, the "father of the skyways," is W20 x L83 x H14 ft and made of steel, glass and concrete. It weighs 280,000 pounds, roughly half of which had been attributed to the 12-inch concrete floor. But using the standard for reinforced concrete of 150 lb/cu ft, I get a weight for an 18x80 ft floor of 218,000, more than 75%. Maybe the floor's not an actual foot thick. Or maybe it's smaller than I've estimated. Either way, a significant weight reduction can be achieved by removing the concrete floor before transport.
Which is significant. Because City Desk Studio says it cost them more than their $5,000 purchase price to move the skyway two blocks from UMN to the vacant lot near the railyard where it still sits. But that means it had moved nearly four miles, and across the river, from Nicollet Mall & S 5th St to somewhere near the university stadium site. So put it on a barge and float it down the Mississippi.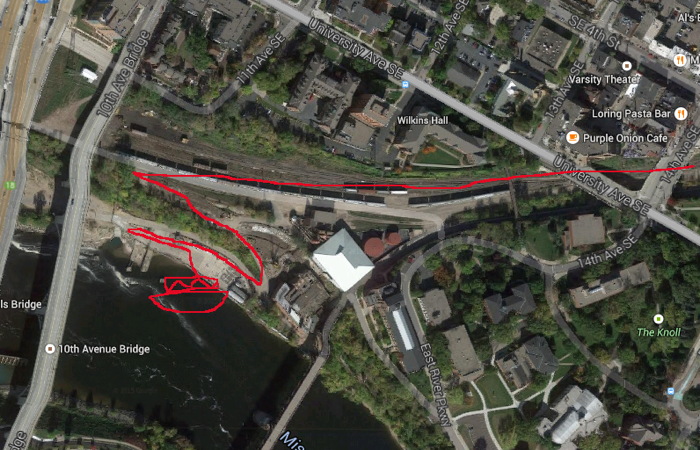 load_skyway_onto_barge_here.jpg based on google maps' hunchback brother google earth
The train right of way goes west and gets very close to the river near a commercial/industrial waterfront site under the 10th Ave Bridge. That's where you bring your barge and load it on. BAM. Your skyway is now connected to the entire world. You have two weeks to work out the details for removing it, and plenty of time after that to figure out where to take it.
I say you because I have been forbidden from pursuing this perfect plan. But it must happen, and soon. If you use my detailed schematic in your successful rfp, I expect an invitation to your skywaywarming.
Salvaged Minneapolis skyway could be your next home [startribune]
Previously:
2009: Minnesota NICE: Skyway For Sale On Craigslist
2010: That Minnesota Skyway For Sale Again/Still