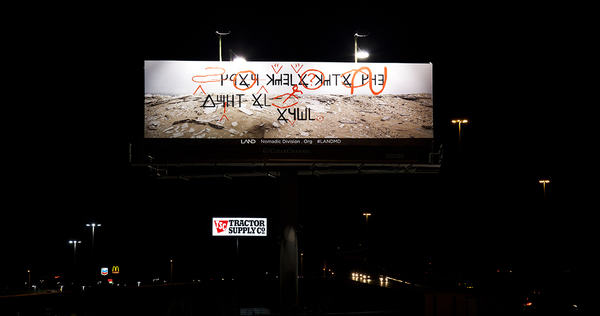 Chapter 7: Pending Cipher for the Open Present, image: Daniel R. Smalls via hyperallergic
Daniel R. Small's contribution to LAND's land were installed in New Mexico, where they have upset the locals with their scary symbols and indecipherable glyphs. From an email Small sent to Hyperallergic's Kemy Lin:
There was also a very hostile reaction from a local neighborhood when the installers from Lamar were up the billboard ladder. A group of locals surrounded the base of the pole shouting obscenities and claiming that the billboards were either Satanic or Islamic.
Which sounds a lot like what happened when the
Washington Project for the Arts installed David Hammons' How Ya Like Me Now? across from the National Portrait Gallery
as part of Richard Powell's 1989 exhibition on Black Culture and Modernism:
But a billboard-size portrait of a pink-cheeked Jackson suddenly appearing on the streets of DC with no explanation and a Kool Mo Dee lyric for a title was bound to arouse controversy. And when WPA curator Powell, who is black, left three white staffers to finish installing the piece, a crowd of young black men formed, voiced their protest against the artwork--and then took a sledgehammer to it and tore it down.
On the bright side, that work ended up in Glenstone, so maybe Small should just ride it out.
Billboard Art Project Sets Off Terrorism Scare Near US/Mexico Border [hyperallergic]
previously: How Ya Like How Ya Like Me Now?