OH IT GETS BETTER 25 June 2015 UPDATE
ALSO UPDATED OCTOBER 2015 WITH AN ENTIRELY NEW DISCLAIMER THIS WILL EVENTUALLY BE A BOOK I CAN FEEL IT
[LAST UPDATED 22 FEB 2017]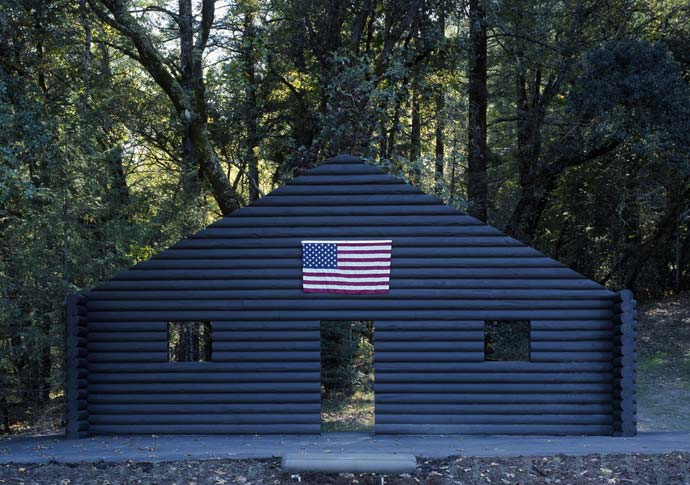 [This image needs a disclaimer all its own] Cady Noland, Log Cabin Blank with Screw Eyes and Café Door (Memorial to John Caldwell) (1993), collection Norman & Norah Stone, image: stonescape.us
In a lawsuit about the unauthorized log replacement in and failed sale of Log Cabin, filed by buyer Scott Mueller against Michael Janssen Gallery, seller Wilhelm Schürmann, and adviser Marisa Newman comes this glorious gem:
15. Noland called [Mueller's dealer/agent] Shaheen. Noland angrily denounced the restoration of the artwork without her knowledge and approval. She further stated that any effort to display or sell the sculpture must include notice that the piece was remade without the artist's consent, that it now consists of unoriginal materials, and that she does not approve of the work.

16. Noland also sent by facsimile a handwritten note to Mueller on or about July 18, 2014, stating, "This is not an artwork" and objecting to the fact that the sculpture was 'repaired by a consevator (sic) BUT THE ARTIST WASN'T CONSULTED." (Emphasis in the original.)
Hmm, technically, this is more a reflection of a disclaimer than a disclaimer itself. But it is awesome. Frankly, Noland's demands as characterized in P15 don't seem that egregious, or like a dealbreaker. "This is not an artwork" is pretty solid, though. Maybe people could try to engage Noland before altering her work. Is that so high maintenance?
The only way this could get better is if the "Plaintiff Mueller," who is seeking the return of his remaining $800,000 were "an individual residing in Chagrin Falls, Ohio." Hey guess what! [via a rather snide artnet rewrite of courthousenews's report. Read Mueller's original court complaint here.]
Also, speaking of "chain of provenance": Mueller's suit says Log Cabin is owned by Schürmann, but it is installed at Norman & Norah Stone's art vineyard in Napa, who call it "an integral part of Stonescape," and "a singular work in the Stones' contemporary art collection"? And who, like the artist, were very close to the late SFMOMA curator namechecked in its title. How was this work owned by Schurmann or for sale in the first place? And how much rotting does wood do in Napa anyway? The Stones' picture dates from at least 2009, but still, it looks totally fine. Oh hey, here's a 2008 photo by Michael Sippey. It looks like 15yo wood, which would be totally appropriate. Who would up and decide restore this thing? Or sell it for the price of a San Francisco 2-bedroom condo? Honestly, Noland sounds like the sanest one in this whole story.
I am going to bet anyone a dollar that there are two outdoor Noland sculptures titled Log Cabin, and that in the Google frenzy to report the story, every outlet has confused the visible Stone/Caldwell work for the cabin Schürmann left in front of a German museum to rot. I propose the next disclaimer read "THIS IS NOT THE ARTWORK BEING SUED OVER."
Indeed. The sales agreement filed as part of the lawsuit makes it clear Log Cabin is not the Stones'. It was on loan from 1995-2005 to the Suermondt-Ludwig-Museum in Aachen, and the conservation report & log replacement took place in 2010-11. It was exhibited at KOW Berlin in 2011 and, according to the agreement, "An image of the artwork was initially posted on KOW, Berlin's website and was subsequently taken down, as Cady Noland did not approve of the context of the exhibition; and did not want to be shown along side with Santiago Sierra." A glimmer of a disclaimer, though the exhibition website still shows four other Noland works.
BEGIN ORIGINAL POST
Benjamin Sutton tweeted the Cady Noland Disclaimer for "Rawhide," a cowboy-themed exhibition at Venus Over Manhattan:
VENUS
MANHATTAN
DISCLAIMER

Because Ms. Noland has not been involved with the chain of provenance with many of her pieces, there are more situations like this show which place demands on her time and attention to ensure proper presentation of her artwork--including its representation in photographs--, than she has time or capacity to be involved with. She reserves her attention for projects of her own choosing and declined to be involved in this exhibition. The artist has not given her approval or blessing to this show.
[via
@bhsutton
]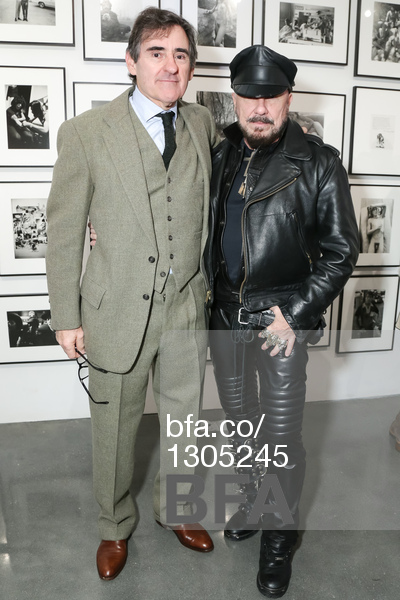 Peter Brant posing with a study for a Cady Noland work-in-progress, photo: bfa.co
The differences between it and the disclaimer posted at "Deliverance," at the Brant Foundation last fall are few, and give the air of repurposing, if not appropriation. Since the VOM show is curated by Dylan Brant and Vivian Brodie, maybe it just came down from Greenwich with the art:
Cady Noland has requested the Brant Foundation Art Study Center post the following disclaimer:

"Because Ms. Noland have [has] not been involved with the chain of provenance with many of my [her] pieces there are more situations like this show which place demands on her time and the artist's attention to ensure proper presentation of her artwork (including its representation in photographs), than she has time or capacity to be involved with. She reserves her attention for projects of her own choosing and declined to be involved in this exhibition. The artist, or C.N., hasn't given her approval or blessing to this show."
I believe the bracketed grammatical corrections were made by
Andrew Russeth, who reported the text for ARTnews
. Which may mean that Ms. Noland simultaneously refers to herself in the third person as Ms. Noland, the artist, and C.N. To which I say, brava; the art world can only be improved by a multiplicity of Cady Nolands.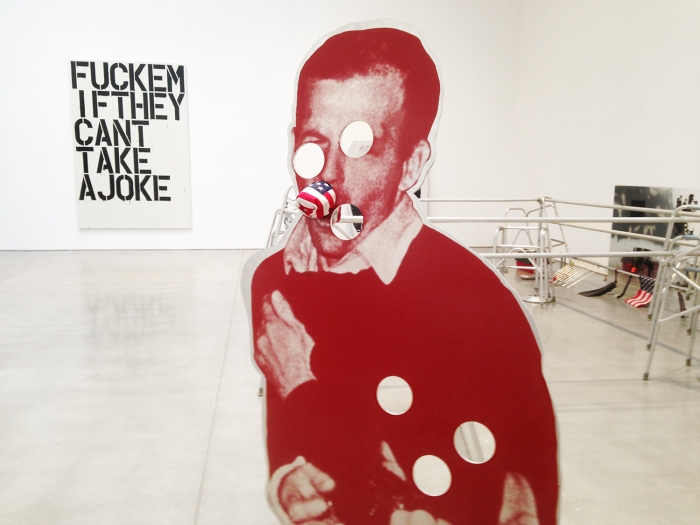 NO NOLAND PHOTOS AT THE BRANT FOUNDATION: Except for Bill Powers slippin'em to Purple, apparently
In 2012 Chris D'Amelio, who worked with, or at least showed, Noland in the 1990s, had a very special, personalized disclaimer in his booth at Art Basel, and in the fair catalogue:
At the request of the artist, D'Amelio Gallery has agreed to display the following text:

"This exhibition is not authorized or approved by the artist Cady Noland, nor was she consulted about it. Neither Christopher D'Amelio nor the D'Amelio Gallery represents Cady Noland or her interest. Ms. Noland does not consider Christopher D'Amelio to be an expert or authority on her artwork, did not select the artwork being displayed in this exhibition, and in no way endorses Mr. D'Amelio's arrangement of her work."
[ibid.]
Of note, then, is the absence of a disclaimer in a show bracketed by Brant's and D'Amelio's: the two-person show, "Portraits of America: Diane Arbus | Cady Noland," at Gagosian's street-level Madison Avenue space in February 2014. What this silence says about Noland's involvement in the show and the artist's view of Gagosian's expertise w/r/t her work can only be inferred. Same goes for Skarstedt's 2013 Kelly/Noland/Prince/Wool group show including Noland's work, "Murdered Out."
Additionally, there appears to have been no disclaimer published in relation to "The American Dream," the De Hallen Haarlem exhibition of Noland's work in 2010-11, which, incidentally, ran alongside a Diane Arbus show.
This post will be updated with more Cady Noland disclaimers if and when they appear.
Or when they are remembered.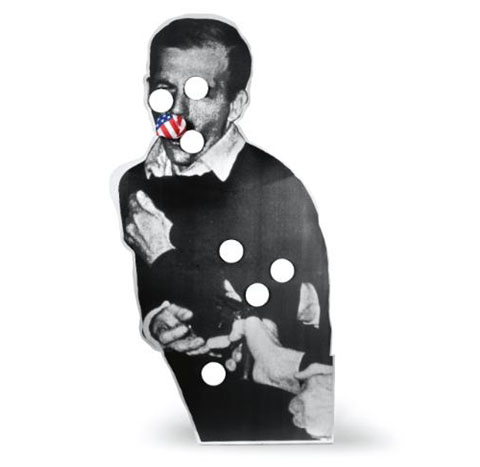 Cady Noland, Oozewald, 1989, as illustrated by Sotheby's Nov. 2011, incorrect base not shown
When Sotheby's sold a 1989 sculpture Oozewald in November 2011, Noland inspected the piece. Through her attorney she required Sotheby's to compose the following disclaimer:
Please note the stand with which the lot is being displayed is not the stand that Cady Noland designed for this work and this stand is not included in the sale of this lot. As a result, subsequent to the sale, the buyer will be provided with a new stand, which will be in accordance with Ms. Noland's copyrighted stand design for this lot, and which will be an integral part of the complete work.
Internal documents produced during
the court case Jancou v. Sothebys & Noland
indicate the artist would approve the disclaimer text before publication. Since it was published, we can assume she did.
And last fall when Sarah Thornton published her book of artist interviews, 33 Artists in 3 Acts, the Cady Noland chapter carried a footnote reading, "* Ms. Noland would like it to be known that she has not approved this chapter." [Thanks to Grant for the reminder.]
It just does not get any better, though I am sure it will. OH IT DOES UPDATED 6/25
UPDATE: Triple Candie ended the announcement for their controversial 2006 show, "Cady Noland, Approximately, Sculptures & Editions 1984-1999," with the following disclaimer: "None of the objects in the exhibition are individually authored. Cady Noland was not consulted, or notified, about this exhibition." It follows, then, that Ms. Noland was not consulted or notified about this disclaimer, either. So we should consider it with an asterisk *.
OCT 2015 UPDATE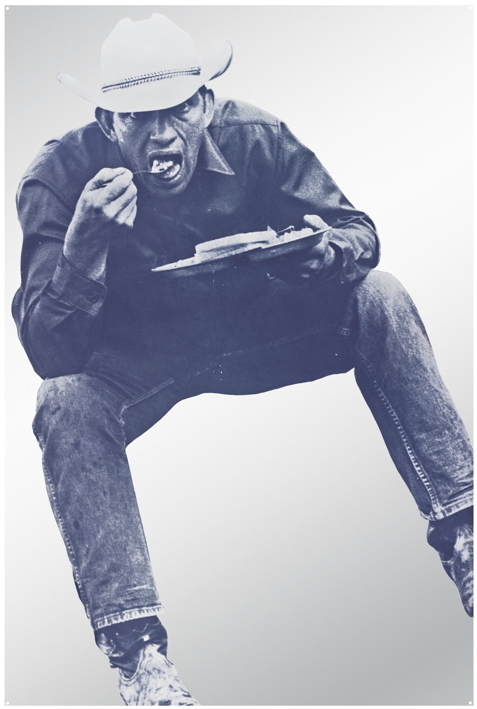 Neither Ms. Noland nor Sotheby's has been asked for nor given the rights to any small jpgs of her works made from photos presumably made by the auction house as part of their sales preparations, nor is any claim to rights being made. But those corners do look better preserved than some.
The listing for Blue Cowboy, Eating, 1990 [Est. $2-3m, that's gotta hurt], in the catalogue for Sotheby's contemporary evening sale on Nov. 11, 2015 includes the following:
Statement from the Artist:

In an atmosphere of rapidly trading artwork, it is not possible for Cady Noland to agree or dispute the various claims behind works attributed to her. Her silence about published assertions regarding the provenance of any work or the publication of a photograph of a work does not signify agreement about claims that are being made. Ms. Noland has not been asked for nor has she given the rights to any photographs of her works or verified their accuracy or authenticity.
Silence is not agreement.
APRIL 2016 UPDATE
Christie's includes this same Statement from the Artist on Lot 470 in their May Contemporary Day Sale. That work, the 1989 assemblage CHICKEN IN A BASKET is signed and date twice ["(on the Michelob 6 pack)"!], and also includes a signed certificate of authenticity. Are we perhaps seeing the emergence of a Platonic ideal of a Cady Noland disclaimer, and if so, is the market able to accommodate it in considerations of authenticity? Enquiring minds!
FEB 2017 UPDATE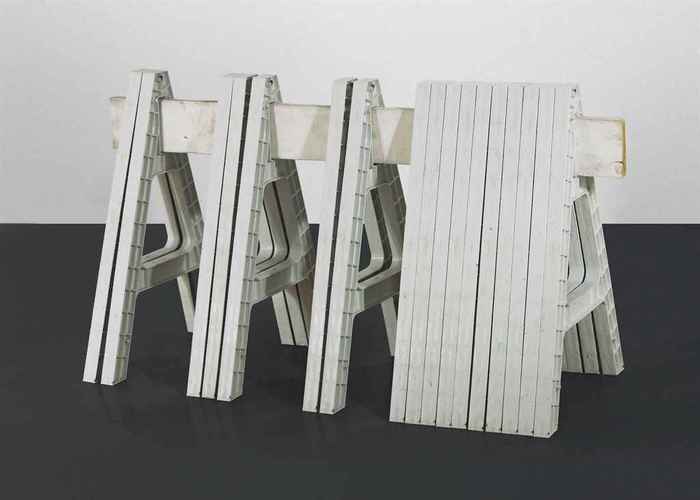 Apparently, yes, so far. Christie's has included this same disclaimer as a "Statement from the Artist" on Lot 65 in next week's Contemporary Day Sale, Four in One Sculpture. Examples of this work, a [typically] numbered edition of 20, have appeared pretty regularly since [now certified not-expert] Chris D'Amelio showed it in 1998 at D'Amelio Terras. It comprises 17 plastic sawhorses and a 6-foot, painted 2-by-8. This one also includes six extra sawhorses. The last example to sell via Christie's, #8/20, in 2013, included 13 extra sawhorses. What a perfect situation for a blanket disclaimer.