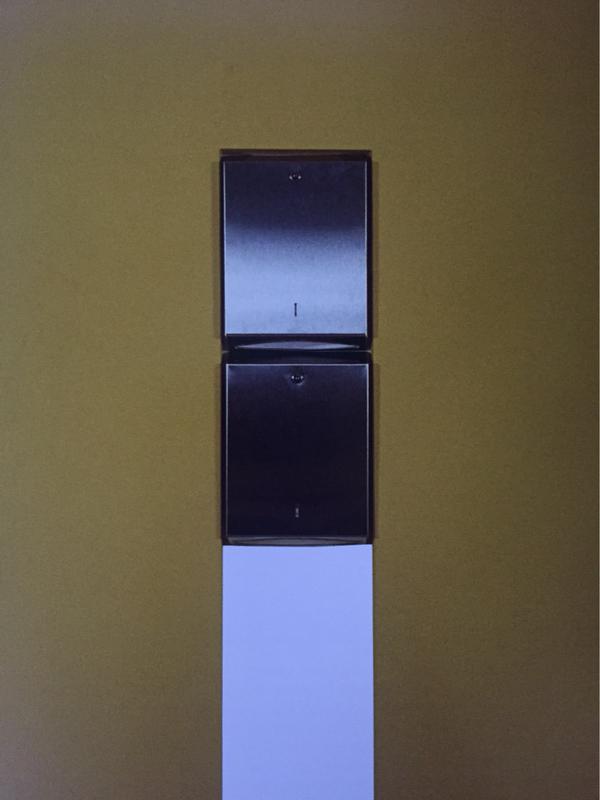 In a moment of procrastinatory weakness I was transfixed by a series of images Chris H. tweeted, of artworks from the mid-80s. What stopped me was this work by Mark Stahl, made from "acrylic on canvas with two towel dispensers", from 1987. I'd never heard of Stahl, but it felt like suddenly learning Rachel Harrison was adopted.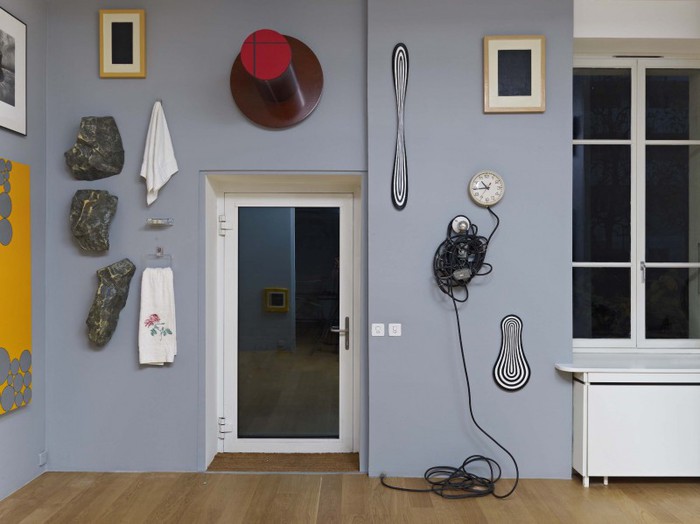 A rapid Google blitz turns up nearly nothing at all, but hints of undigitized reviews and group shows-and some of the world's most disheartening no-reserve auction results. [Stahl apparently showed at Massimo Audiello v1.0 (EV) and 2.0 (SoHo)]. The few images online include several painted assemblages made with "fiberglass rocks" and bathroom items. Like the decorative towels and accessories in this installation shot from, hey ho, Art & Public, Geneva, 2011.
Situation New York was Pierre Huber's wide-eyed look back at the New York art world of 1986 that set him on his lifelong path. Through Olivier Mosset and John Armleder, he hooked up with Bob Nickas, who dragged him all over town. And the rest was history.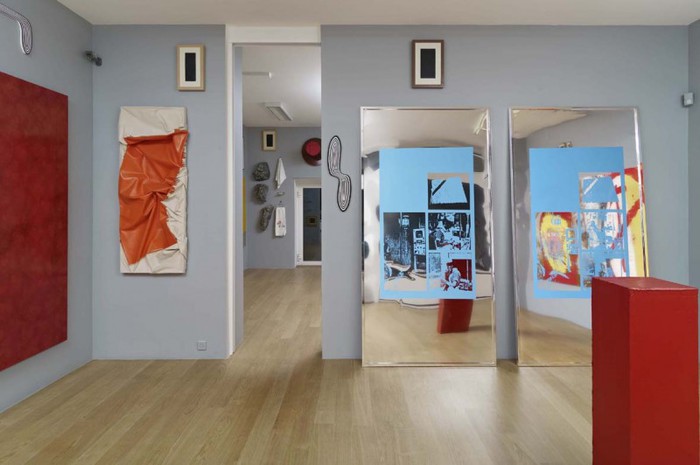 Looking at CAD's other installation shots, including this one with a great Steven Parrino [a longtime Nickas favorite], I was amazed to see this big, shiny screenprint-on-polished metal, which looked very Noland-esque. Except for the matching frames and the lack of a disclaimer, of course. Except, it is Cady Noland, a 2-panel work called Institution as pornography, showing a photo of a candystriper nurse with an IV stand and a drip. It's from 1988, so I guess a later trip.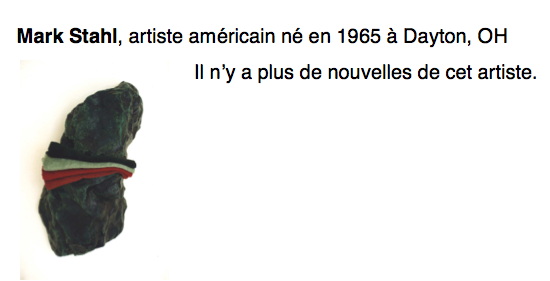 b. 1965, and he made these things in 1987? He was a child! That can't be right.
Huber's checklist for Situation New York has brief bios for each artist-except Stahl: "Il n'y a plus de nouvelles de cet artiste." To which I say, "On verra."
Morning After Update

Mark Stahl, Death at Indy 500... or look into the disparities of this long-lived commerce (1981-84), installed in Jenny Holzer / Stephen Prina / Mark Stahl / Christopher Williams at de Appel, Amsterdam, Dec. 1984. image: deappel.nl
Well this is some grouping, from a December 1984 show at de Appel: "Jenny Holzer / Stephen Prina / Mark Stahl / Christopher Williams". An early group show title like that showing up in three out of four CVs is gonna stay in your Google results for a while.
Stahl showed a work titled, Death at Indy 500...or look into the disparities of this long-lived commerce (1981-84). It appears to have consisted of a print of a newspaper sports page (maybe from when driver Gordon Smiley was killed in a crash during time trials in 1982); a detail from a photo of what appears to be the moment a guy is hit by debris; and a card with the work's title. But in addition to the Indy 500 (Memorial Day), the newspaper includes reports of Angels (baseball), Rams (football), the Cal 500 (a September race). The timing does not add up. Something is afoot.
Earlier in 1984 Stahl also contributed a recording to a de Appel cassette magazine, basically a sound art mixtape. His contribution was the sound of a crowd at a classical music concert. It's included on this Tate audio recording from the International Contemporary Art Fair in 1985, when Nova Scotia was the New Miami.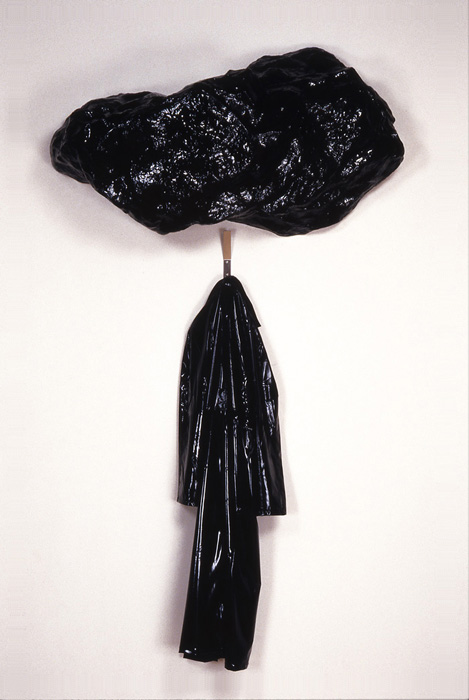 Mark Stahl, The Wet Look, 1987, Fiberglass boulder, raincoat, coathook, lacquer paint, exhibited in CalArts: Skeptical Belief(s), 1987-8, image: rennsoc
Also, he went to CalArts. MFA, 1981. In fact, he wrote an essay for the CalArts exhibition catalogue, which the RennSoc has put on Scribd:
The fundamental contradiction between art's relative isolation from other cultural practices and many artists' conviction that art has an immediate social relevance is, in part, the consequence of the very institutionalization of the avant-garde.
Yep, sounds like CalArts alright.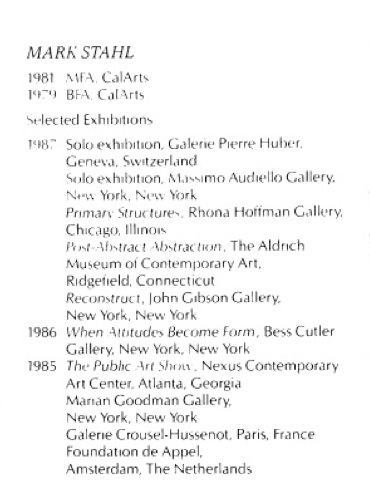 OK, here's a bio. Crousel & Goodman both did a Prina/Stahl/Williams group show. "When Attitudes Become Form" and "Post-Abstract Abstraction" are both Nickas joints, no surprise. Now I really have to get back to work.
"Situation New York 1986", Nov. 2011 at Art & Public, Geneva, Nov. 2011 [contemporary art daily]
"Situation New York 1986", Nov. 2011 on Art & Public's own site [artpublic.ch]
A lot to be remembered in this show. Or to be left forgotten: CalArts: Skeptical Belief(s), at the Renaissance Society and on, 1987-88 [renaissancesociety.org]
Previously, suddenly related: a post about Christopher Williams' shows in 1984-85