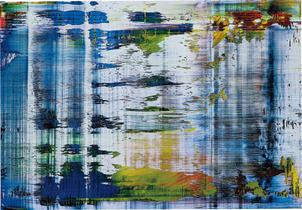 Untitled, 2006, 28x40cm, or roughly legal pad-size, "color print" on dibond, image: phillips
I'm still puzzled by this Gerhard Richter that sold in London a couple of weeks ago. It's a photo of a squeegee painting mounted on dibond. The print is dated 2006, but the painting it's based on is from 1999. There's no useful provenance or any other documentation mentioned, and little is expected; the auction houses, and Phillips especially, regularly bail on providing even cursory info on off-season, entry-level lots like these. Time is money.
But the artist himself hasn't published any info on it, either. It's not mentioned in his exhaustive website, and though it seems related to other Richter photo versions of paintings, there's nothing quite like it in Richter's published editions.
Until very recently, that is. This picture seems to be a precursor to the Cage Grid giclee prints, which in turn led to the "facsimile objects" Richter collector and entourage member Joe Hage has started publishing as museum fundraisers. More on those later.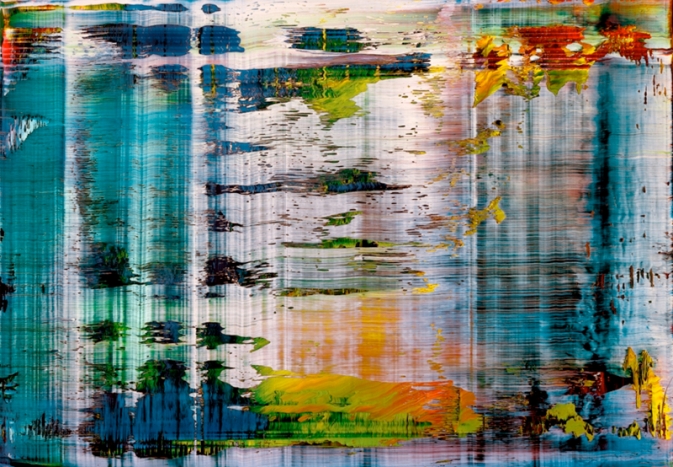 Abstraktes Bild CR:858-4, 1999, 50x72cm, oil on aludibond, image: gerhard-richter.com
Untitled (2006) is a photo of Abstraktes Bild 858-4. Both are on dibond panel, but the photo is 2/3 smaller: 28x40 cm vs 50x72cm. I've sized the two images above to scale for comparison. As its CR number suggests, Abstraktes Bild 858-4 is one of a series, a suite, actually, of eight squeegee paintings. Seven are on identically sized aludibond panels, and one is larger, on canvas. I have to think they were sold together out of Marian Goodman's Sept. 2001 exhibition, because they have been shown a lot, and all together.
So someone got the full set, a whole roomful of squeegee paintings, and someone else got a small photo of one, a consolation prize? A bonus? A one-off gift to a friend or employee? I have no idea, which is one reason it interests me.
Untitled (2006) is a highly realistic representation of a completely abstract painting. Yet for all its apparent transparency, it hints at an aspect of Richter's practice that is undocumented, or at least undisclosed. It's like an update of Stella: what you see is what you don't see.
9 Dec 2015, Lot 59: GERHARD RICHTER Untitled, 2006, est. £10,000 - 15,000, sold for £27,500 [!] [phillips.com]
Abstraktes Bild 858 and Cage Grid: Gerhard Richter and the Photo Copy