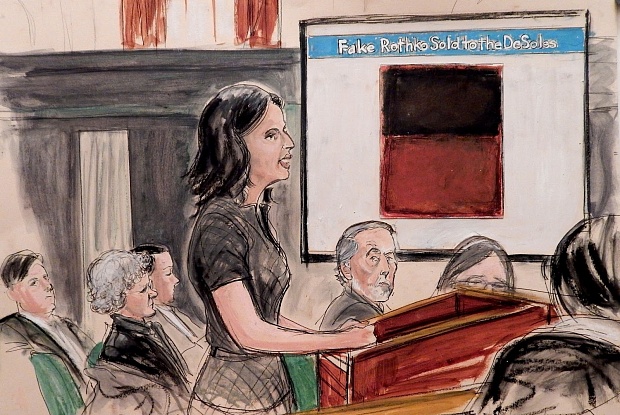 Elizabeth Williams, Fake Rothko Sold To The DeSoles, 2016, jpg of crayon on paper of posterboard of fake painting on canvas
OK, I hope other artists are sketching at the Knoedler forgery trial, too, because if Elizabeth Williams' wonderful renditions of a fake Rothko installed in the courtroom is any indication, it is a rich and varied subject.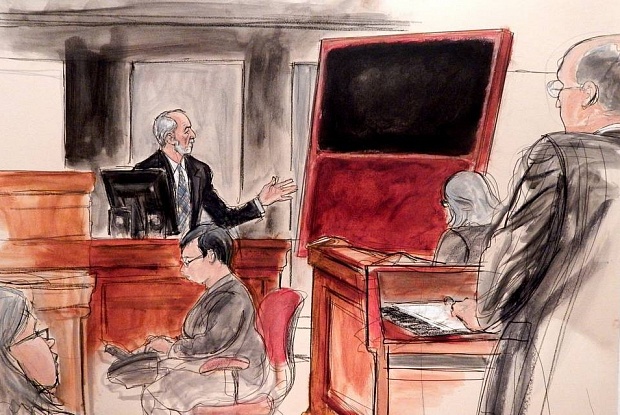 Elizabeth Williams, Domenico DeSole and Fake Rothko, 2016, jpg of crayon on paper of fake painting on canvas getting treated like a poster in the courtroom
Then in addition to classic courtroom scenes and portraits we could, for example, get an artist's interpretation of the testimony of "red flags flying" and dealers "run[ning] like hell" at shady bargains.
The trial might not be over, so get on down there.
'Red flags were flying' around Knoedler fakes, experts testify [theartnewspaper]
Top US collector takes the stand in Knoedler trial