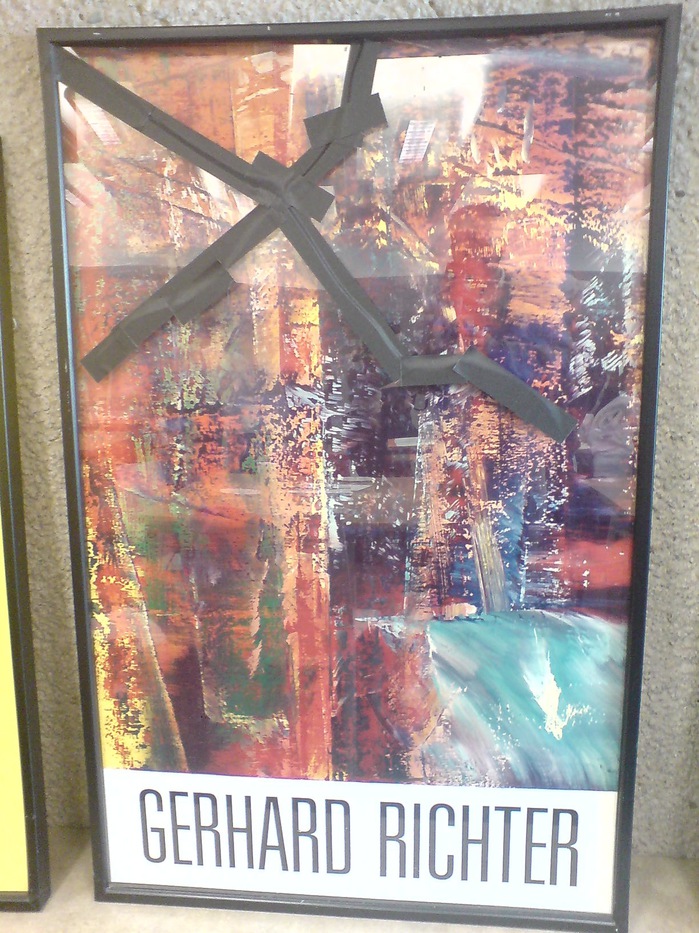 In 2010 the kid took a weekly studio class at the Hirshhorn with Dan Steinhilber. It was fantastic, but unfortunately, it was the last one the museum offered for non-teens. It was held in the education space in the sculpture garden, a space which could connect under the road to the museum, but for various logistical reasons, does not.
This incredible framed poster from Gerhard Richter's 1987-8 exhibition was there. The painting in it, A B Dunkel, or Abstraktes Bild Dunkel (Dark), (CR: 613-2), 1986, is from what is considered Richter's breakthrough year for squeegee painting. For me, though, it's the gaffer's tape that makes it special.
Now that I have declared it a work, I called the Hirshhorn. It is still there. There are no plans for it at this time. I called the museum shop, which has an endlessly interesting selection of books and exhibition catalogues for sale from the museum's own library, but which does not, it turns out, have any 28-year-old Richter exhibition posters lying around.
It's possible that it's not even a product, but marketing material or signage; I couldn't find another example of this poster mentioned online. So for now, it is ed. 1/1. Plus a study.