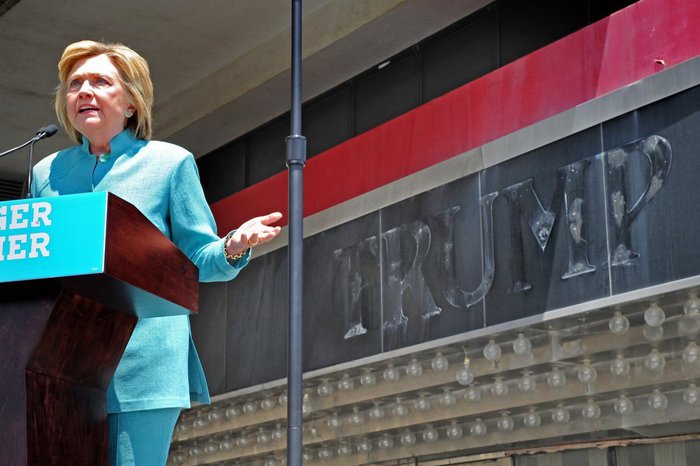 Hillary Clinton speaking at the closed Trump Plaza in Atlantic City July 6, 2016, image: philly.com/Tom Gralsh
I missed this while I was out of town, but Hillary Clinton hit a Sforzian jackpot when she gave a campaign speech on the boardwalk in Atlantic City, in front of the closed and failed Trump Plaza Casino.
Carl Icahn owns the building now, and the vestiges of Trump's failure are literally written on the wall, providing a readymade Sforzian backdrop.
Or two. According to Amy Rosenberg's report at philly.com, the Clinton campaign had originally wanted to stage their event a block inland, with the casino's de-Trumped tower in the background, but it would have blocked traffic to Caesar's. So they wedged in to a less optimal but still effective corner of the boardwalk, the ghosts of T-R-U-M-P lingered on the classy, glassy marquee.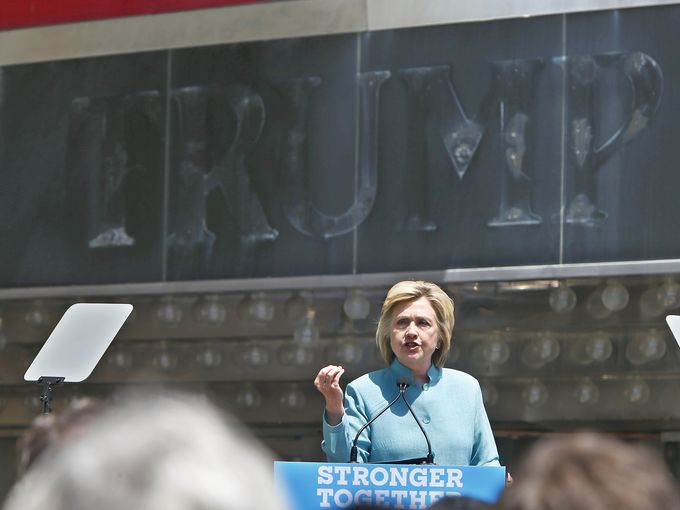 same, this time via Asbury Park Press/USAT/Tom Costello
If you don't count his kneejerk tweets blaming anyone else for his business's failures while crowing about skating out of bankruptcy with a wad of investors' dough, Trump's reaction came Thursday. The Press of Atlantic City reports that the traces of Trump's name were removed "for good" from the boardwalk facade. "Black paint has been applied to cover up any mention to Donald Trump."

Untitled (Trump Plaza Black) Nos. 1-3, 2016, paint on panel, collection: Trump Entertainment Resorts/Carl Icahn, installation photo via Press of Atlantic City
Actually, from Jack Tomczuk's (or Michael Ein's, I can't tell) photos, the traces of Trump's name were not painted over, but were covered by painted panels. Five black monochromes were affixed to Hillary's Sforzian corner, and to the fenced off boardwalk entrance, where the ghost of Trump's made up crest remains visible but illegible.
The exhibition will remain on view at least through November. I would be stoked if you visit it and post photos.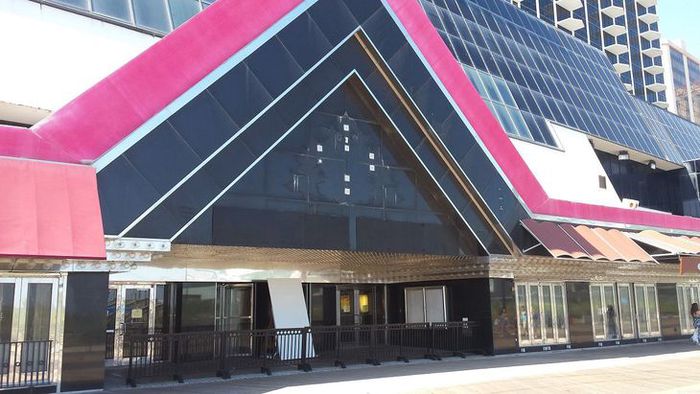 Untitled (Trump Plaza Black) Nos. 4 & 5, 2016, paint on panel, each in two parts, collection: Trump Entertainment Resorts/Carl Icahn, installation photo via Press of Atlantic City
Hillary Clinton takes on Trump in A.C. [philly.com]
Faded 'Trump Plaza' removed after Clinton appearance [pressofatlanticcity.com]