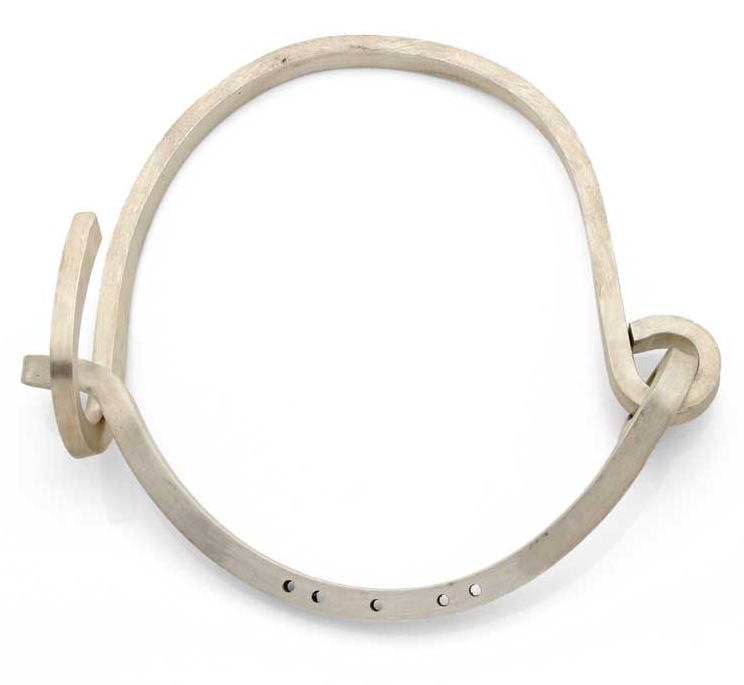 This is a necklace by Louise Bourgeois. Based on a 1948 design, it was realized in collaboration with Madrid jeweler Chus Burés in 1998, and was produced in silver in an edition of 39. It weighs 374 grams, more than 13 ounces, which is pretty heavy.
It caught my eye this morning when artist Linda Hubbard tweeted about it, partly because it's going around tumblr as a project Bourgeois did for Helmut Lang. And I thought I knew my late 90s Helmut Lang. The necklace itself's only stamped LB, though, and none of the auction listings over the years credit Lang, even in the provenance. A 2008 sale at Tajan in Paris said the necklace is "due to" Lang, and links it to Lang's, Bourgeois' and Jenny Holzer's three-person show in Vienna in 1998. It also compared it to a slave collar.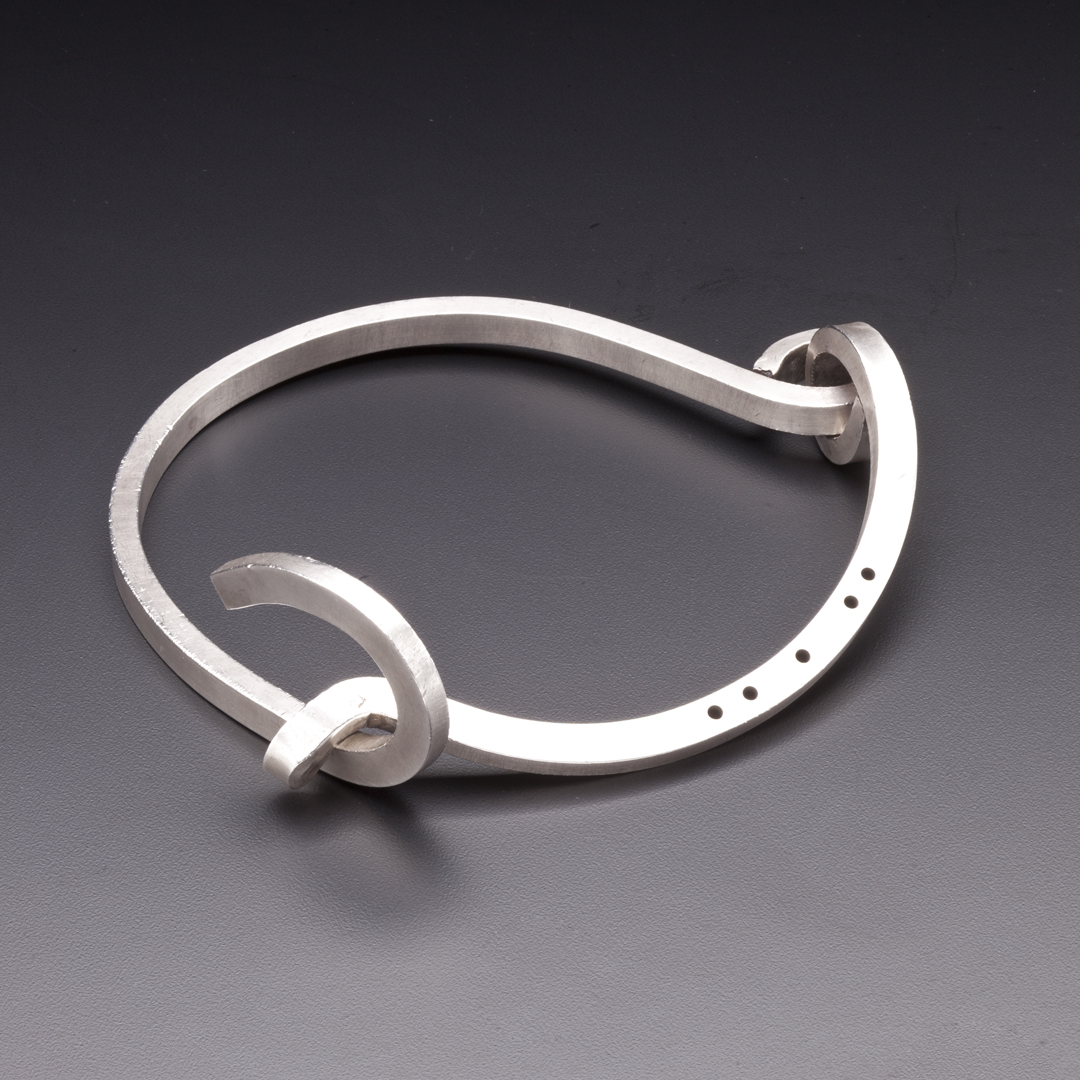 acquired in 2010. image: toledo museum
When the Toledo Museum wrote about it this spring, they gave it a title, Shackle Necklace, and slightly earlier dates (1947-48):
Louise Bourgeois designed this necklace in the 1940s as a personal statement against the violence she had witnessed against prisoners during the Spanish Civil War (1936-39), who were asphyxiated by shackles of this shape. It was also designed as a comment about the female state, a metaphor for the social, political, and legal constraints of women before the feminist movement.
Which, wow, there is a lot going on there.
Did Bourgeois go to Spain during the war? I don't think so. She was studying at the Beaux Arts and selling Picasso prints to Robert Goldwater, the NYU art historian she'd marry and move to New York with. The war in Spain was obviously hot news, even more so if Bourgeois was working with Picasso. And there was the World's Fair in Paris, of course.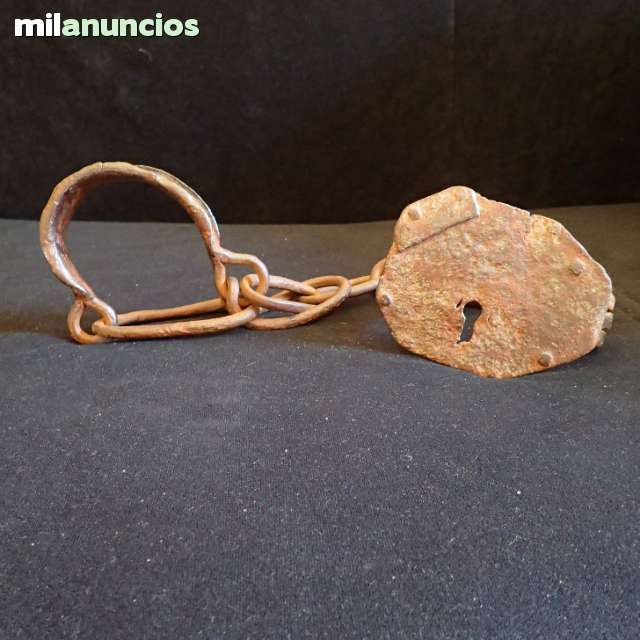 Here are some antique Spanish shackles from a classified ad site. I see a resemblance. Except these are for feet. This set says it's for horses. Which would technically make these hobbles, right?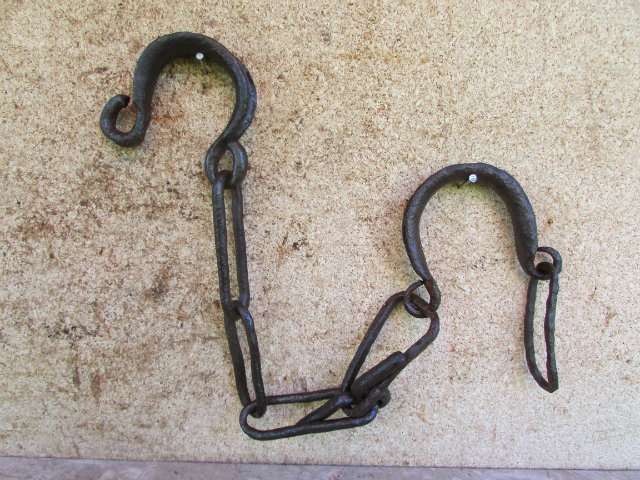 And they're asphyxiating no one. In the absence of more concrete examples or info, the asphyxiation reference makes me think of the garrota or garrote. Is that what Bourgeois's referring to? A prisoner is chained to the seat, and the executioner stands behind him, tightening a flat metal band around his neck-and/or releasing a spring-loaded spike into the base of his skull-until he's dead. The garrote was pretty much the standard method of execution in Spain, around since the Inquisition, and official for 150 years until the Second Republic, when it was abolished. Then Franco reinstated it in 1940. Is this what Mrs Goldwater was protesting? 8-10 years later? By making a necklace which, frankly, doesn't look anything like a garrote?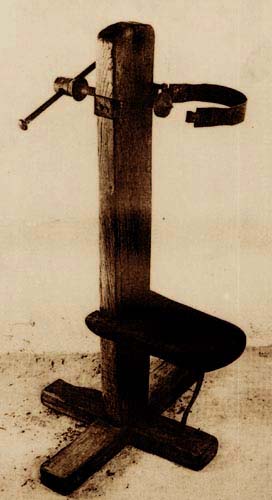 Spanish garrote, image from this Italian medieval torture site
In 1947-48, Bourgeois did not have an art career. She'd had one solo show, but she was, as her obit put it, "known to the New York glitterati merely as the charming French lady who appeared at private views on the arm of her American husband" the art historian. If she even got out of the house then. In 1939, thinking she could not get pregnant, the Goldwaters returned to France briefly to adopt a French orphan. Back in the States, they promptly had two more sons in two years. So maybe a necklace patterned after a prisoner's collar or a garotte is just the kind of sculpture a mom trying to work with three boys under foot would make.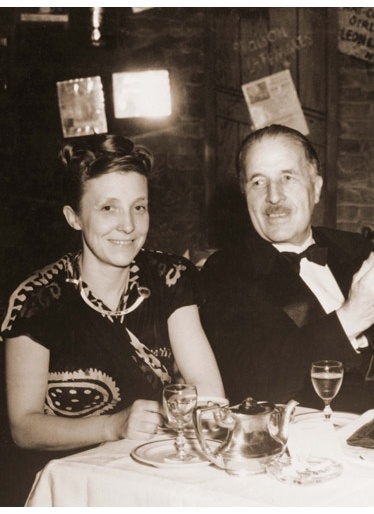 Louise Bourgeois rocking the original necklace in New York in 1948, at lunch with her father Louis. image: LB Studio
So I called the man who made them, Chus Burés. He said the necklace turned up during the preparations for Memoria y Arquitectura, Bourgeois' 1999 exhibition at the Reina Sofia in Madrid, curated by Danielle Tilkin and Jerry Gorovoy. She'd made it for herself, and she wore it.
The curators brought the original to Burés; it was a darkened metal, he said, round and matte. He created the squared shape, in silver, with a satin finish, which Bourgeois liked very much. There was an idea to do a gold version, but it was too expensive.
The five small holes drilled in the piece were for attaching strings (originally) or crystals; Burés designed a set of 14 various crystals that could be swapped out and arranged on the necklace. Despite being Spanish, a Catalan, and having intensive conversations about Spanish culture and literature with Bourgeois, Burés never heard the artist reference the war, or shackles. A couple of years later, Burés made a spider brooch for Bourgeois, in both silver and gold.
As for Helmut Lang, Burés explained that Bourgeois had given a necklace to Lang, and that at some point, several years later, the designer wanted to include it in a runway show. Lang's people asked permission, Burés agreed, there was a press release with proper credits, it was all wonderful. Later a friend spotted the necklace for sale in Lang's boutique in Paris.
There is no way Bourgeois' necklace does not evoke a shackle. But unless something turns up from the artist, any more specific interpretation is just weighing it down.
via @DukeToddIsAlive & @LindaHubbardArt
Nov 2012, Lot 70 Louise Bourgeois, Choker (1999-2003), sold $20,000 [bonhams]