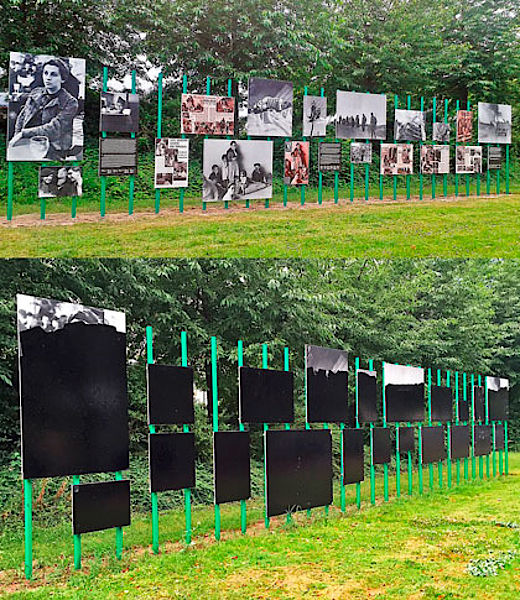 Untitled (Gerda Taro Leipzig Monochromes), 2016, Gerda Taro photos, painted wood supports, tar. image: Anne König and Jan Wenzel
On the night of August 3rd, an outdoor installation of 18 photos by Gerda Taro in Leipzig, Germany, was vandalized, painted over with tar? Or aniline black dye? The photos were part of f/stop Leipzig, an annual photography festival, held in early July. Some of the public space components of the festival apparently continued beyond that date.
f/stop curators Anne König and Jan Wenzel included Taro, a pioneering war photographer, because of the confluence of her life, her work, and the city itself. She lived in Leipzig until 1933, when she fled as a Jewish refugee. She met up with another refugee, Robert Capa, in Paris, and they documented the Spanish Civil War together until Taro was killed in 1937. Leipzig is hosting many refugees from the Syrian war right now.
The curators note that effacing the images of refugees by a Jewish photographer with tar is inherently a political act, and they are calling on the city to discuss the implications. The Taro estate, in the form of the International Center for Photography, wants her images back on view in Leipzig.
I agree with all of that, but also wish to recognize the damning bluntness of the blacked out panels. Sometimes redactions and monochromes cannot be let off the hook. Declaring them an artwork of my own is no way of assuring anything, but It feels important that they will be preserved.
The 21 panels include three texts and at least five layouts from LIFE magazine. The bottom eleven were completely blacked out, while the tops of the five tallest appear to have been beyond the easy reach of the unknown redacter. In the event this work does get destroyed, I will try to identify the Taro images under the tar.
update: I'm still thinking this one through a bit.
Pioneering war photographer Gerda Taro's images vandalised in Leipzig [theartnewspaper]
09. August 2016 Auch Gewalt gegen Fotografien ist Gewalt [f-stop-leipzig.de]