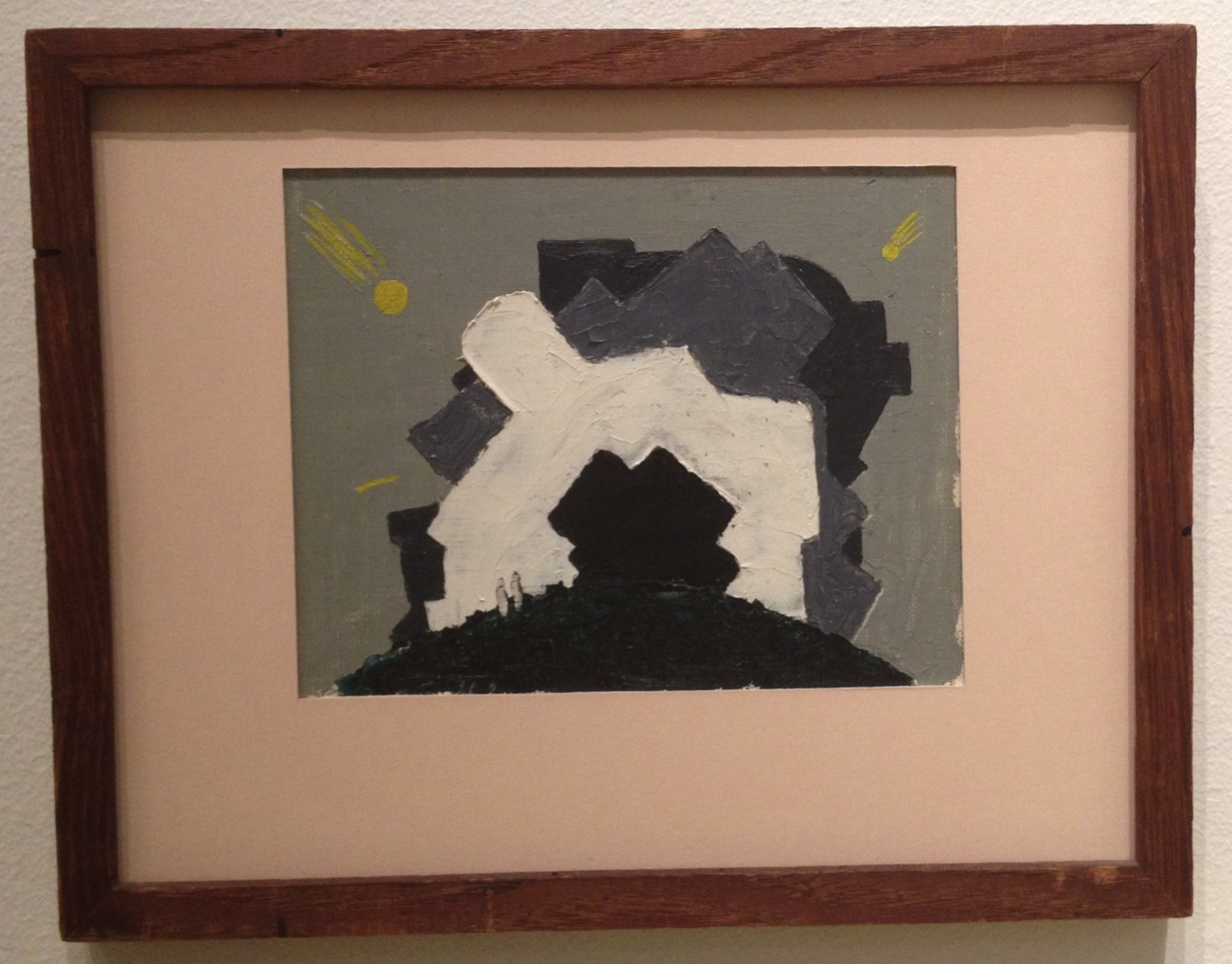 Forrest Bess, The Asteroids #3, 1946, oil on canvas board, via Phillips Collection
In 2014 the Phillips Collection received eight works by Forrest Bess from Miriam Shapiro Grosof, including a set of four paintings titled, The Asteroids (1946). They depict a dream Bess had, and the ceramist Arlene Shechet has put them on view for the first time as part of her museum-wide project, From Here On Now. [The other Bess paintings can be seen in the (Part 2) video here.] Shechet has made work in response to particular works and spaces at the Phillips, and has reinstalled at least five spaces, to absolutely riveting effect.
Shechet's ceramic and cast paper sculptures are variously abstract and referential, and are accomplished on their own, but as catalysts for and participants in dialogue with works from the collection, they appear essential. Shechet has chosen and placed extraordinary works, which should be familiar, but which all feel like revelations, in a way that makes the Phillips spring to life. I'd say she should curate the entire museum, but many of the galleries Shechet did not curate also vibrate with unexpected and fascinating paintings of all eras, from Bonnard, to Ryder, to Robert Natkin? Somehow, yes. With a tribute show of the late William Christenberry's work and Jacob Lawrence's Toussaint L'Ouverture prints, I'd say the Phillips is the most unexpectedly awesome show in town right now.
Now on to Bess.
Download Better_Read_011_Forrest_Bess_The_Asteroids_1946.mp3 [dropbox greg.org, 3:10, 4.5mb]
From Here On Now, by Arlene Shechet, runs through March 7, 2017 [phillipscollection.org]