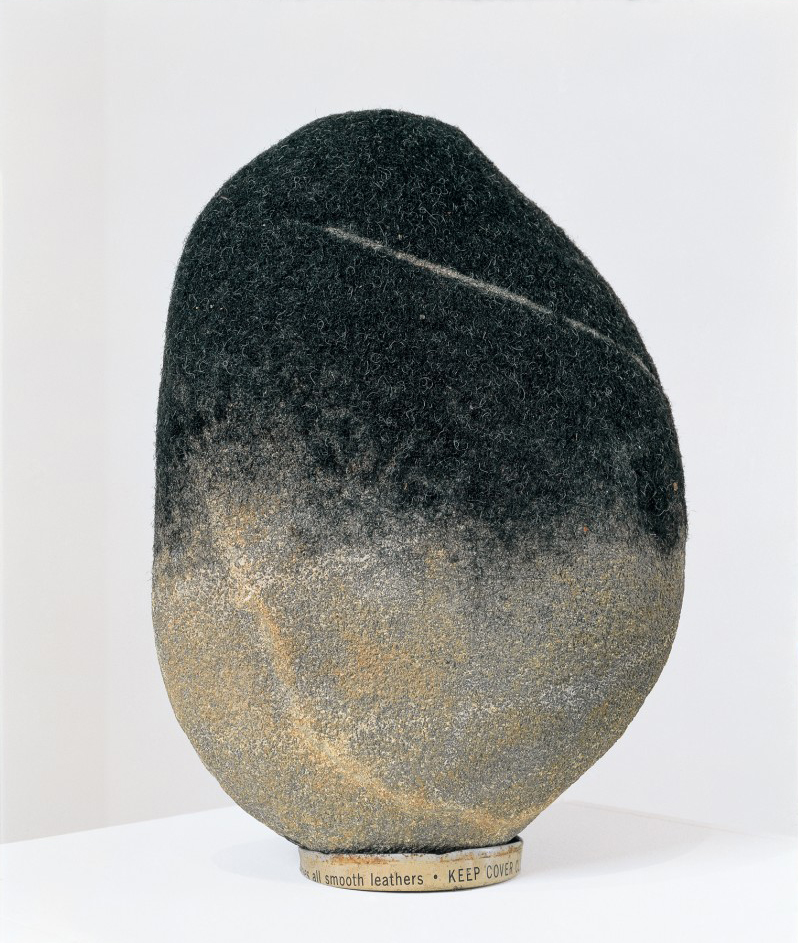 David Hammons, Rock Head, 1998, image via: hairisforpulling
In 1992 David Hammons took clippings from the floor of a barber shop in Harlem and affixed them to the crown of a melon-sized stone from Harlem. He brought the stone back to the barber shop for a haircut alongside his friend and muse, the Lower East Side poet John Farris. The performance is known as Haircut. Hammons has made several similar sculptures of black hair attached to stone, then trimmed and cut with tramlines, which have been titled Rock Head or Stone Head. They are inspired by history and their surroundings. Black living is at their core. They honor uniqueness and celebrate the individuality of each piece Hammons creates.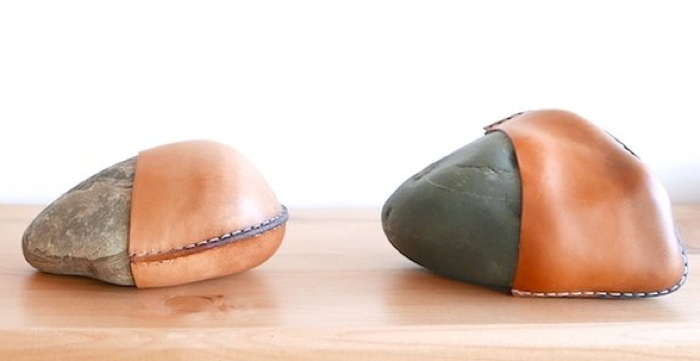 "Made Solid is a collection of leather products designed and handmade in Los Angeles by Peter Maxwell and Mia.
Our design is inspired by our history and our surroundings. Western living is at our core.
We honor uniqueness and celebrate the individuality of each piece we create.
"The name Made Solid references the connection we create through our creative process and the end result of our labor. Making a solid connection between the raw leather our hands touch and the well used pieces our friends love is our constant goal.
...
"We are connected to our surroundings, bringing natural elements to our work. Ocean, sand, stone and sky are referenced.
"We bring our lifestyle to our work."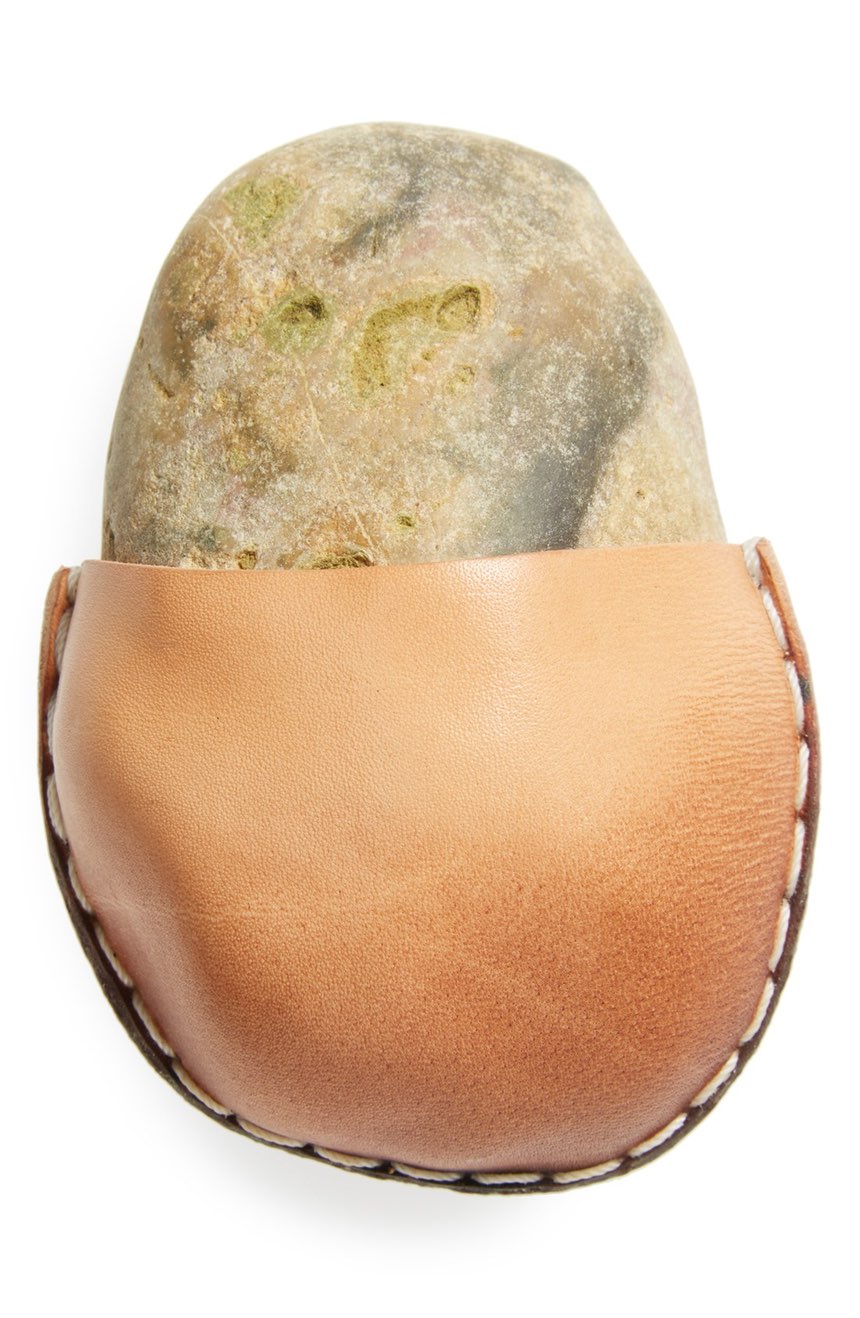 In 2013, Maxwell and Mia conceived "one of their most popular and recognizable pieces" in collaboration with "one of their oldest friends," Los Angeles designer Cristy Pitoc. Their Leather Wrapped Stones are sourced locally, "selected for shape and color," and vegetable tanned leather is stretched around each stone with the wet molding technique used in saddle making. The edge is stitched, beveled and burnished by hand. "The leather is bound to the stone for life."
"Use as a paper weight, worry stone, doorstop, art object - whatever it is to you."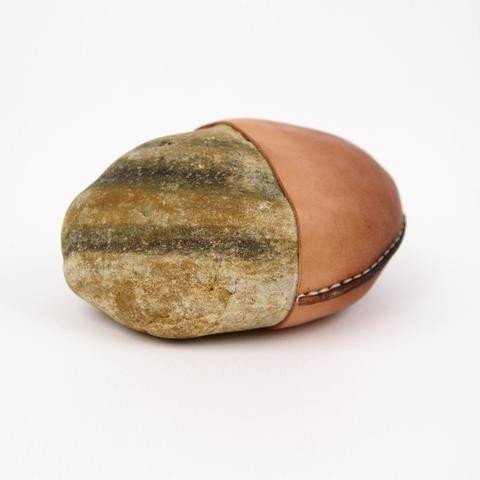 Wrapped Leather Stones have been featured in design-appreciative blogstores, literarily themed artisanal and locally sourced menswear emporia, and well curated home and lifestyle shops to, I'm sure, appropriately contemplative acclaim.
For the Holiday 2016 season Made Solid Leather Wrapped Stones were also curated into the Love, Pop-In Stores at select Nordstrom locations and at Nordstrom.com:
A paperweight? A conversation piece? A work of art? It's up to you, but this smooth Los Angeles-area stone--wrapped in rich, vegetable-tanned American leather secured by sturdy contrast backstitching--is sure to draw attention wherever it rests. A traditional hardening process gives the leather a beautiful ombré effect. Like all Made Solid leather pieces, this one is cut, shaped, sewn and finished by hand in artist Peter Maxwell's Los Angeles studio. Using vintage leatherworking tools and traditional saddle-stitching techniques, Maxwell aims to create beautiful designs that embody both simplicity and functionality, and that develop rich character and patina over time.
The collaborative contributions of Mia and Pitoc went unmentioned, but the availability of a leather wrapped stone did not, and Nordstrom's Leather Wrapped Stone
went viral in December
as an object of superficial, reflexive media mockery and superfluity, the diametric opposite of their creators' intentions. It appears they also sold out, but at what must be considered too high a cost, or too low a return; at the moment
no Wrapped Stones are available in Made Solid's online store
.
Earlier this week Nordstrom confirmed they would no longer carry the licensed merchandise of Ivanka Trump, citing poor sales. Yesterday Ivanka's father tweeted in outrage over the haters' and losers' slights, and the White House press secretary literally said Nordstrom's decision to discontinue stocking Ivanka was an attack on the president's policies and family. Discount clearance stores TJ Maxx and Marshall's also both dumped the toxic, failing brand. Today as I type this, the other White House flack is violating federal law by literally declaring a commercial promoting Ivanka's brand and telling people to go buy it.
Untitled (Sold Out) (2017) consists of things that actually did sell at Nordstrom, namely a Made Solid Leather Wrapped Stone. So whatever it is to you, it is now also a declared, limited edition inspired by [our rapidly unraveling] history and its surroundings. Though I will endeavor to pin it down, the size and location of the edition is presently unknown. Both small and medium Made Solid Leather Wrapped Stones purchased from both seasonal appearances at Nordstrom are included, but Made Solid Leather Wrapped Stones purchased elsewhere, are not, no matter what their size.
Fakes already abound, but if you believe you have an example of this artwork, please provide images and appropriate documentation of the provenance, and I will gladly issue a signed certificate. Requests for confidentiality will be honored.