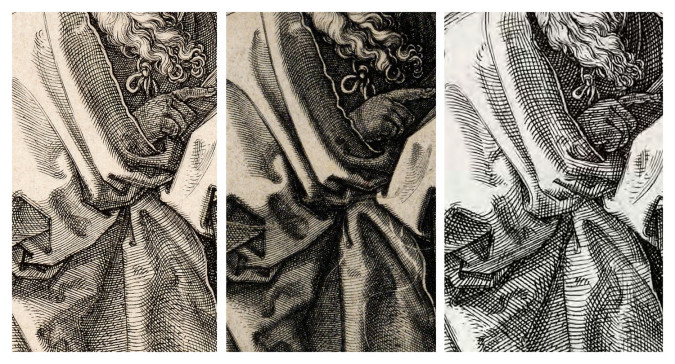 details of Albrecht Dürer St. Pauls by [l. to r.] Albrecht Dürer (1514), Johannes Wierix (c.1566), and Andrew Rafferty (2012), image: artinprint
My tabs are srsly a mess. I've had this 2012 Art in Print account of replicating Albrecht Dürer's engraving plates in there for months, ever since seeing a copy of one of Dürer's greatest prints, Melencolia I (1514). Conservator Angela Campbell and contemporary engraver Andrew Raftery were studying how Dürer made his plates and his prints, and how they changed over the life of an edition. Rafferty made a copy of St. Paul [above, right], and geeks out on the differences of wiping, crosshatching, and hammered vs. rolled copperplate. For her part, Campbell's larger goal is to put the world's existing impressions into chronological order by tracking changes in micro marks and surface scratches. Which, more power to them.
What redlines my geekmeter, though, is learning that of the 105 he made, there is only one Dürer plate left in existence. It is in Gotha, Germany, and it is a 1526 portrait of reformist theologian Philip Melancthon.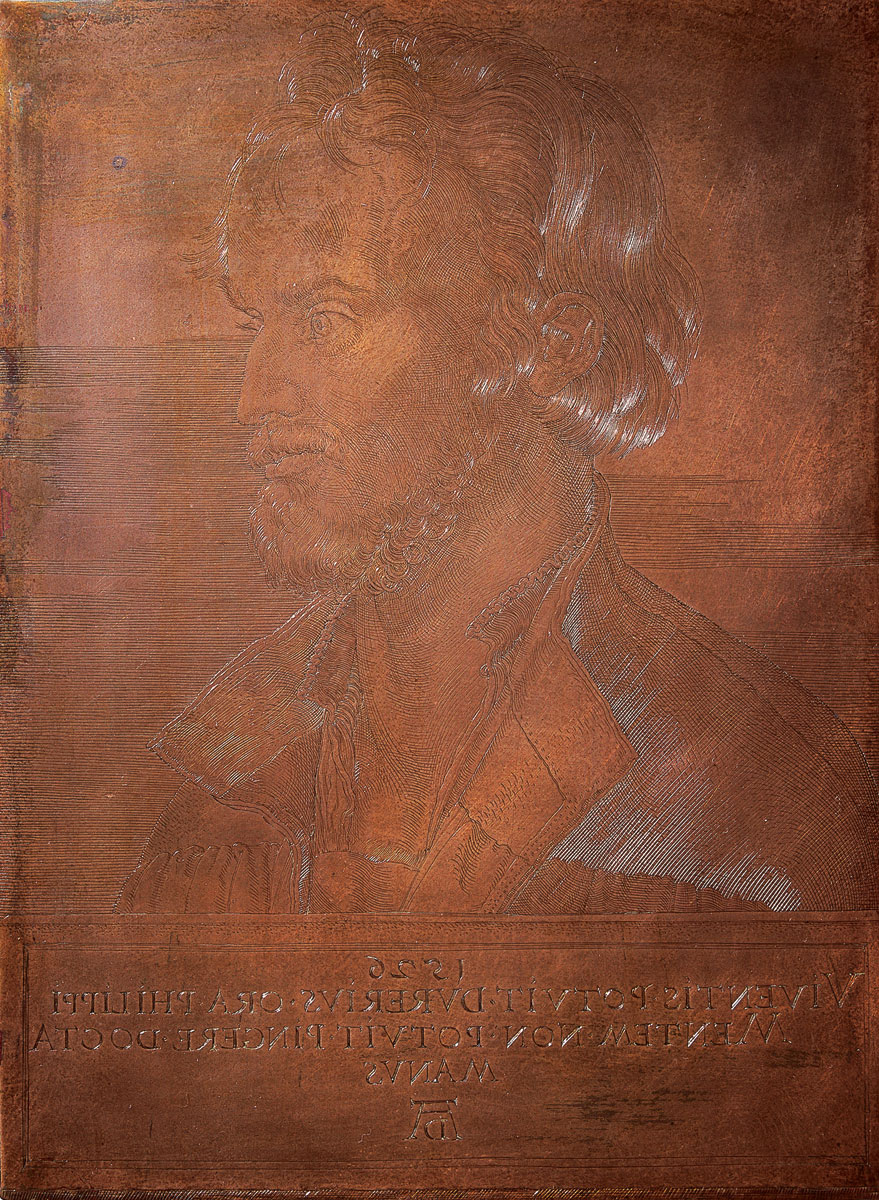 The Schloss Friedenstein Foundation was understandably excited to add a deep, high quality print taken from their plate. I wonder when the last impression was taken from this plate, and if the Stiftungvolk would ever entertain printing another one.
[Related: Woodblocks are more durable, and so more survive. The Met has two of five that Junius S. Morgan acquired, including: Samson Rending the Lion (1497-98), and The Martyrdom of St. Catherine (c. 1498), which, amusingly, is catalogued as "Black ink on pearwood".]
Remaking Dürer: Investigating the Master Engravings by Masterful Engraving [artinprint.org]
Bild und Gegenbild [kulturestiftung.de]