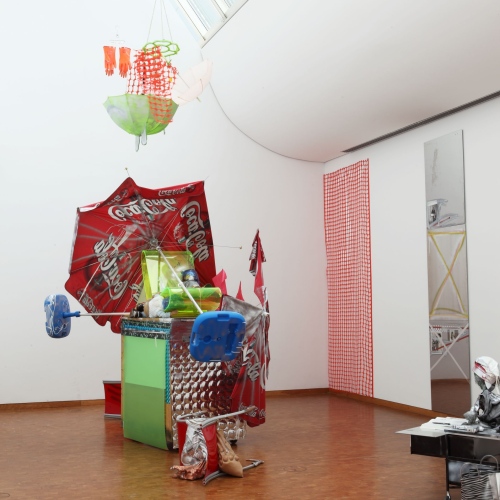 Isa Genzken, Kinder Filmen, 2005, image: Lee M. via globe-m.de
The first thing I always want when I go to the Museum Ludwig is the floors. Their endless end grain tiles are my 2nd favorite museum floor after the Menil.
This visit, the first work we saw was Isa Genzken's 2005 sculpture Kinder Filmen, which neatly subsumed the crew deinstalling a giant, wall-mounted Charlotte Posenenske next to it in the main hall.
It put me in a frame of mind such that when we came upon this extraordinary doorway next to Cy Twombly's Crimes of Passion II, I had to have it. It's weird and uncomfortable to think that way, that declaring a work, seeing a work, realizing a work, is somehow possessing it. Really, it's the opposite. I like this idea of realizing a work, though; it involves awareness and recognition. Even declaring feels a little suspect right now.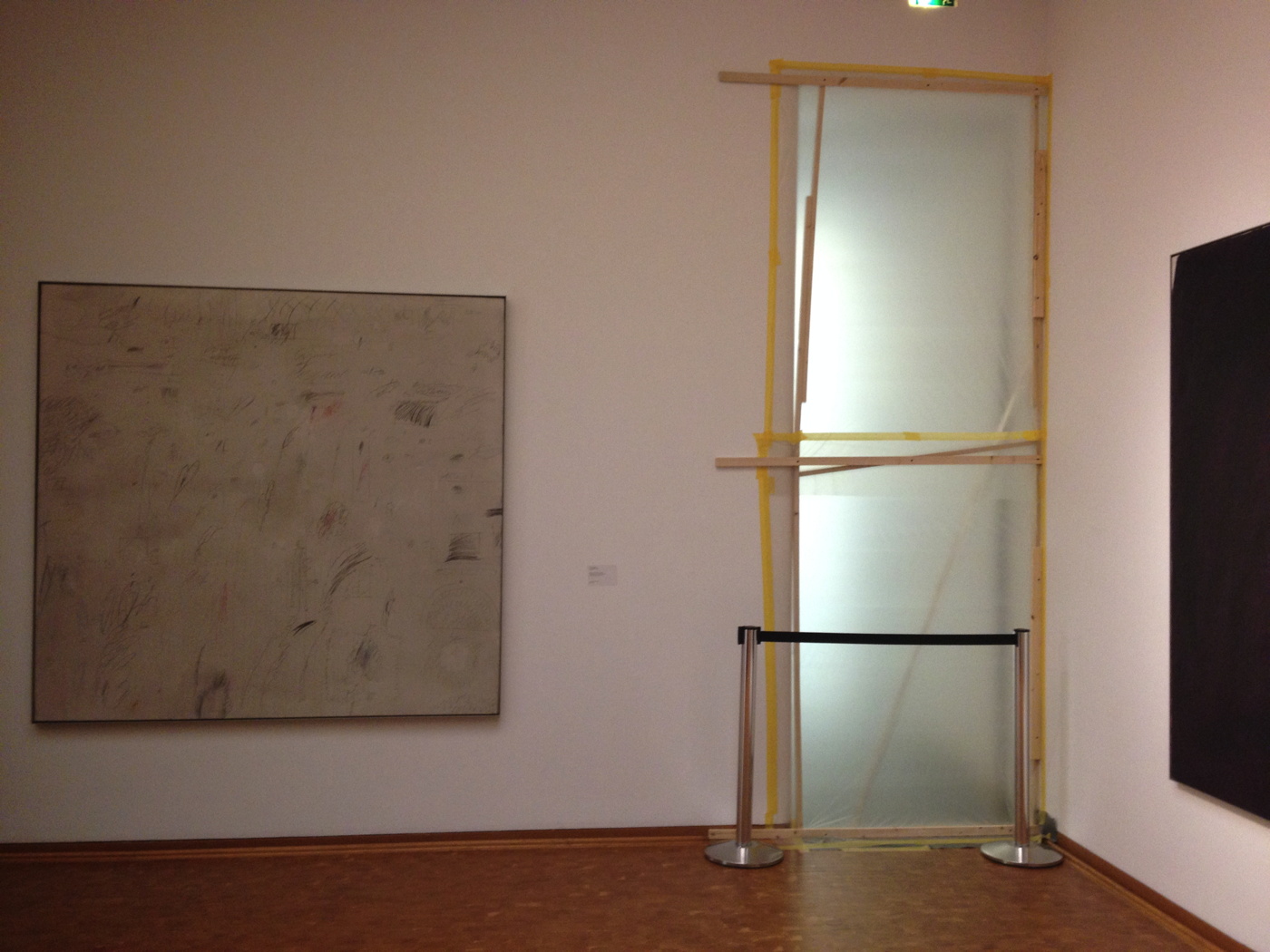 Untitled (after Genzken), 2017, installed in Museum Ludwig, Köln next to Cy Twombly's Crimes of Passion II, 1960
In any case, the situation of this plastic and tape and lathing, these stanchions, the translucency and the layers, the sheer provisionality of these gestures, and next to this gorgeously worked over Twombly, it just felt all of a piece. And I have to think it was because of seeing that Genzken first.
The realization was immediate and obvious, and it only got complicated after we left the gallery. In the next space there were two more blocked off doorways, far more elaborate and functional than this one. And it posed a problem. Would I really just wander through the museum realizing works when there are already plenty of works to see? Maybe it's a little foolish, or maybe that self-consciousness is just part of the process. The daily practice of realizing.
These doorway installations were more elaborate, with airlock-like zipper passages in them; they were used as doors to a construction space, where the first one I'd seen was just to seal it off. In terms of indexing the operations of the museum as space and institution, they were all equal. If it mattered to realize all three, or to realize one + a diptych, to see them in series, they're there, but in the moment it felt unnecessary, if not superfluous. It also felt salient that they were next to a late Pollock and a late deKooning. It's a grouping you'd never turn down, of course, but it didn't resonate like the Twombly. [I decided it was best not to crop it out, but I'm very deliberately not mentioning the Arnulf Rainer; just let me have this moment, please, don't ruin it.]