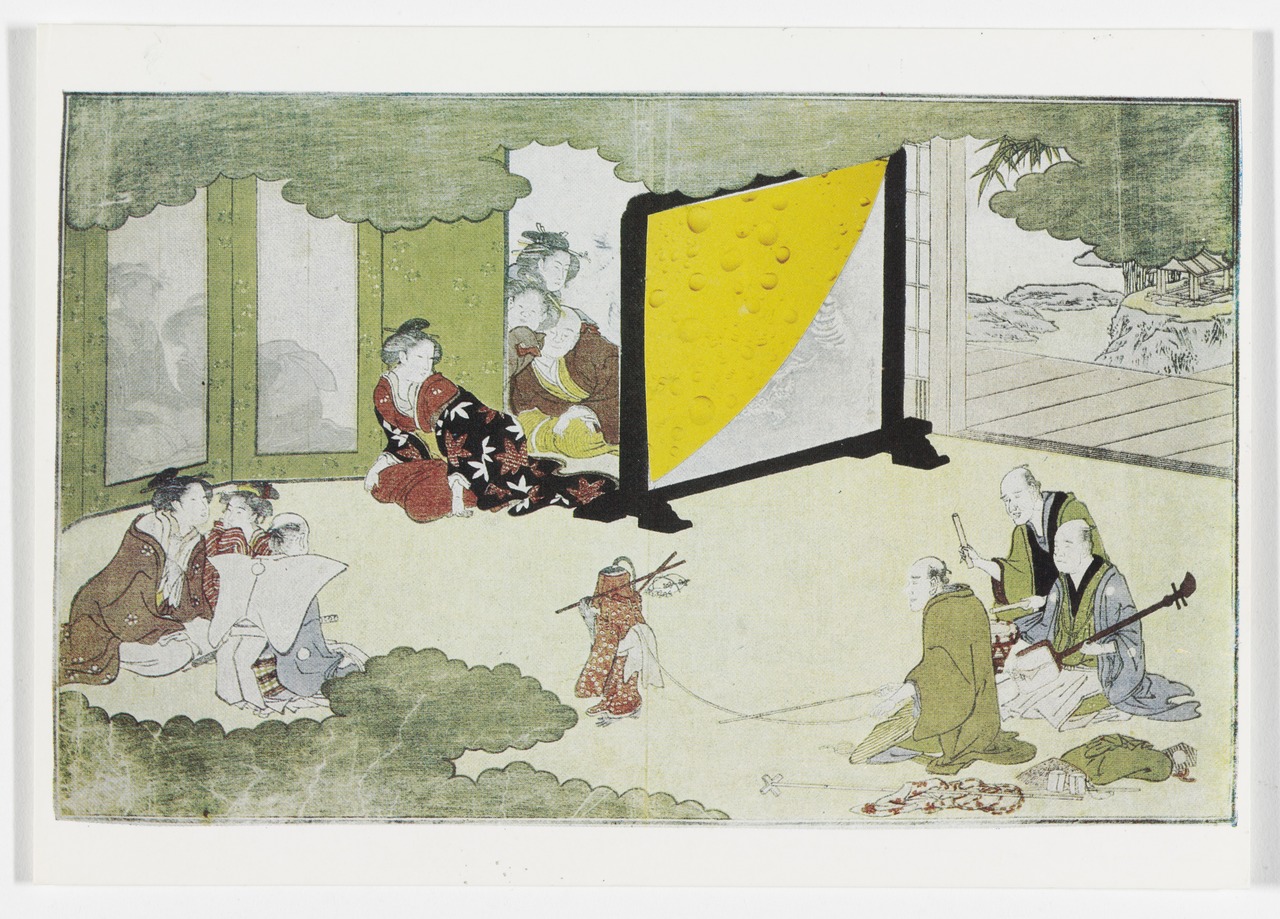 Spring (Yellow Curve), 1984, paper on postcard
So far you are not sending me all the Ellsworth Kelly postcards like I asked, so I am forced to find them myself.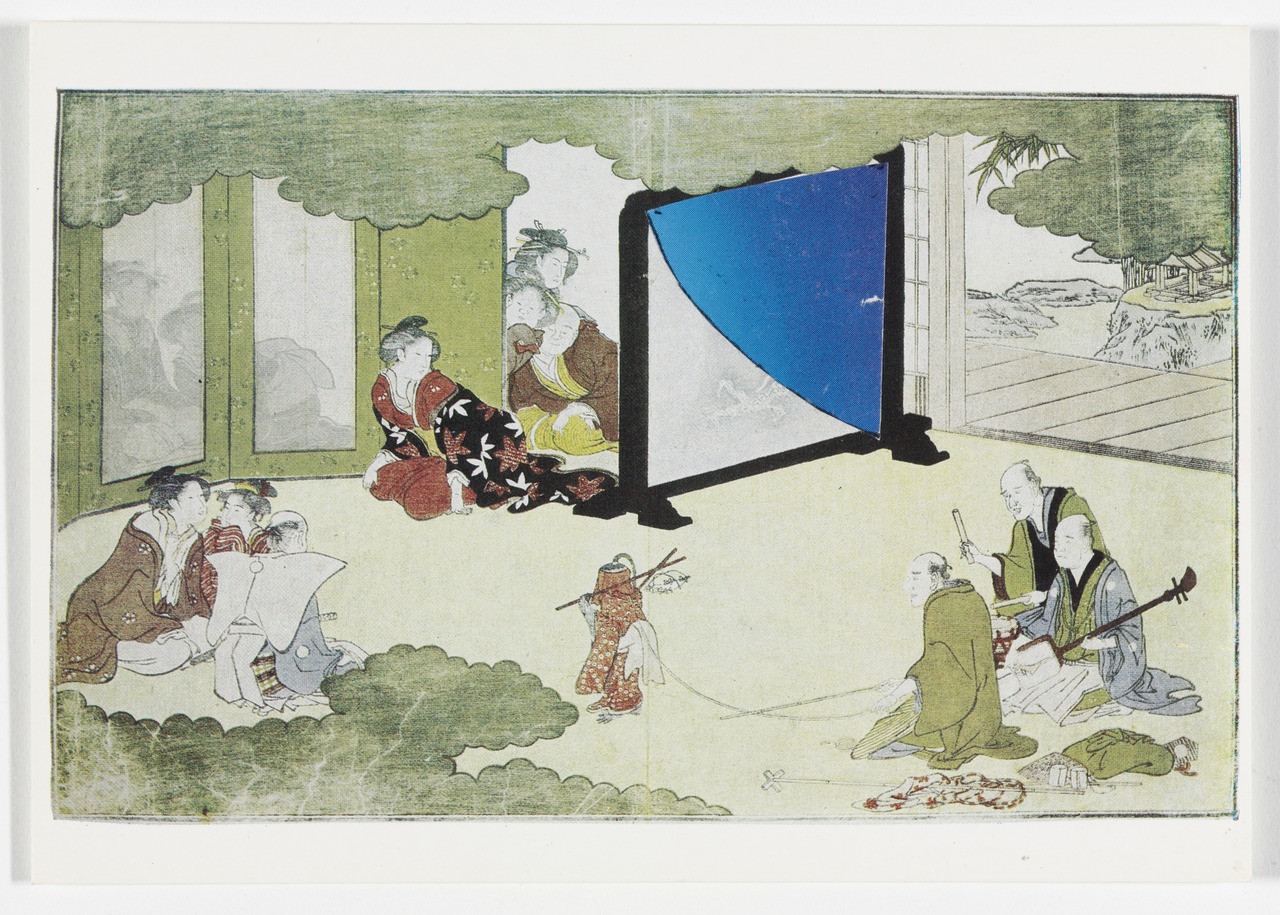 Summer (Blue Curve), 1984, paper on postcard
Oh wow, here is something wonderful which I have never seen before: a set of Ellsworth Kelly postcards. Four identical postcards, each with a varied but similar collaged element, a very Kelly-esque quarter circle, rotated within a frame, and titled with the four seasons.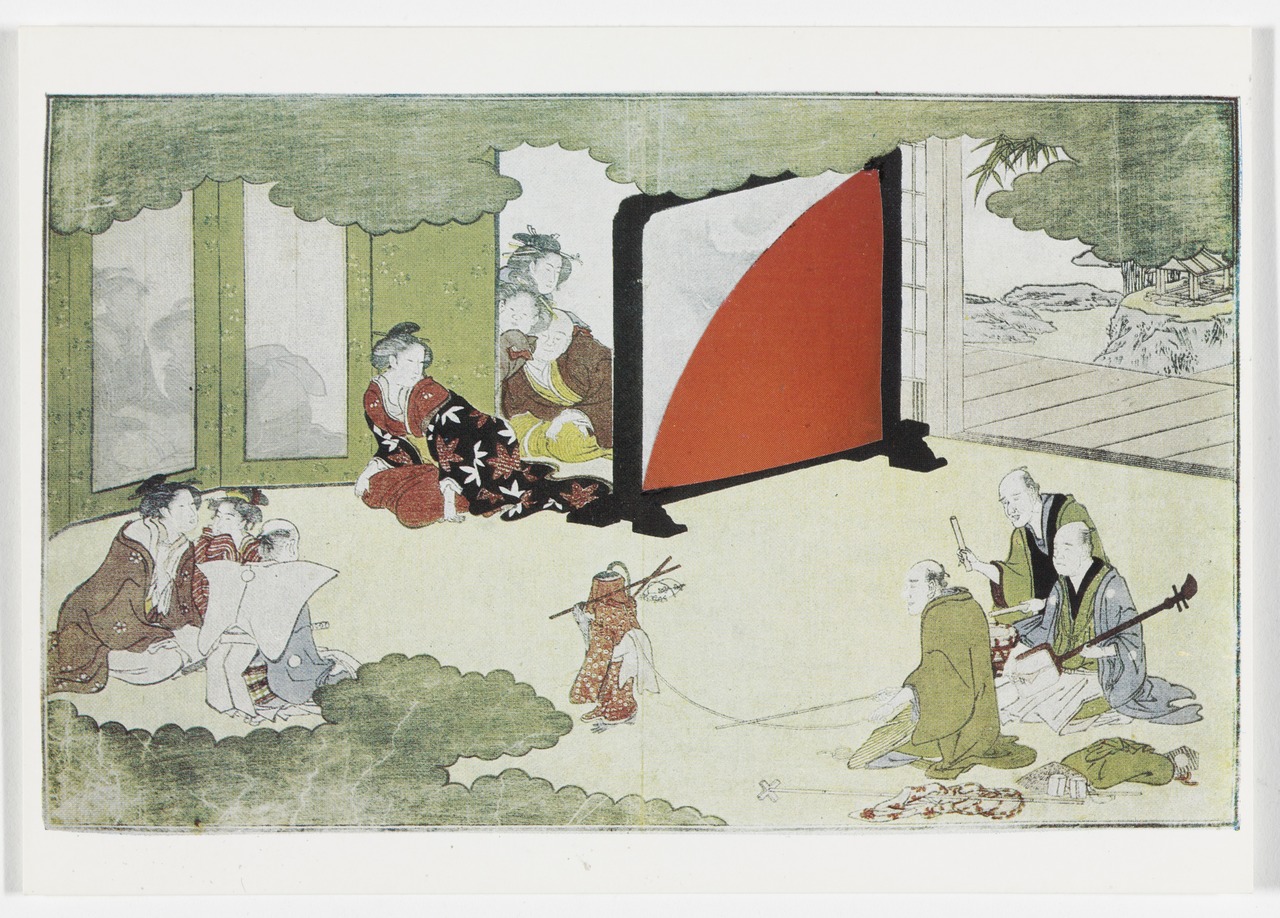 Autumn (Red Curve), 1984, paper on postcard
They're almost Kelly paintings, but not quite: the blue curve seems to have a gradient, and the yellow curve looks like it's covered in raindrops. They're affixed on a tsuitate, a stationary, single panel Japanese screen that blocks views and drafts through a doorway. The combination of primary curves collaged with Asian art reminds me of some works Gabriel Orozco showed at Marian Goodman in 1994; they were remixes of overlapping circular cutouts from exhibition catalogues for Chinese scholar rocks and Ellsworth Kelly paintings. They were fantastic, and all sold, alas, and I am baffled that I can't find a single image of them online right now.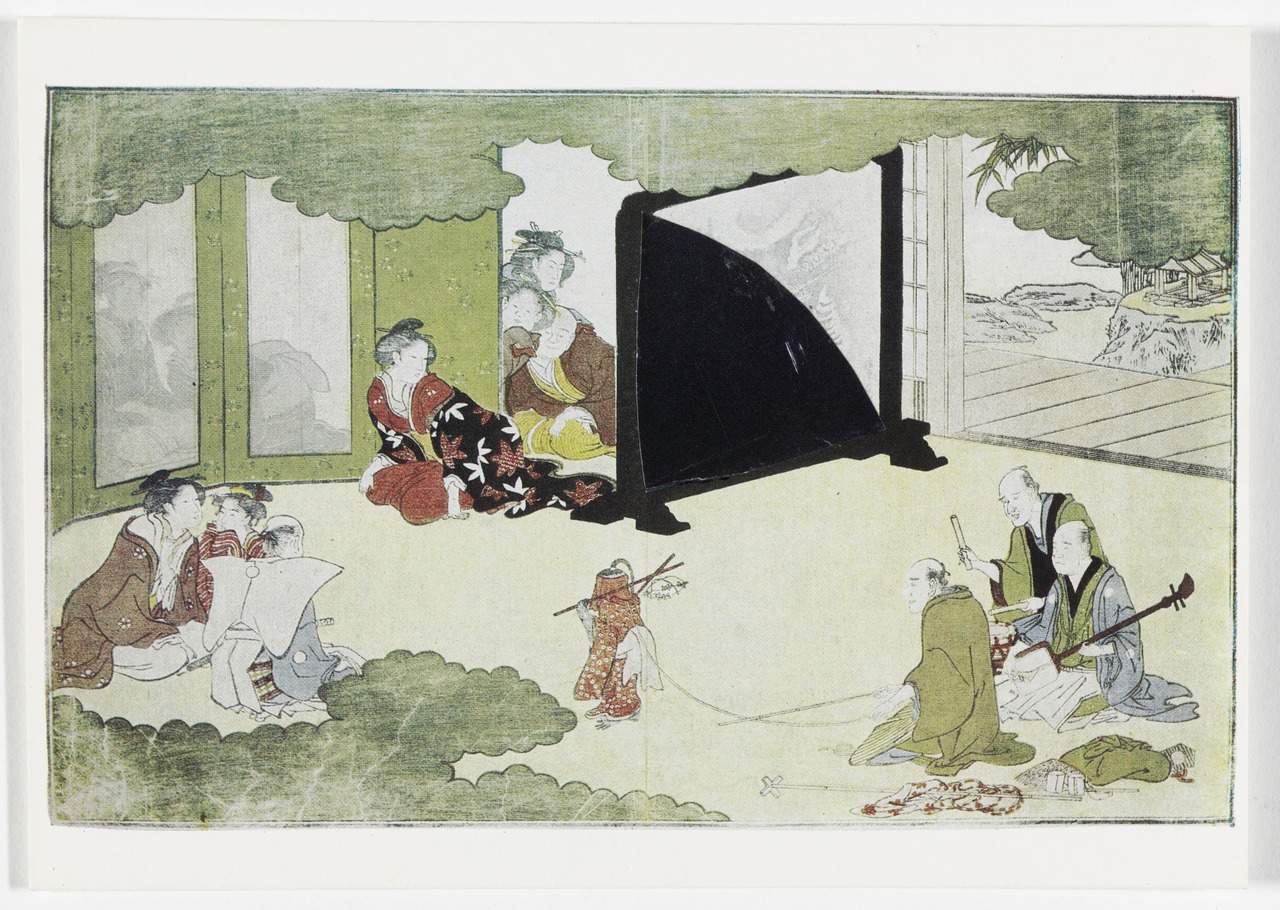 Winter (Black Curve), 1984, paper on postcard
Anyway, the image Kelly set each curve into is Japanese, a woodblock print. It turns out it's by Kitagawa Utamaro, an illustration from a 1789 collection of New Year's poems called Waka Ebisu. I can't yet figure out where Kelly might have gotten his postcards; maybe his 1984 exhibition history will yield a clue. [update: nope.] But Harvard has the print. The Met has the print, but has never shown it. The British Museum has the whole portfolio, and the best online documentation. The British Library's online resource is a copyright-grabbing embarrassment. If I make my own Kelly Four Seasons collages, I'll use their paranoid watermark jpg just because.
The scene is titled Saru-hiki [Monkey Trainer] and shows a troupe of performers visiting the house of a daimyō during New Year's. Musicians accompany a dancing monkey in a kimono as the refined ladies of the house look on, some peeking around the tsuitate and others watching from behind semi-opaque bamboo screens called sudare.
Kelly presumably sent the postcards to his partner Jack Shear, because Shear donated them to MoMA in 2011, in honor of four refined ladies of that house, who have long supported Kelly and his work: Kathy Fuld (Spring); Agnes Gund (Summer); Jo Carole Lauder (Autumn); and Marie-Josée Kravis (Winter). So who does that make the dancing monkey?
Ehon waka Ebisu 絵本龢謌夷 (The Young God Ebisu, an Illustrated Book) [britishmuseum.org]
Previously, related: Ellsworth Kelly Postcards: Wish You Were Here!