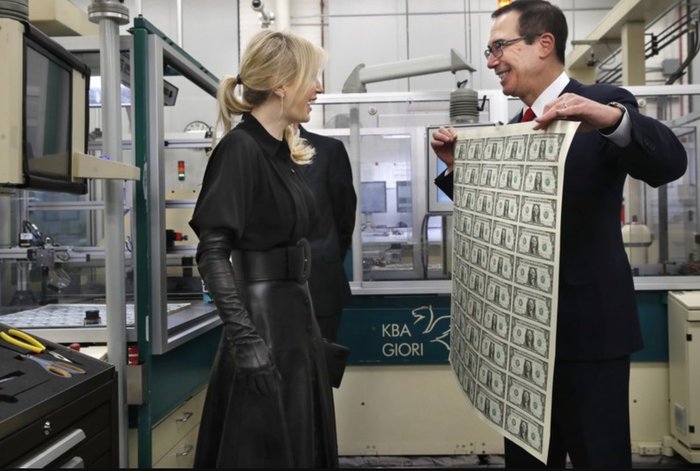 Untitled (Mnuchin Gallery), 2017, printer's proof. ink on rag, 27x31.5 in., $860., limit one per collector, image: ap/jacquelyn martin via @_cingraham
Art and the Mnuchins can never get too far apart from each other. Today Steven Mnuchin was photographed by the Associated Press holding the printer's proof for a new print edition, Untitled (Mnuchin Gallery). It is issued in a signed and stamped edition of 10, plus 4 artist proofs.
Half of the edition is a #monochrome painting on an uncut 50-subject sheet of $1 bills signed by Steven T. Mnuchin. If you asked me this second the only possible color would be black, insta goth dom leather glove black, into the conscienceless pits of hell black, fund passthrough tax cuts by raising taxes on everyone else and gutting health care soul black, but that might change.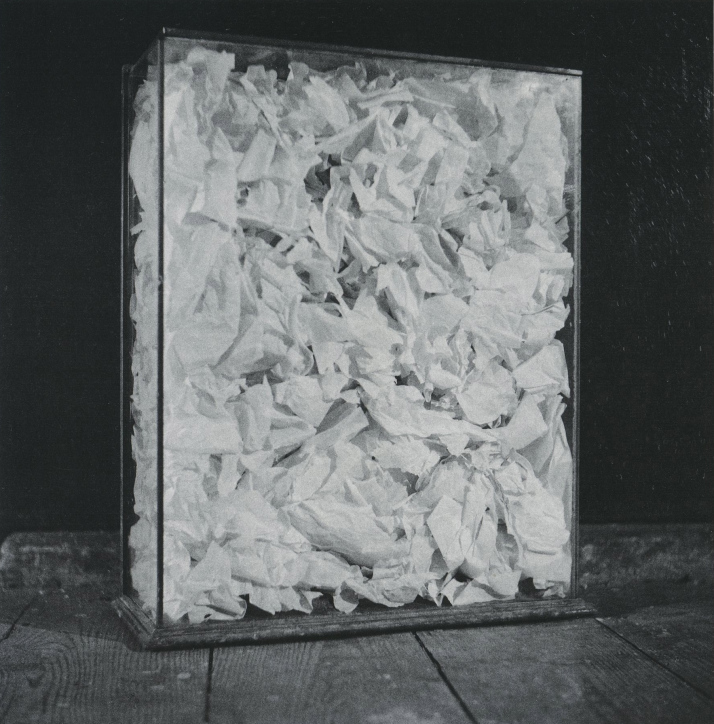 Robert Rauschenberg, Untitled (paper painting), 1953, 18x14x4 in., shoe box tissue paper, glass, wood base. lost or destroyed.
The other half is 50 $1 bills signed by Steven T. Mnuchin, shredded by hand, in an appropriately scaled perspex display case inspired by Robert Rauschenberg's lost Untitled (Paper Painting) of 1953. All examples are accompanied by an engraved, signed and stamped certificate of authenticity.
As moneyfactory.gov [srsly] has only begun producing Mnuchin notes today, and moneyfactorystore.gov only offers uncut notes from 2013, with former Treasury Secretary Timothy Geithner's signature on them, the actual release date for this edition is still to be determined. You may add your name to the waitlist.
Previously: Untitled (Mnuchin Gallery), 2017, pdf
Related: Untitled (Crystal Bridges), 2015
2011: ArtCash by Warhol, Rauschenberg, et al for E.A.T., including bills featuring the ur-print-your-own-money traitor Jefferson Davis