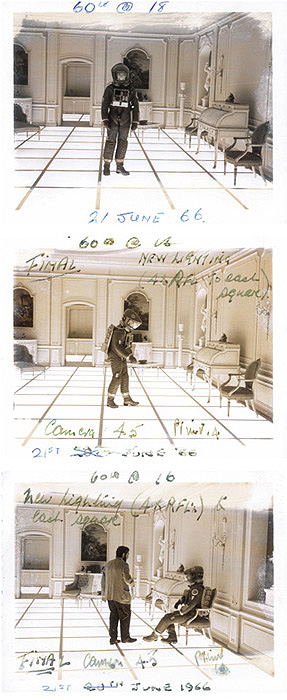 From the painstakingly organized files of Mr Stanley E. Kubrick:
Stanley Kubrick filled his St Albans estate with over 400 fileboxes (specially manufactured to his own design) of notes, photographs, correspondence, drafts, props, and much, much more. The first authorized exhibition drawn from the estate opens today at the Deutsches Filmmuseum in Frankfurt. In fact, Christiane Kubrick and Jan Harlan are speaking in the cafe at 2030h, less than 5 hrs from now.
[Seeing as how you missed that, though, you can pre-order the exhibition catalog in English from the museum. It's a more in-depth collection of essays by filmmakers and historians, different from The Stanley Kubrick Archives due any day now from Taschen.]
Journalist Jon Ronson writes in the Guardian about what he found in his repeated vists to the archive, including an exhaustive day-by-day timeline of the goings-on in Napoleon's court; Kubrick's favorite font; a sniper's severed head, and a reference to "A Bill Murray Line!" [Also, a link to Kubrick's script for Napoleon, deemed authentic by Ronson.]
From a 1975 telex correspondence with a Warner Bros. publicity man re Barry Lyndon:
[Publicity man:] "Received additional material. Is there any material with humour or zaniness that you could send?"

Kubrick replies, clearly through gritted teeth: "The style of the picture is reflected by the stills you have already received. The film is based on William Makepeace Thackeray's novel which, though it has irony and wit, could not be well described as zany."
[via
TMN
. And my post title came from a
1977 French animated short
I found on IMDb.]