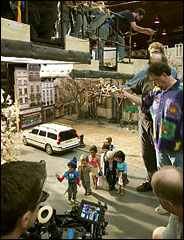 Sharon Waxman has a report from the set of Team America: World Police, a $32 million puppet action film being directed by a couple of reluctant, foul-mouthed punks pulled from obscurity by Paramount.
Somehow the pair of college buddies, named Matt Stone and Trey Parker, got their pitch--a 3-minute clip of The Thunderbirds with new dialogue dubbed over it--to producer Scott Rudin, and Paramount to greenlight it immediately, even though the guys have no previous puppeteering experience.
Now enduring weeks of 14-hour days shooting, "with three weeks of production to go, the filmmakers found themselves in a warp-speed work schedule of shooting all day, editing half the night and rewriting on the weekends. 'Every shot is problem solving,' Mr. Parker explained."
When they're stumped, the pair follows one article of faith aspiring action filmmakers would do well to remember, WWJBD? What Would Jerry Bruckheimer Do?