I heard there was art at MoMA. Here are some highlights:
City Square, Alberto Giacometti's tabletop sculpture of personages on non-intersecting trajectories used to be embedded in the wall at the entrance of the post-war galleries. Now it's installed in the center of the room, so you can walk all the way around it.
Giacometti described his attenuated figures as existing on the edge of perception, as if they just came into view on a hazy horizon. I've always wanted to make a movie recreating this sculptural scene on Utah's Salt Flats, the existentialist remake of Eve Sussman's 89 Seconds at Alcazar. See City Square on the Flash site for MoMA's 2001 Giacometti retrospective.
One, (Number 31, 1950), 1950, Jackson Pollock: One of the iconic works in MoMA's collection, it now feels more closely situated with the of the artist's work; you easily take in several paintings at a time. [One page]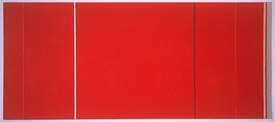 The old classical–and aesthetically magical–enfilade installation of One (Number 31, 1950) and Barnett Newman's Vir Heroicus Sublimins (also 1950) has been replaced by a less privileged lateral, room-to-room hanging. Now, from a diagonal vantage point, you can take both of these paintings in at once instead of turning your back on one, then the other. I'm sure there are plenty of interpretive and ideologically significant ways to read this.
The giant Twombly in the contemporary gallery is the new One, a painting to fill and overwhelm your field of vision. This wall and approach is much worthier of it than the oblique, cramped partitioned space in Philip Johnson's old 'basketball court' gallery, where it hung during the Twombly retrospective.
Still, the most rewarding Twombly experience is upstairs, where two later, graffitoed paintings face Rauschenberg's contemporaneous drawing/collages. It's the kind of dialogue that the Rauschenberg in the Fifties show at the Menil and Guggenheim could've captured, but didn't. [Cy and Bob traveled to Rome together as kids.]
The entire drawings show is a masterpiece; you could spend all day there, if it weren't for the pull of the rest of the museum.