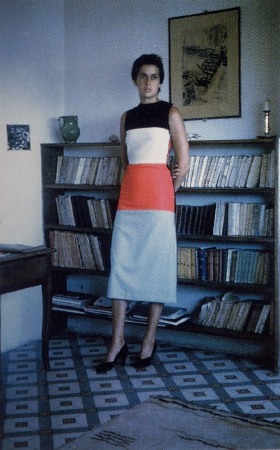 Though I suspect the easiest thing would be for Michael to let Cerre know where he scanned the image from, here's what I can figure out about this dress made by Ellsworth Kelly in Sanary, France in 1952:
Sanary, west along the Mediterranean coast from Toulon, was where Kelly spent a great deal of time during his formative postwar sojourn in France, from 1949 to 1953 1948 to 1954. It was where Kelly found color:
While working in Paris after the war everything was grey and, as I've said, I used very little colour. When I finally went to Sanary, I did Colors for a Large Wall. It was the first work I painted in the south of France.
That was in 1951, when his, um, friend and fellow artist Ralph Coburn was with him on one of his four 6-mo to 1-yr long visits. [Is it, to quote a too-well-known idiot, impossible to fully understand Kelly's work unless you know he's gay? Was Coburn his boyfriend, or just the guy he lived with and took to dinners with John Cage and Alice B. Toklas the whole time? Kelly's certainly out, but from the way Coburn's bio was written, there are still closet doors a-slammin'.]
Kelly was looking at the colors around him, using found, "readymade" colors from papers and color wheels as inspiration and raw material for studies and collages. Such as this 1952 collage in the Philadelphia Museum, Boats in Sanary Harbor:


Back to that Tate interview, where Kelly talks about other foundational developments in his work that took place in Sanary, including his interest in "painting objects," monochrome canvases abutting each other [e.g., Colors for a Large Wall, 1951, at MoMA; and Méditerannée,1952], which prefigured Minimalism's interest in a painting as a thing itself, not a depiction or image of something:
I didn't want to paint an overlap, meaning that it would be a deception or illusion. I no longer wanted to depict space, but to make a work that existed in literal space. Thus, my recent works are one canvas as a relief over another canvas. Another important example of a panel painting that explores the idea of the mural was Red Yellow Blue White (1952). It's the only one I ever did using actual dyed fabric of ready-made colours, which moves the painting into the realm of real objects. It consists of five vertical panels, each with five canvases. The vertical panels are separated on the wall and the intervals of the wall surface between them are part of the painting. [emphasis added on the seemingly dress-relevant part]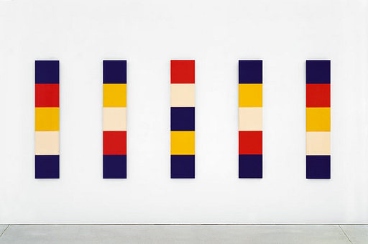 Seemingly relevant indeed. In Branden Joseph's book, Random Order, on Robert Rauschenberg's relationships with the "avant-garde," the extensive discussion on Kelly's highly specific use and treatment of color confirms that Kelly used the same fabrics from Red Yellow Blue White to make a dress for his friend Anne Weber. The footnote says "a photograph of Weber wearing the dress designed by Kelly" was reproduced in Diane Waldman's catalogue for the Guggenheim's 1997 Kelly retrospective–what a spectacular show that was, btw, though I remember Lisa Dennison telling stories of the museum expecting Kelly and other artists who get retrospectives to donate their work, essentially a quid pro quo, and then she bragged about the giant, arced Kelly sculpture that was in the theater at one point–as well as in Nathalie Brunet's extremely detailed and informative "Chronology 1943-1954," which appeared in Ellsworth Kelly: The Years in France, 1948-1954, the catalogue for the National Gallery's 1992 exhibition, which looked infinitely better at the Jeu de Paume.
Weber, who was married to the cubist pioneer Max Weber–really? He had to have been in his 70's in 1952, yet in that photo, she doesn't look 30–later ran a gallery in Georgetown, Maine. [Mar 2015 update: No. Thanks to a reader Laura's incredulity, which was stronger than mine in 2009, I dug a bit and realized that Anne was not married to Max. I had to have read that somewhere, because it's just too odd a pairing to make up. She turns out to have been married to Swiss artist Hugo Weber, who taught at the Illinois Institute of Technology with Mies van der Rohe and Moholy-Nagy. Glad to have that straightened out.]
Last year, Kelly was on hand for the opening of theWeber Kelly Preserve and Trail . Weber financed the 1999 purchase and donation of 105 acres on Georgetown Island by selling an early Kelly painting.
So there you go. Ellsworth Kelly dress.
[Other March 2015 update: However obscure this dress has been, my friend and former MoMA committee colleague Sharon Coplan Hurowitz worked with Kelly to recreate the dress in late 2013. It was created as an edition of 10 by Calvin Klein's Francisco Costa. Copies were donated to the Met's Costume Institute and the Philadelphia Museum, where Kelly donated Red Yellow Blue White in 2010. Nice hustle.