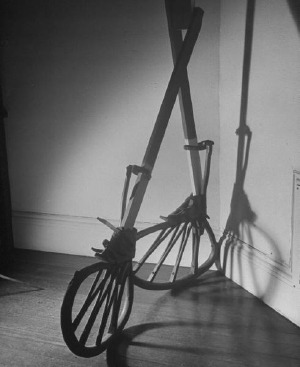 Fritz Goro was the longtime science photographer for LIFE magazine. He covered the Manhattan Project, including shooting at the original Ground Zero. His image of a fetus in an artificial womb inspired Kubrick's 2001. He crafted photo-simulations of x-ray diffraction and created elaborate graphics in-camera using multiple exposures, lenses and focal depths to depict atomic structure. Much of America's 20th century image of science was either made or influenced by Goro.
In 1945, he also shot an unidentified collection of slightly odd 19th century technologies and inventions. Such as these rocking stilts, for crossing a swamp. Goro's technique for shooting these objects was to cast as strong a light as he could on them. The harsh, high-contrast images remind me of some of Charles Sheeler's domestic photography, which reveled in the hard edges and abstractions of pre-Industrial machinism.
Also, the 19th century folks were just as crazy as we are.
But also brilliant. Just look at this photo of a "reflection candlestick," more commonly called–when it's called at all anymore, I mean–a candlestick reflector. It's somewhere between Olafur Eliasson, the end of Diamonds Are Forever, and ye olde ocularift fhoppe in downtown Fitchburg. Fantastic.