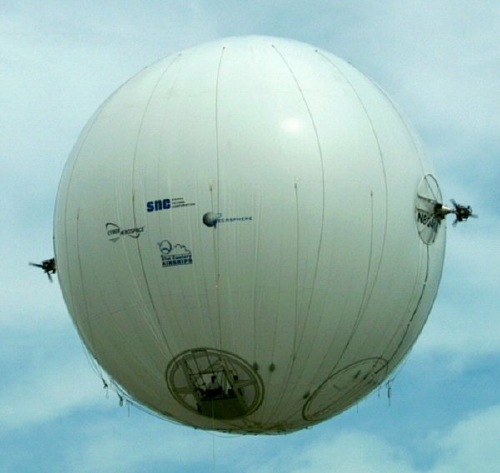 According to BoingBoing, the Sierra Nevada Corporation's been testing its SA-60 Spherical Airship at the Reno-Stead Airport. [SNC's the same company whose surveillance blimp was set to be mooned this month by 1,500 hundred angry Canadians in the quiet border downs of Sarnia/Port Huron. I think high winds scuttled the ballooning, and hence, the mooning.]
The SA-60 [above] was first demonstrated successfully in 2004 by a knot of gruff-sounding defense contractors–none of whose domain names work anymore. At the time, the manned, operational version–suitable for use "for both defense and homeland security purposes including surveillance of battlefields and domestic borders and ports."–was expected to have a diameter of 76 feet. An unmanned, solar-powered version would have a diameter of 200 feet.
Since I've got my hands full turning satelloons and other fantastic, spherical balloon airships into art, I hope someone else will pick up the slack and start celebrating the glorious poetry that is the military industrial complex press release. God Bless America!:
Press Release: July 1, 2004
SNC Enters Exclusive Partnership with Proxity Digital Networks Subsidiary
Cyber Aerospace and Techsphere Systems on Spherical Airship
Sparks, Nevada – (July 1, 2004) – Sierra Nevada Corporation announced today that it has entered into an exclusive partnership agreement with Proxity Digital Networks subsidiary Cyber Aerospace and Techsphere Systems to provide technology, payload and sensor integration for government and commercial end users of the SA-60 Spherical Airship.
Proxity Digital Networks, Inc. and Techsphere Systems International, Inc., recently announced through Cyber Aerospace Corp., an operating subsidiary of Proxity's On Alert Systems, that the SA-60 low altitude surveillance airship has flown at 10,000 feet altitude with a payload exceeding 500 pounds, thus satisfying all flight criteria required under existing contracts. The 10,000 ft. flight took place as Cyber Aerospace conducted contractor demonstration flights for the U.S. Navy at Captain Walter Francis Duke Regional Airport in Hollywood, St. Mary's County, MD.

Cont'd:
Naval Air Systems Command (NAVAIR) recently contracted with Cyber Aerospace and has been flight-testing the SA-60 spherical airship to evaluate its potential to satisfy future military and defense requirements. The SA-60 is manufactured by Techsphere Systems International, and Cyber Aerospace holds the exclusive global government marketing rights to the SA-60 and other Techsphere's advanced spherical airship designs.
The partnering companies accomplished the goals of the flight tests, climbing to 10,000 feet altitude in a flight sortie that lasted over three hours. According to a recent published report, NAVAIR's purpose in conducting the demonstrations was to determine the characteristics of the SA-60 spherical airship …..what it's really good at, find out what it can't do, quantify that, and then make that available to the Navy for consideration on future missions. The main thing NAVAIR is interested in is economical, persistent surveillance…an airship provides that better than any other vehicle. Airships can operate 25-30 percent cheaper than comparable rotary wing or fixed wing aircraft. Click for more details: http://www.aviationnow.com/avnow/news/channel_aerospacedaily_story.jsp?id=n
ews/eva06294.xml.
The SA-60 can be moved by truck and assembled in as little as 24 hours by a small contingent. The SA-60 airship currently requires an onboard pilot, but the companies are moving forward with plans to prepare an unmanned version, allowing for much longer flights. A larger operational version is expected to have a diameter of 76 feet, be able to attain and maintain a 16,000 foot altitude, and fly for up to two days. Another version would have a diameter of 200 feet and would be capable of wide-area surveillance and/or telecommunications relay missions
flying at altitudes up to 68,000 feet. This version could be constructed and test flown within 12 months. Outfitted with solar panels and regenerative fuel cell technology, the 200-foot airship could stay aloft for months.
About Proxity Digital Networks
Proxity Digital Networks, Inc. is a developmental holding company specializing in the deployment and marketing of security protection technology and government contract fulfillment. The Company seeks to acquire and develop security technology. Proxity plans to enter into teaming and exclusive and nonexclusive marketing and distribution agreements with products developed for commercial, military and homeland defense. For more information on Proxity Digital Networks, visit the website http://www.proxity.com.
About On Alert Systems
On Alert Systems, Inc. is a wholly owned subsidiary of Proxity Digital Networks. On Alert plans to acquire the marketing rights to offensive and defensive security technologies supporting a full line of interoperable protection disciplines. By acquiring a homogeneous Suite of Security Products through teaming and licensed marketing and distribution agreements, the Company plans to introduce the new product line to multiple markets. Though exclusive global licenses, On Alert has also licensed a developing system that uses acoustical and ultrasonic
means to sense and evaluate activity pertinent to law enforcement, security and defense industries. Their prospective clients all share the need for enhanced security, mobile communication platforms and increased surveillance capabilities. For more information about On Alert Systems, visit the website:
http://www.proxygen.com/36/Editorial.asp?aff_id=36&this_cat=Company.
About Cyber Aerospace Corporation
Cyber Aerospace Corp. is assembling a team of military experts, aerospace and composite engineers to design and build a new generation of airships. Cyber Aerospace plans to market the airships as multi-use platform vehicles deployed in surveillance and communication operations, and capable of target acquisition.
Cyber Aerospace will provide engineering support and systems integration for the airships. Proxity's subsidiaries will market the airships to various branches of the U.S. government and our allies. For more information on Cyber Aerospace Corporation, visit the website http://www.proxygen.com/37/.
About Techsphere Systems International, Inc.
Techsphere Systems International, Inc. is a manufacturer of low, mid and high altitude airships. Working in concert 21st Century Air Ships of Canada, the Company will build unique airship designs. The current airship design holds the world altitude record and ranges in price from $5 million for low altitude airships to $32 million for platforms that will be stationed at 65,000 feet. A 500+ pound payload capability has been successfully demonstrated. For information on Techsphere Systems International, visit the website http://www.techspheresystems.com.
Sierra Nevada Corporation (SNC) headquartered in Sparks, Nevada, is a fast growing innovative and agile technology solutions corporation focusing on system integration electronics engineering; manufacturing; and aircraft modification. Our current focus is to specialize in the integration; design; development; installation; and servicing of complex airborne, ground, and ship-based systems for the U.S. Government, its prime contractors, and international customers.
SNC is a privately-held, woman owned business with a strong, stable and debt-free financial foundation that provides flexible low-risk and strong financial performance for our customers. We have invested heavily over the years in experienced people, modern facilities, and the state-of-the-art equipment needed to enhance our capabilities, development efforts to our customer's technical advantage. SNC has over 1000 employees with 24 locations in 15 states across the United States.
SNC Enterprise Business Areas:
ISR – Intelligence, Surveillance and Reconnaissance
CNS/ATM – Communication, Navigation, Surveillance & Air Traffic Mgmt
C4N – Command, Control, Communications, Computers and Networks
EW/RI – Electronic Warfare / Range Instrumentation
SST – System Sensors and Technology
IMS – Integrated Mission Systems