And speaking of conceptually loaded minimalist objects of precision-crafted metal, here are a couple of early Walter de Maria works I was looking at a few months back: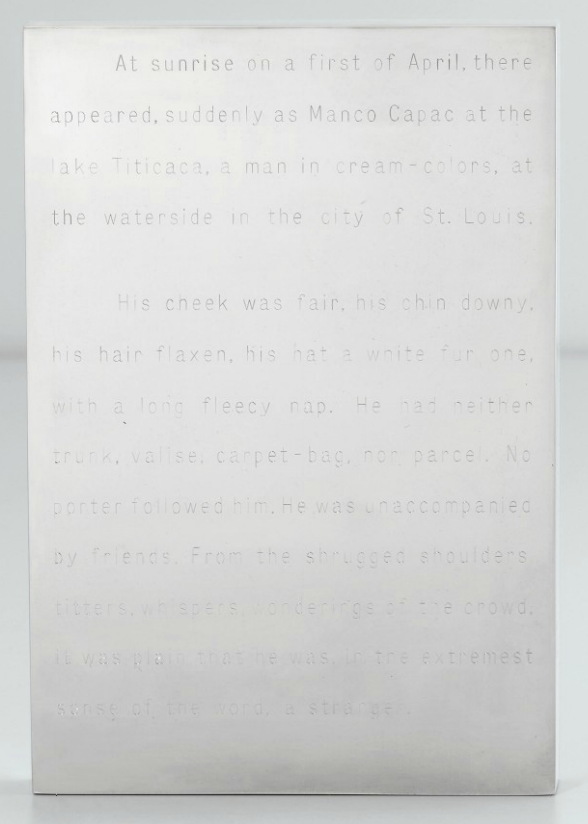 Betty Freeman bought Melville [1967, above] in 1968. It's a polished, book-sized tablet of stainless steel engraved with the opening lines from Herman Melville's 1857 novel, The Confidence Man:
At sunrise on a first of April, there appeared, suddenly as Manco Capac at the lake Titicaca, a man in cream-colors, at the water-side in the city of St. Louis.
His cheek was fair, his chin downy, his hair flaxen, his hat a white fur one, with a long fleecy nap. He had neither trunk, valise, carpet-bag, nor parcel. No porter followed him. He was unaccompanied by friends. From the shrugged shoulders, titters, whispers, wonderings of the crowd, it was plain that he was, in the extremest sense of the word, a stranger.
As Christie's noted when they sold Melville last May [$266,500, including premium], de Maria began producing industrially finished stainless steel sculptures in 1965, with the aid of collector Robert Scull. In 1966, he made Instrument for LaMonte Young , a 3 x 5 x 36 aluminum box with contact mics and an amplifier built in to pick up the sound of a metal ball rolling along inside the channel. Freeman picked that up in 1970. [And Christie's sold it for $80,500.]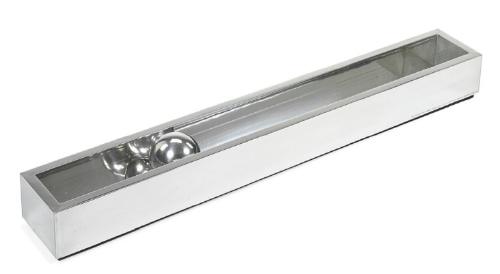 The early de Maria metal sculpture I've been most interested in over the years, though, is a little, 1-ft metal bar, an edition, which is engraved with a restriction that it can never be sold for more than $100. I first saw one in a collector's loft in SoHo around 1992, and I've waited ever since for one to turn up for sale somewhere. So far, no. Go figure.