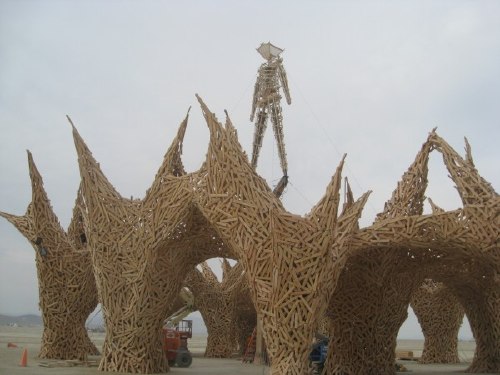 Classic. Throw it on the compost pile; it is done. Burning Man's official delusional complicity in its own cynical corporate exploitation is now complete.
This year, the Man has been set atop a pyre [above] made of 2x4s swirled into a fantastical, organic architecture designed by Rod Garrett. The design is an explicit reference to Uchronia, aka the Belgian Waffle [below], from the 2006 Festival.
The Waffle was controversial for many reasons: it was built in the open playa, not in the city. It was burned the night after the Man burned. At the time, the Waffle's Belgian designer/marketer Arne Quinze claimed his 100-person crew were all volunteers, but it turned out they were all paid employees. Because it was later revealed that the entire Uchronia Project was an experiential branding campaign organized and executed by Quinze's agency for the launch of the newly redesigned Lexus L460 luxury sedan.
See, Burning Man turned out to be only the opening act, the precursor for several Lexus pop-up showrooms with mini-Waffle installations, including one in Beverly Hills and another in Miami Beach which was timed to coincide with Art Basel.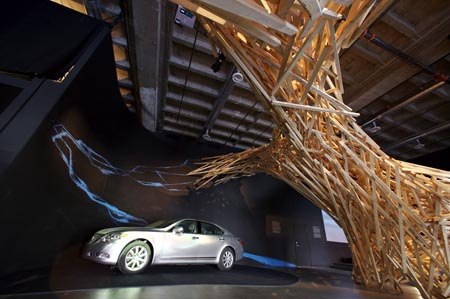 At the time, I got a lot of grief over my criticism of Quinze's spectacle, and burners, including the BM organization's official curator, were in angry denial about what had really happened. [My inbox got predictably quiet after the rest of Quinze's elaborate Lexus installations were unveiled.]
All that mattered was for burners to believe–even if just for a few days–that there was still a chance to escape the consumption-obsessed world, and to create, free from advertising and logos and clients and bullshit corporate sponsors and their moneygrubbing agendas.
And now, just three years later, the namesake of the festival is built on a replica of the biggest corporate punking and co-option ever. Congratulations.
Working for the Man; The State of the ART [top image via blog.burningman.com]
Relive the complete greg.org Uchronia=Lexus saga here.