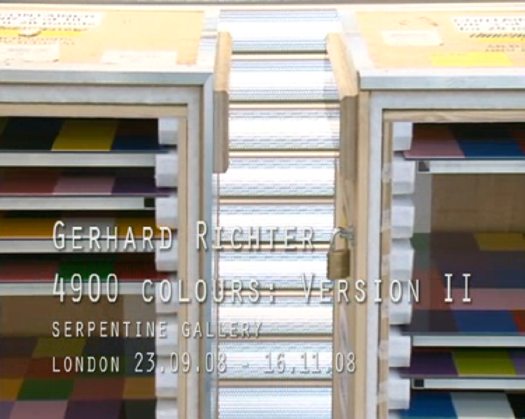 Gerhard Richter used a randomizing computer program to place the 11,500 hand-blown squares of glass in 72 different colors in his 2007 stained glass window for the Cologne Cathedral.
He used the same program at the same time to create 4900 Colours, a work which revisits the color chart and color chip paintings he made in the 1970s. For 4900 Colours, square acrylic paint chips were glued to Aludibond, a European brand of aluminum composite panel.
4900 Colours, Version II, shown at the Serpentine Gallery last fall, consists of 196 panels, each nearly 1m square and containing 25 computer-placed chips. The panels were hung in randomly selected groups of four to make one work comprised of 49 panels. Hans Ulrich Obrist talks about the work and its various versions in this video.

I can't get over how gorgeous they look, even in the crates. Watching the installation and listening to the several random elements Richter deployed reminds me of John Cage's rolywholyover exhibit from 1993-4. Using a a list and map created each day by an I Ching-based program, the museum's art handlers would essentially perform by installing, moving, and removing artworks selected for the show. When not on the walls, paintings and such were stored on rolling walls, still visible, in a roped off section of the gallery. One of my absolute favorite art experiences ever.