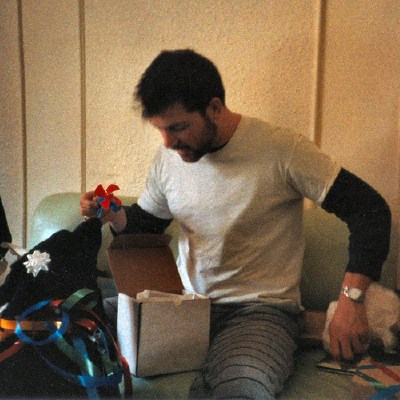 I've thought about similar situations before, so when I saw the mention in the NY Times article about all the dela Cruz's Felix Gonzalez-Torreses I realized I was surprised at how infrequently I hear or see Felix's partner mentioned by his full name. Turns out yesterday was the first time the Times has called him Ross Laycock, not just Ross, in the nearly twenty years since he died of AIDS-related illness.
This, despite Ross's integral, intimate role in so much of Gonzalez-Torres's work. Despite? Or because of? It's partly the nature of Felix's work, but Ross is most widely encountered [by people who didn't meet him during his life, obviously] as an abstraction, a figure, a reflection, an absence, even, in the art work itself.
Remembering that there was far more to Ross than Felix's artistic gestures, no matter how poignant, could convey, I Googled around a bit, and found my way to Nick Dobbing, who had been thinking very similar things for far more personal reasons.
Dobbing knew Laycock before Ross was famous, and posted a Christmas snapshot of him:
One can find pictures of Felix online easily enough, but (to my knowledge) none of Ross. I have often wondered, when people read about Ross, who is remembered mainly for being Felix's lover, who do they think he was?
So I scanned this from an old snapshot and put it up, as a memorial.
It's one of my most popular photographs, often revealed to others through Google searches, so I wonder if others are looking for a photograph of Ross.
Felix used several photos of Laycock in his works. Untitled (Ross and Harry) is a 1991 puzzle edition with the same dog: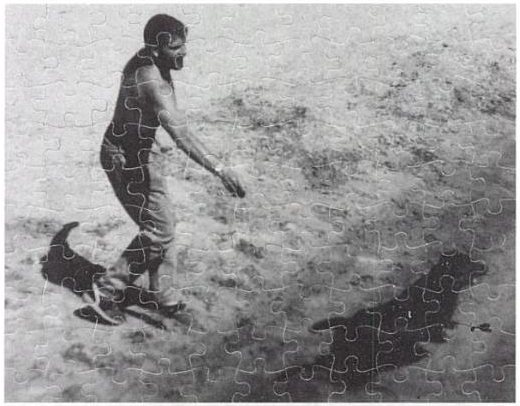 Recent Photos | Ross Laycock [wovenland.ca via flickr]