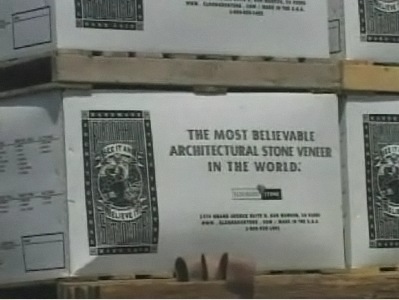 A lot of people are excited about the takedown of Nicolai Ouroussoff in Design Observer this week. And I can see their quaint, anti-starchitect point. But for me, Ouroussoff's biggest crime only became clear this afternoon. That's when I had to learn about Eldorado Stone,
"THE MOST BELIEVABLE ARCHITECTURAL STONE VENEER IN THE WORLD™"
not from the architecture critic the NY Times imported from Southern California–Eldorado's biggest market!–but from the bed of a contractor's truck on the way to kindergarten pickup.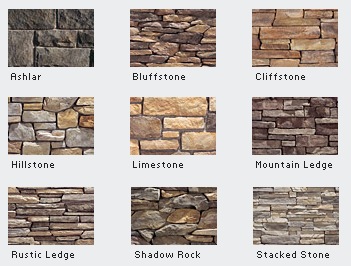 Is there a more exquisite tagline in the entire design world? Oh wait:
BELIEVABILITY
To us, it's more than a corporate tagline. It's at the very core of our company philosophy.
My sincere apologies. I didn't mean– It's just– What else could you call the intersection of honesty in design and fake rocks, but "most believable"? I'm blown away. Please go on:
We constantly ask ourselves, does our Mountain Blend Stacked Stone evoke the precision of a hand-laid, dry-stack set? Is our Bucktown Rubble an accurate representation of the stonework of rural Pennsylvania? Does our Veneto Fieldledge really look like it was just gathered from a pristine meadow?
Relentless self-reflection. Precision. Accuracy. Representation.
Three Critical Steps There are three critical steps in the creation of TMBASVITW. The first is the careful selection of stones from nature that will form the basis of our molds. Our craftsman [sic] sort through tons of stone, piece-by-piece, selecting only rocks that complement each other and have just the right shape, texture, size, and detail.
After the optimal stones are selected, special molds are fabricated…
Deep moss green. Russet brown. Golden umber. Nature's palette is limitless. And the palette of Eldorado Stone isn't much smaller. Drawing on more than 30 years of research and development, Eldorado utilizes a vast array of pigments in the stone-coloration process–the third and final step in achieving unmatched depth and variation.
Holy smokes, this is not some injection-molded, hide-a-transformer boulder from SkyMall. These folks are mass-producing believably artfully random rocks in more than two dozen completely different, national and regional styles!
This is our world, people! Every river rock fireplace, every gated community gate, every tanning salon and Starbucks in every upscale strip mall built in the country the last ten years was made with fake rocks of–it turns out–varying degrees of believability.
Who among purported fine artists is collaborating with the proven craftsmen of Eldorado Stone to bring more believability to your contemporary artworks? Who? Because while you dither about video installations, the Eldorado Stone Crew artist collective already has an installation video in the can: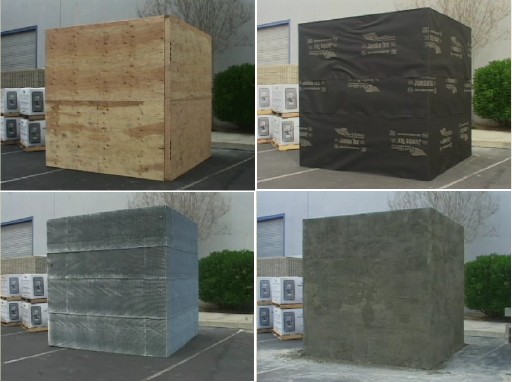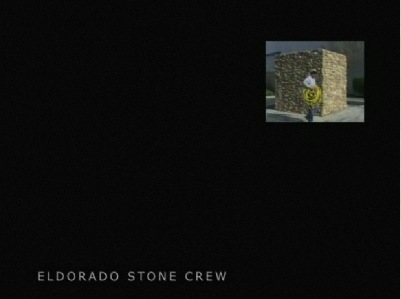 As the video demonstrates, the quantity of Stone needed to fabricate this cube-shaped sculpture is around 320 sq ft [8 x 8 x 5], plus 64 lineal feet [8 x 8] of corner pieces.
And their hardcover inspiration catalogue? The title alone is worth $24.95: The Allure of Permanence. It's like the most believable Tuscan farmhouse subdivision in the world, built out of pure language.
Eldorado Stone [eldoradostone.com]