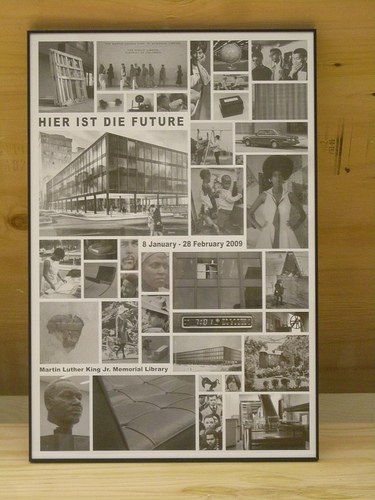 I just bought this incredible poster at the Martin Luther King Jr. Memorial Library, designed by Mies van der Rohe, in DC. It's for "Hier ist die Future," an exhibition held last year at the library by British artist Matthew Thompson.
Thompson explored the intersections of King and Mies, civil rights and modernism, by re-creating a minimalist, triangular plywood shelter designed by UMD architecture professor John Wiebenson and his students for Resurrection City, the 2,800 person encampment on the National Mall organized as part of King's and the SCLC's Poor Peoples' Campaign in the summer of 1968.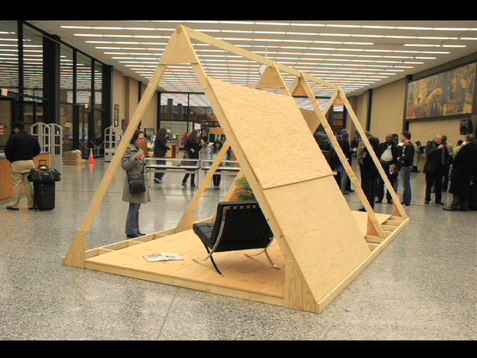 The PPC was intended to expand the Civil Rights Movement's mission to include the needs and rights of the poor; Resurrection City, originally conceived as City of Hope, was to be an in-government's-face reminder of the invisible poor while King and others lobbied for new jobs, welfare, housing, and education-related legislation.
Unfortunately, King's assassination that April, followed by poor organization, horrible weather, and then Robert Kennedy's assassination in June, left Resurrection City an ineffective mess.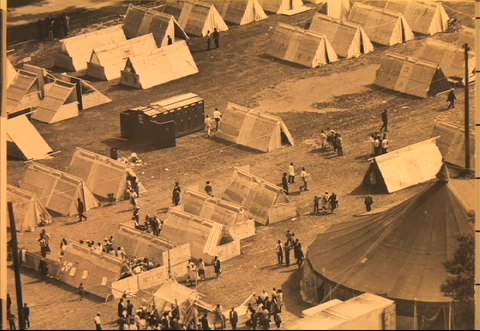 Thompson obtained the original drawings and plans for the Resurrection City shelters from Wiebenson's widow, along with archival photos and materials of the encampment. He furnished his version with a Barcelona chair, his poster, and a 1971 coffee table book on urbanism.
The Social Sciences division of the library did a video podcast with Thompson that offers the best discussion and documentation of the project I've found so far. [dcpl-socialsciences.blogspot.com]
The Library also posted installation shots for "Hier ist die Future" on flickr [flickr]
"Hier ist die Future," by Matthew Thompson, 8 January – 28 February 2009