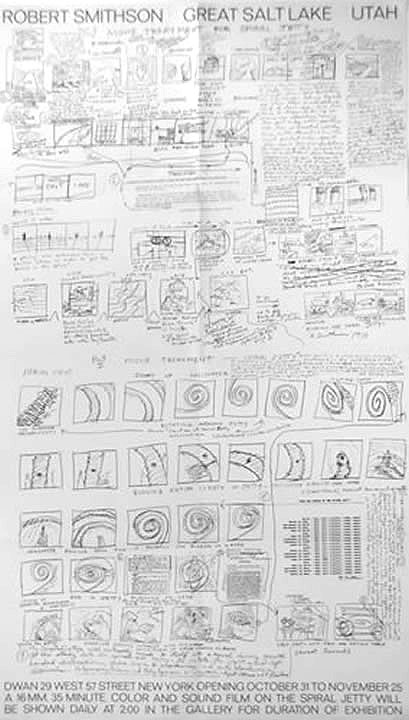 I've been working on a shot-for-shot remake of the Spiral Jetty film for a while, and so I'm quite familiar with the storyboard-like drawings Smithson did for it. Familiar with them as drawings, that is. He called them Movie Treatments.
It's a little embarrassing to admit I didn't realize Smithson had used a treatment/storyboard for the flyer/poster of the 1970 Dwan Gallery exhibition of Spiral Jetty until I read it in Kathleen Merrill Campagnolo's essay on the Jetty and its camera imagery in the Smithsonian's Archives of American Art Journal. But there it is:
DWAN 29 WEST 57 STREET NEW YORK OPENING OCTOBER 31 TO NOVEMBER 25
A 16 MM, 35 MINUTE COLOR AND SOUND FILM ON THE SPIRAL JETTY WILL
BE SHOWN DAILY AT 2:00 IN THE GALLERY FOR THE DURATION OF EXHIBITION.
The Dwan exhibition consisted primarily of Gianfranco Gorgoni's large-format photos of the Jetty, eight of which were included in Kynaston McShine's historic "Information" show at the Museum of Modern Art that summer.
Given the iconic aspects of the photos and the powerful influence of the film–not to mention the experience of visiting the Jetty itself–it's somehow odd to think of encountering the Jetty first in terms of Smithson's site/non-site paradigm, as a situation represented in a gallery.
It's also interesting to note that the film only played once a day, not on a continuous loop as is often the case now. It was an event more than an installation.
Anyway, I would like you to send me one of these posters, please. If you have one you don't need, or perhaps some extras. It need not be signed. Thank you.