I cannot go to Oregon for the weekend, but I would pay cash money right here and now to watch a livestream of the Judd Conference, the Univerity of Oregon's day-long exploration of Donald Judd's fabrication methods. The official title is, "Donald Judd Delegated Fabrication: History, Practice, Issues and Implications ":
From the outside a Donald Judd piece is seamless, hiding all traces of its construction. But behind the final piece is a rich history of the artist's intent and his method for fabrication. Join us for a groundbreaking discussion of Judd's art, lead by contemporary art scholars and Judd's longtime fabricator, Peter Ballantine. The day-long conference in Portland, Ore., will look at Judd as an icon of the American minimalist movement, as well as issues of authenticity and fabrication that continue to have lasting implications for artists today. In addition, the conference will explore the artist's connection to the Pacific Northwest, where he created a site-specific piece in 1974 for the Portland Center for Visual Arts (PCVA).
Arcy Douglass is running a Judd Conference blog, and of course there's a Judd Conference Twitter [@juddcon].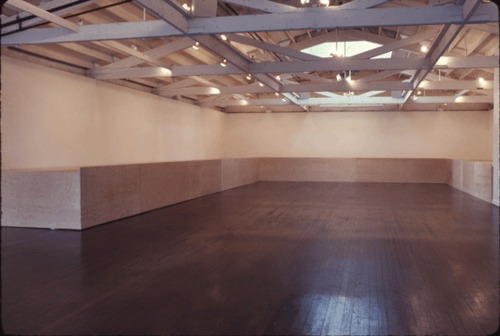 Douglass also wrote an article a little while ago about Judd's large-scale plywood work executed at the Portland Center for Visual Art in 1974. Like the incredible Plywood Slant Judd installed at Castelli in 1976 [which was re-created at Paula Cooper in 2001], it was a site-specific, architectural construction determined in part by the dimensions of the plywood itself.
On second thought, maybe it is best to be there in person. Not just so you follow Peter Ballantine around as he visits his secret local sources for vintage plywood and Oregon Pine. But to get some straight answers about what the hell was going on with this corner of the PCVA installation. Great Caesar's ghost! [via artnet]