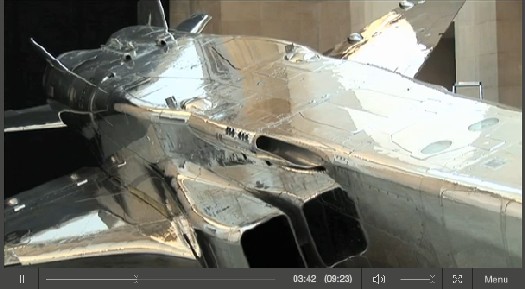 Harrier and Jaguar, Fiona Banner's commission for Tate Britain's Duveen Galleries opened this week, and from the making of film and interview with the artist, it looks spectacular.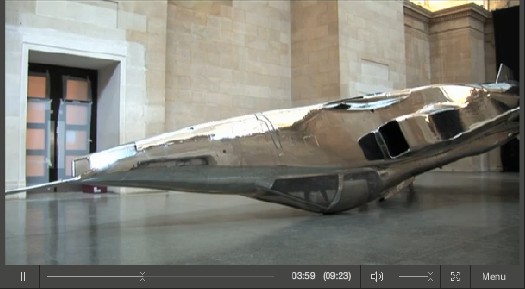 Banner has installed two decommissioned fighter jets–a BAe Sea Harrier XE695 and a SEPECAT Jaguar XZ118–in the grand neoclassical space. By altering each slightly, and by placing them in atypical, non-functional positions, the artist turned them into overwhelming, beautiful objects–sculptures–which nonetheless manage to retain all their original significance and meaning as highly advanced weapons of war.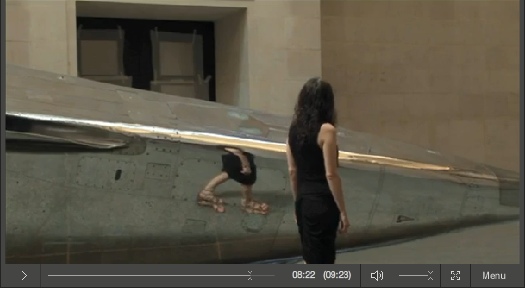 The Harrier was covered with a delicately feathered matte wash and hung, nose down, just off the floor. It barely fits inside the limestone-clad hall. The SEPECAT Jaguar was stripped down to bare metal and polished to a mirror finish. It rests upside down, on its cockpit. Did I mention it looks spectacular?


With those reflections it generates, it's like a 3D realspace version of Google's distorted Street View portraits.
Video | Fiona Banner Harrier and Jaguar, 9'23" [tate channel]
Duveens Commission Series | Fiona Banner 2010, through 3 Jan. 2011 [tate.org.uk]