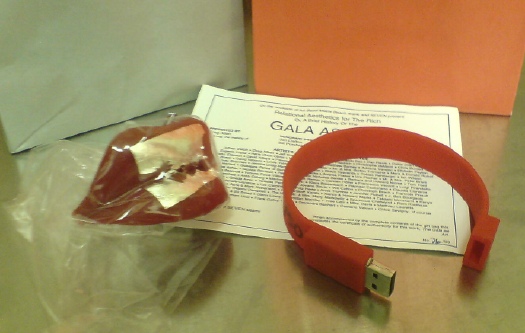 I was nervous, I admit, but I really had a blast last week giving my Gala As Art presentation last week at #rank. The crowd was great; the other #rank folks I met were nice, with interesting projects and conversations; SEVEN looked fantastic, a really smart, low-key way to show a fair's worth of work [I hope all the participating galleries made a bundle of money.]
It seemed obvious that the talk required gift bags, so I decided to do them as an edition. The artist-licensed perfume I hoped to include didn't pan out, though. I'd toyed with the idea, no pun intended, of making a version of Marina Abramovic's party favor/dessert for the The Artist is Present gala, where the dessert art foundry Kreemart cast her lips in Belgian chocolate covered with gold leaf.
Then I priced edible gold leaf, and opted for silver leaf on edible wax lips, which really set the gift bag's entire color scheme. [Actually, Diet Coke probably set the color scheme without me being aware of it.] Applying silver leaf was a pain in the butt, but there were only a couple of rejects. They traveled amazingly well, thanks to Jean's careful wrapping. The certificate is designed like an invite, with a bajillion artists and collectors and curators on the committee, everyone I mentioned [or planned to, anyway.]
And at the last minute, I decided that burning and printing 50 DVDs full of the gala-related video and pdf files I'd assembled would be not so interesting. [A friend pointed out that no one ever opens the jewelcases in their gift bags, and I realized, in 20 years, I never had either.]
So I hustled to find a cool USB drive I could load. Maybe get my logo or url on it. Or maybe find anything at all in stock. Finally, I found exactly what I was looking for, and I ended up loading, signing and numbering the silicone bracelet flash drives the morning I left.
I'm discussing them at length here because they're apparently so stealth, several people didn't realize they were anything more than a wristband. So now you know. I saved a couple for the archive. And because I didn't want to leave the lips melting in the trunk, I ended up not going to Art Basel at all. Crazy.
Meanwhile, I'm trying to find the best/easiest way to release the slideshow and audio together, either as a screencast or a podcast or something. Watch this space.