I'm trying to imagine this happening today, or this century–or last, for that matter–and I just can't. The best account of it I've found is from Calvin Tomkins' 1964 New Yorker profile of Rauschenberg, so I'll just quote him:
[Rauschenberg and Jean Tinguely] joined forces with several other avant-garde talents to put on a rather bizarre performance in the theatre that is part of the American Embassy.
This spectacle presented simultaneously a motorized Tinguely sculpture that went back and forth across the stage doing a strip tease; a performance, in and around the piano, of John Cage's "Variation II" by the American pianist David Tudor; a picture-shoot by Niki de Saint-Phalle, Tinguely's present [sic] wife, who creates her works by firing a .22 rifle at papier-mache constructions in which plastic bags of paint are embedded; and the onstage creation of a painting by Rauschenberg, whose brushstrokes, hammer blows, and other sound effects were amplified by contact microphones attached to the canvas. (Only the back of the painting was visible to the audience, which expected to see the finished work at the end but was denied that pleasure.)
Jasper Johns, who was also having a show in Paris, contributed a painted sign reading "Entr' Acte" and a large target made of flowers. The performance drew a large and enthusiastic audience, although the Embassy, uncertain what to expect, had forbidden any advance publicity.
I mean, can you imagine it? The performance was June 20, 1961. Johns and Rauschenberg were both in Paris for shows, but from what I can tell, the impetus was the beginning of David Tudor's European tour. [Though Tudor's site doesn't seem to mention a tour.]
"Variation II" is one of Cage's most complicated, abstract works. Cage's scores almost always baffle me–when described, they often sound like impossible-to-follow instructions for making a Sol Lewitt wall drawing without a wall–and "Variations II" is no different. Here's the Getty Research Institute's explanation:
Cage's original notation consisted of five points and six lines on eleven individual plastic sheets and instructed the performer to create measurements between the dots, representing sound events, and the lines, representing parameters of sounds (amplitude, duration, overtone structure, frequency (pitch), point of occurrence, number of sounds structuring each event). The resultant measurements defined the parameters of each sound event.

David Tudor, "Nomographs" designed for a realization of John Cage's Variations II, 1961, image via GRI
Lalalala– what? Got that? Never mind, because Tudor apparently changed it all so much, at least one scholar has called "Variations II" Tudor's own first composition. [That scholar, James Pritchett, has as clear a description of Tudor's 1961 performance techniques as I can find, btw. As for audio, the closest approximation I can find is a 1967 "Variations II" performance by Tudor, which obviously doesn't include his Parisian backup band.]
So far, I haven't found any documentation of the performance itself. But whatever exists was surely shown at the 2009 Tinguely/Rauschenberg exhibition in Basel I wrote about a little while ago.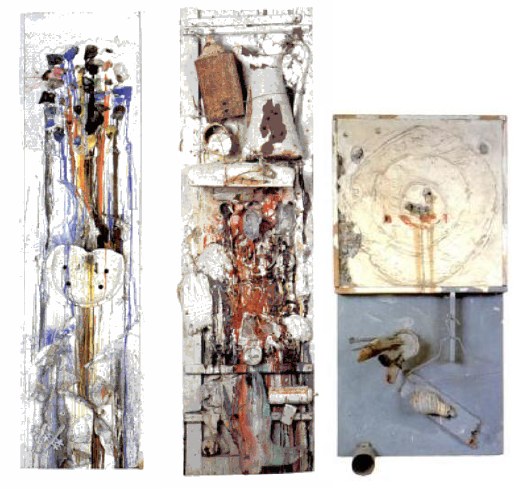 The three Niki de St. Phalle paintings above [not to scale] were all made on the day of the performance, and Shooting Painting American Embassy [left] was in the show, but no actual shooting took place in the embassy. Both Homage to Robert Rauschenberg (Shot by Rauschenberg) [middle] and Tir de Jasper Johns [right] were shot during the day, and her catalogue raisonne says St. Phalle didn't shoot American Embassy until later.
I'm sure the folks in the Embassy were relieved.
Previously: the State Department and modernism in the 1960s
the de la Cruzes loan a Felix candy pour to the Art in Embassies Program
an amazing memo from Nixon calling for a purge of the "little uglies," aka contemporary artworks, from embassies