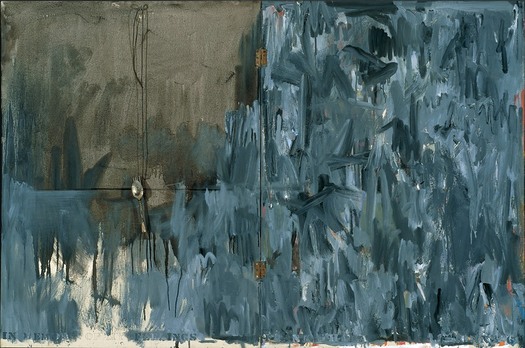 In Memory of My Feelings – Frank O'Hara, 1961, Art Institute of Chicago
I've had a jpg of Jasper Johns' 1961 painting, In Memory of My Feelings – Frank O'Hara on my desktop for months now. It was one of the most important works in the National Portrait Gallery's "Hide/Seek" exhibition, and I took the chance to study it up close several times throughout the run of the show.
I have also been a little wary to write much about it, and its seemingly powerful resonance with Johns' Short Circuit flag, partly because I was unsure of how much to read in, and how relevant or not the associations I was seeing really were.
In Memory of My Feelings definitely relates to the other, larger Flag–at 40×60 vs 42×60, it's nearly identical in size. But unlike the 1955 Flag, or any other flags, it's made of two canvases hinged together. Hinges, functional and not, are just one unexamined element that appears in both Johns' and Rauschenberg's early work. [Light bulbs are another. Maps, just barely.]
When In Memory is discussed, the somber, grey tones come first. Then there's Johns' stenciled inclusion of the words "dead man" next to his own name on the bottom. And the overpainted skull that you can barely make out in the upper right quadrant somewhere. And that's it, and then the Frank O'Hara reference takes over, and the irony that Frank O'Hara would die five years after this was made–as if this had anything to do with the painting, or Johns' painting of it.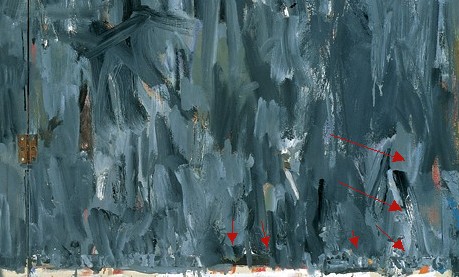 And so I wondered why I couldn't find anyone talking about what IS clearly visible through the overpainting in the lower right section [detail above], which is a series of vertical red and white stripes. A flag. Or maybe two. Photos weren't allowed in NPG exhibition, and I can't remember now. But there is at least one flag painting under there.
One person who does talk about In Memory of My Feelings, though, is "Hide/Seek" co-curator Jonathan Katz. In a gallery talk video, Katz talks about putting Johns' and Rauschenberg's works side by side to show it for the first time in the context of their relationship, and particularly their breakup.

Katz talks matter-of-factly about these artists' relationship and collaboration in a way that no curator ever has. And keeping the bitterness of the breakup in mind certainly brings a lot of content to the fore in Johns' painting. It feels especially necessary for understanding why Johns might have chosen to reference this poet and this poem. [Spoiler: it's about dealing with the despair of a breakup.]
But Katz, whose delivery is slick and precise, not a word out of place, drops what I think is a bombshell? And just keeps on going:
When [Johns] and Rauschenberg met, one of the first works that they made after becoming a couple, was the famous–even iconic–Jasper Johns American Flag painting. This is a picture of that flag, in grey, reversed. The obverse of the picture that they made when they got together.
In one sense, it's obvious, and in another, it's ridiculous. Or at least unheard-of. Yes, definitely unheard-of. Katz is proposing, in passing, fundamental changes to the understanding of bodies of work, practices, and histories of two of the most important artists of the last 100 years.
This is the compelling thing for me about Short Circuit, an early 1955 Rauschenberg combine with a Jasper Johns flag behind a hinged door. A work which was originally/also titled Construct with J.J. Flag, and which was exhibited by Alan Solomon under both their names in 1958. It makes the otherwise incredible, even shocking assertion that Johns and Rauschenberg collaborated and made some of their most important work together seem perfectly obvious.