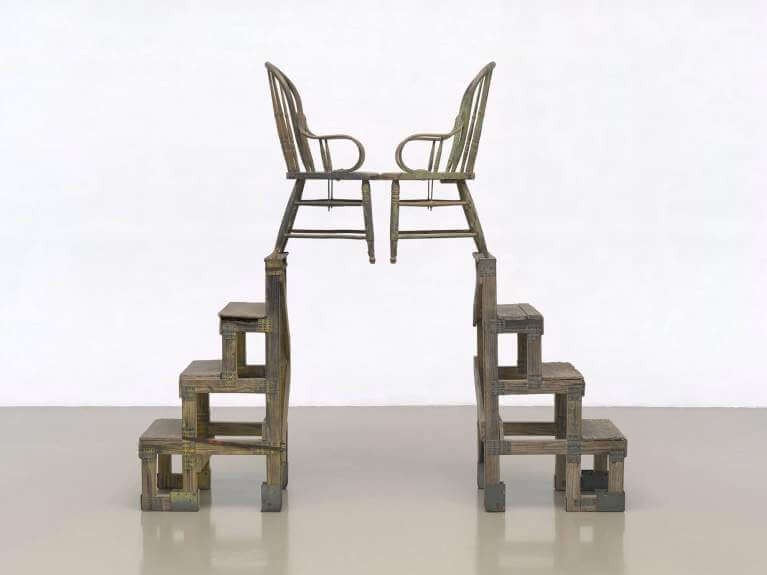 Lawrence Voytek began working for Robert Rauschenberg in 1982, right out of RISD. He set up a workshop in Captiva, Florida, and for decades was involved in helping the artist fabricate his work and solve complicated technical challenges.
One of the highlights of Voytek's oral history with the Rauschenberg Foundation is his work casting objects, from an 24k gold apple core and a solid silver pineapple to a bronze replica edition of The Ancient Incident (1981), a pyramidal tower of fruit stands and Windsor chairs.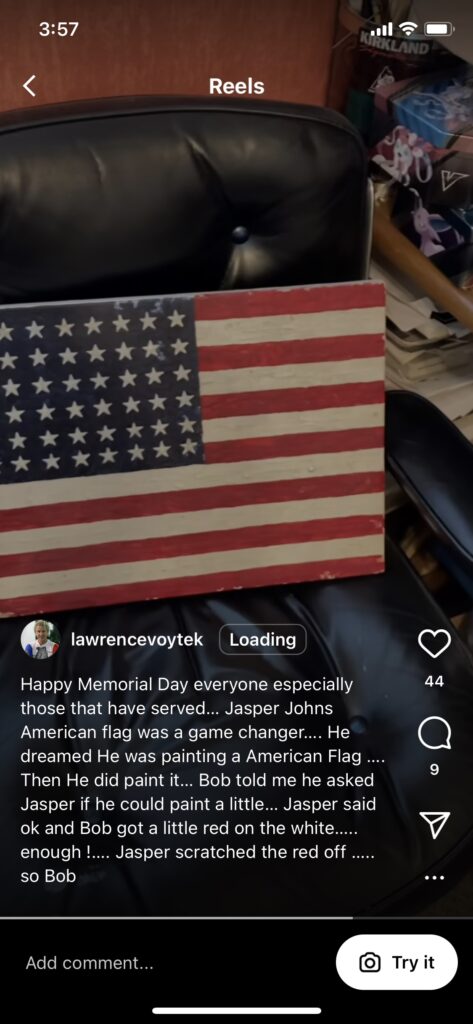 Yesterday, artist Eric Doeringer sent me an Instagram Reel Voytek posted for Memorial Day. Voytek shows off a small, bright Jasper Johns-style American flag on a wood panel, which he holds with one hand while recording with his phone in the other. I've transcribed the Reel for Art History:
Happy Memorial Day, everybody. This is an encaustic flag. There was a painting that Bob did [Short Circuit, obv] that had a Jasper Johns that was stolen, and it was at Captiva for a while. Bob asked me to make a kind of a copy of the Jasper, doing the real encaustic. He didn't use it on it; they had a Mary Stravant [sic, Sturtevant] flag that had newspaper and stuff. But this was kind of fun. I melted Crayola crayons, and I had hot wax, and I made a Jasper Johns flag so there you go. Happy Memorial Day.

in 1954 Bob was with Jasper when Jasper had the dream of painting an American flag, and that really sort of was a gamechanger.
Indeed it was, Lawrence, indeed it was.
Voytek's oral history doesn't mention Johns, Short Circuit, or Flag (this one or any others). Rauschenberg's story from Voytek's caption, though, about asking to paint some of the original Flag is out there. Johns' story about the dream is, by definition, solitary. But I think this is the first account I've seen that acknowledges someone else was in the bed.
Speaking of casting difficult fruit: Melons and Pomegranates, Matson Jones Custom Display