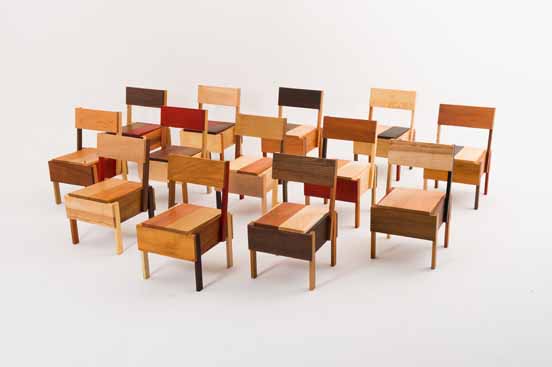 Add Jonathan Monk to the list of artist Enzo Mari fans. For the Brussels gallery D&A Lab's show at Design Miami Basel Miami Wynwood Art Week Whatever Fair last month, Monk created Mari Thirteen, an edition of Mari's autoprogettazione chair, Sedia 1. The design calls for 13 pieces of wood, so Monk used thirteen different types of wood, none of them pine: Koto, Padouk, Ash, Maple, Oak, Cherry, Pearwood, Wengé, Afzelia, Ovang, Mahagony, Birch and American Nutwood.
As I understand it, there was one set of 13 chairs to be sold individually for like $9,000 apiece, and one set of 13 to be kept together. No doubt destined to surround some Russian oligarch's beach-cast, triskaidecagonal Max Lamb dining table.
D&A Lab's owner Isolde Pringiers says of the project:
Jonathan Monk's interpretation is just one possible version of the 'Sedia 1′ of Autoprogettazione and hence in essence is very much part of and a continuation of Enzo Mari's project but with the appropriation layer, typical of Jonathan's work. With Autoprogettazione Mari went a step further than Ikea in his time in democratizing design. It broke down barriers in terms of what established design and good taste was. Monk, on the other hand, crosses back over those boundaries in as much as his interpretation offers a fully finished, conceptual object which is anti-Ikea. Enzo Mari offered the liberty of the project and Monk fully indulged.
Which, wow, I think I take issue with just about every single aspect of that statement.
Monk Makes Mari at DesignMiami [designmiamiblog.com]