I'm looking into ways to paint on aluminum, and so I've come back to Gerhard Richter's 4900 Farben, which is made up of 196 Alu-dibond panels, each with 25 lacquered [aluminum?] squares mounted onto them. Whatever the exact process, they are definitely painted objects, not just paintings.
Which is partly why, when, in a Snowpocalypse-bound frenzy, I wrote rather obsessively about the Serpentine's 2008 exhibit of the work, particularly how the images in the catalogue were actually not of the work itself, but a digital facsimile. Which included illusory drop-shadow effects.
So you can guess what the first thing was when I saw the image of three related 25 Farben panels in Sotheby's day sale last spring: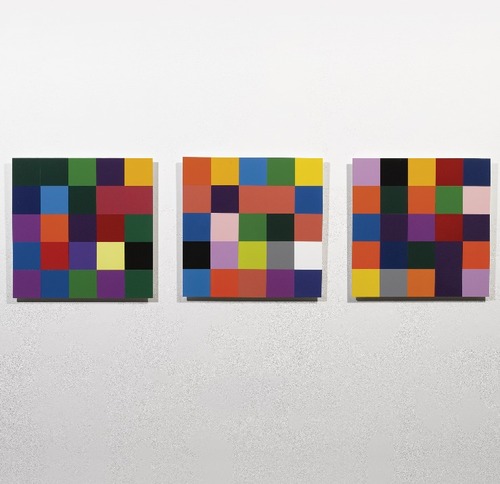 I mean seriously, just look at those shadows. Horribly lit, sure, but at least you know they're real; and I suspect a CG rendering wouldn't bring $200k apiece for those panels.
11 May 2011, Lot 412: 25 Farben [Three Works], est $300-400,000, sold for $590,500 [sothebys.com]
Richter's 25 Farben paintings are nos. 901- and 902-, all 2007 [gerhard-richter.com]
Previous greg.org 4900 Colours coverage starts here and ends here. The discussion of facture and faking the fabrication is here, followed by the drop shadows and diagrammatic abstraction diatribe.