Such a great shot, such artful product placement. While it's unfortunately still true that you cannot buy publicity like this, only the most foolish brand evangelist will find himself unprepared when disaster coverage strikes.
The truth is, news photographers want to include your store or brand in their hurricane coverage; it can add excitement and content to the shot. The trick is to help the journalist by making that sexy storefront/logo shot not just easy, but irresistible.
Be respectful, not demanding. Craft your message with current media standards in mind, if only to increase your chances of actually getting it on the air.
Most brand messaging during a disaster buildup often feels impulsive, improvised.
Which works great for a nimble, inherently creative brand like agnes b.
But let's face it, executing on-brand on the fly is tough. Even if guy from Reuters takes a picture of your defiant but slightly odd scrawl, the benefits to your brand are limited if readers have to rely on the caption to learn that Lush is actually the name of your irreverent beer and winé shop.
But it shouldn't always have to be so ad hoc. This scaffolding covering the glass cube at the Fifth Avenue Apple store looks absolutely fantastic. Those guys really are brand geniuses.
Except it's actually for an ongoing renovation project. They got lucky. Here's Getty coverage of a very high-quality boarding-up underway at the Georgetown Apple Store:
A barrier which, however strong physically, utterly failed from a brand standpoint. The raw OSB--and not just OSB, but mismatched OSB!--is almost as detrimental as the hidden logo.

"Must Buy Apple Products," image m.v. jantzen via flickr
In fact, a quick survey shows, with the exception of a few strikingly on-point, silver sandbags in the Meatpacking District, hurricane preparedness design is a glaring weakness in Apple's heretofore vaunted retail strategy.
Another tenet of disaster coverage messaging is to balance long and short term objectives. On the one hand, there's marketing to do and money to be made. On the other, you don't want to be seen as exploiting either the situation or your customers. So make sure the statement about fair plywood panel pricing is in the shot with the helpfully upselly hurricane shopping list.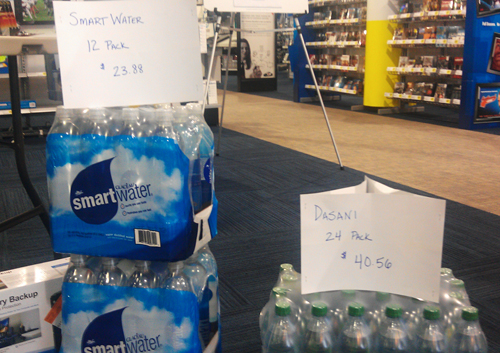 "WOWOW look at what Best Buy is doing! Selling cases of water for over 40 bucks!" via @AConDemand
And remember, a hurricane is no time for business-as-usual, and that goes for branding, too. So instead of squeezing out full, point-of-sale retail for every bottle in inventory, be creative. Offering a case of water free with purchase of every flatscreen could build goodwill toward the brand, which may pay off immediately by mitigating any effects of post-storm looting.
There will always be naysayers who think that putting even a little thought into your brand's disaster coverage presentation is crass and exploitative. Or who are willing to just hand over complete control of the presentation of their brand to freelance photographers and shiftless twitterers.
To these people, I would say simply, "Follow the experts."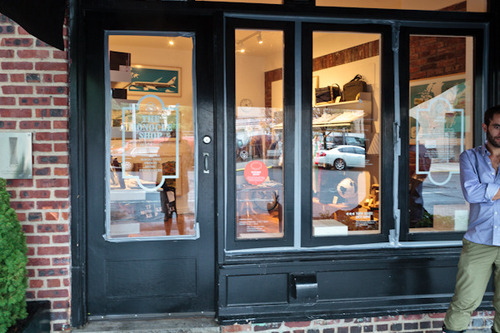 Monocle's artfully, pointlessly taped storefront, via eric etheridge's awesome hurricane retail roundup
Not the branding experts who, in their obsessive preservation of brand essence, apparently miss the entire point of taping a window in the first place.

No, the other experts, the ones who live and breathe disaster coverage; the ones whose job it is to stand ready to help, to be prepared to move in wherever The Weather Channel's satellite trucks may roll. When you're wondering what your hurricane brand strategy should be, ask the important question first, "What would the Red Cross do?"