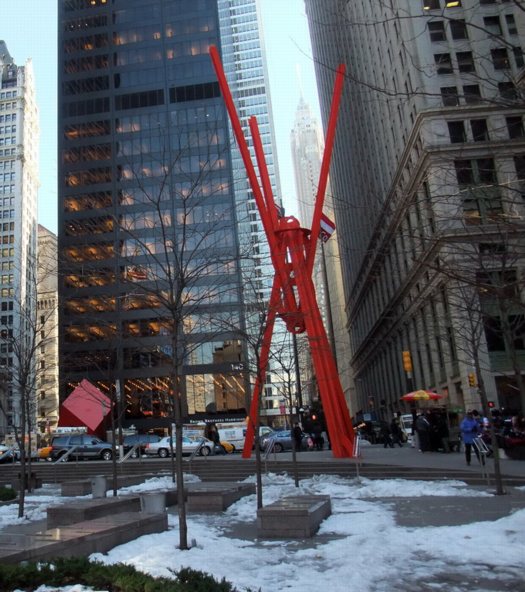 Joie de Vivre, Mark di Suvero, Zuccotti Park, detail of image via ourtravelpics.com
Or maybe #OccupyJoiedeVivre, then? Either way, please tell me I'm not the first or only one to think of this. Actually, please tell me someone's already working on it.
Mark di Suvero's giant steel sculpture, Joie de Vivre was built in 1997 and stood for several years in the exit plaza for the Holland Tunnel, then at Storm King, and in 2006 it was installed in its new home, Zuccotti Park. Whether its art historical significance is fully appreciated, or whether it's called "The Big Red Thing," di Suvero's sculpture has become an icon of the Occupy Wall Street protests.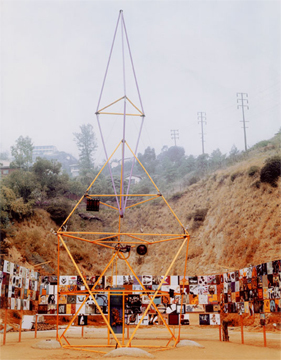 The Peace Tower, 1966, image via newsgrist
Which is good, because di Suvero himself is an icon of artistic involvement in political action, activism, and social justice. In 1966, along with Irving Petlin and others, di Suvero designed The Artists' Tower of Protest, also known as The Peace Tower, one of the earliest and largest artist-organized protests against the Vietnam War.
The Peace Tower stood on a vacant lot on the corner of Sunset and La Cienega Boulevards in Los Angeles, which Petlin's Artists Protest Committee rented for three months. They solicited 2x2 art objects from 400 artists, which were installed onsite. Documentation of The Peace Tower is currently included in Pacific Standard Time at the Getty.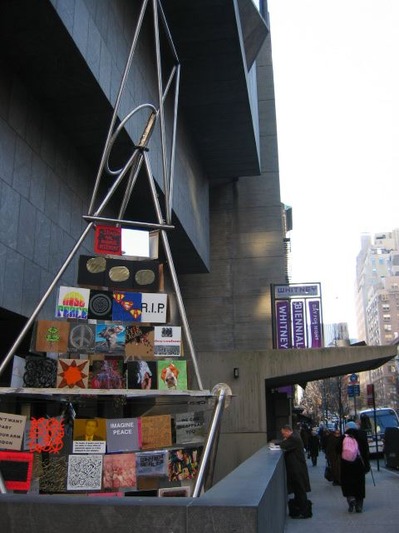 Peace Tower @Whitney Biennial, 2006, image via wjff
In 2006, Rirkrit Tiravanija worked with di Suvero and Petlin to re-create The Peace Tower as a protest to the Iraq War as part of the Whitney Biennial. The new tower was festooned with 180 2x2 panels created by invited artists, including many artists from the LA original. [And Joy Garnett, hello!]
So it would seem to me, that when you're organizing a global protest against injustice at the foot of a Mark di Suvero sculpture, shouldn't you organize it on the Mark i Suvero sculpture? And shouldn't you do that, NOT by climbing the sculpture and demanding cigarettes be delivered to you by police cherrypicker, thereby precipitating the fencing off of said sculpture and the park space around it, but by tracking down the artist himself and enlisting him in a call for artists to create 2x2 panels that will be installed on Joie de Vivre itself?
And though it might be hard to measure--or identify, for that matter--the impacts on policy of the war protests in 1966 and 2006, circumstances almost seem to demand an incarnation of a protest tower in 2011-12. And at the very least, art people, doesn't this make 10000x more sense than marching on the Frick?
Related: Jeffrey Kastner's remarkable interview with Irving Petlin, Mark di Suvero and Rirkrit in the March 2006 Artforum [artforum via findarticles]