Following on from the multiple installments of archival World War II images on hisphotoblog In Focus, Alan Taylor has assembled selections from another remarkable public photo archive, this time from the Environmental Protection Agency. In the early 1970s, the newly formed EPA sent photographers around the US to document the environmental and physical state of the country. The project, titled DOCUMERICA, rivals the Depression-era Farm Security Agency's photo effort in scope and scale; more than 100 photographers produced over 80,000 images, and the Corcoran and Smithsonian organized DOCUMERICA exhibitions that toured the country until 1978.
In setting out to "systematically record the ills of the 1970s American landscape," EPA project director Gifford Hampshire consciously patterned DOCUMERICA on the FSA's photo program, consulting with FSA veteran Arthur Rothstein on setting it up and selecting photographers.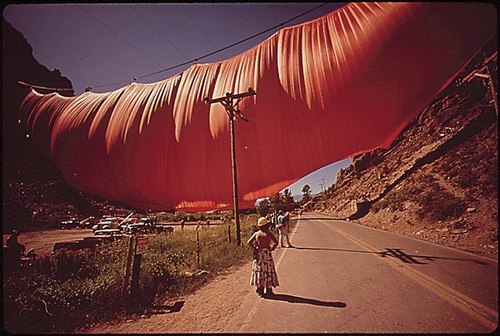 Around 16,000 have been digitized and are available on the National Archive's website, and I've just barely started poking around. The least interesting of the two things I've found so far, both from photographer Bruce McAllister, is documentation of what I believe is the first installation, on October 10, 1971, of Christo & Jeanne Claude's Valley Curtain in Rifle Gap, Colorado.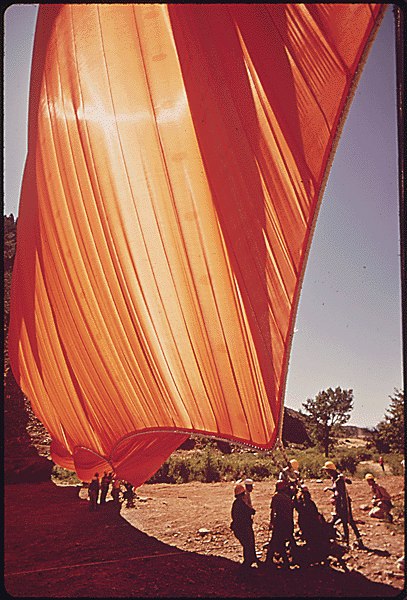 I'm guessing it's the first, because McAllister's photo captions mention how "it was ripped to shreds by canyon winds in 24 hours." Christo tried again on August 10, 1972, but that time, a storm forced the curtain's early removal. Which makes McAllister's stated date of 05/1972 incorrect. On the other hand, sundresses and October in the mountains don't normally go together, do they? Either way, as ills of the American landscape go, Valley Curtain was little more than a 24-hr flu.
Alan Taylor's 46 favorite images from DOCUMERICA [theatlantic.com]
DOCUMERICA: Snapshots of Crisis and Cure in the 1970s [archives.org prologue magazine]
Search the Archives Research Catalog for "Christo Javacheff" [archives.gov]