It looks like Les Blurmoiselles d'Avignon have some company.
The Google Art Project has released a new batch of 134 museum participants, bringing the total to 150, though only 51 institutions are offering Street View Museum View. And a couple of those, like Tate Modern and the Crystal Palace at the Reina Sofia, have basically no art, just space. [Tate Modern Museum View rather brilliantly drops you into the Turbine Hall, facing a blank temporary wall. ]
But if any museums besides MoMA gave to deal with living artists, or works still under copyright, I haven't been able to find them. And so MoMA wins this round for adding a rotating show–Kathy Halbrecht's contemporary installation in the 2nd floor Kirk Varnedoe Galleries [I am calling them this forever now, btw]–of contemporary art, thereby demonstrating that living artists are easier to get clearances from than estates.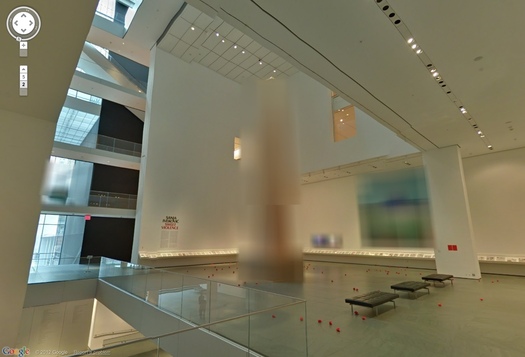 Most of them, anyway. Fortunately, there are some exceptions, and they look awesome cloaked in Google's Blurmany-style algorithms. Oh the first really is the best, too. Sanja Ivekovic apparently didn't sign on to have her atrium installation, Rosa of Luxembourg become Rosa of Luxembourg of Google Art Projects.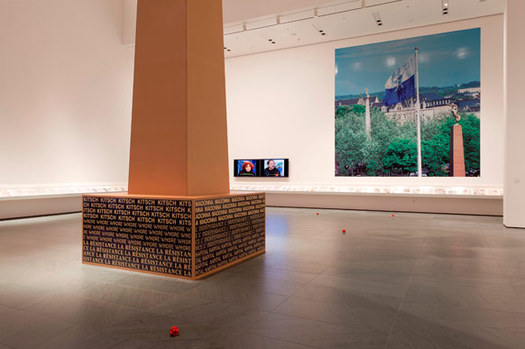 Lady Rosa of Luxembourg (foreground), with the Gëlle Fra (background). Photograph by Christian Mosar. Courtesy Casino Luxembourg–Forum d'art contemporain , via moma.org
The monumental column is nice, of course, but the colors on that giant photo are utterly fantastic. That's the first one I'll paint.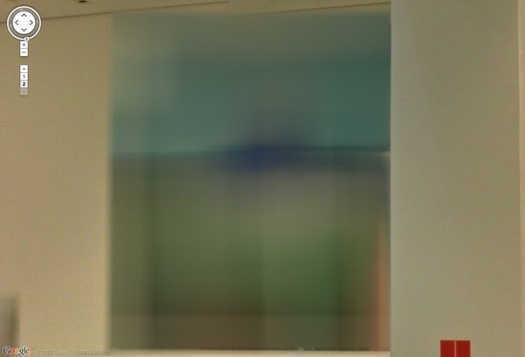 Also, is the Bell & Howell helicopter over the staircase blurred out, too? Is that a fluke? Anyway, stepping back into the Varnedoe Galleries…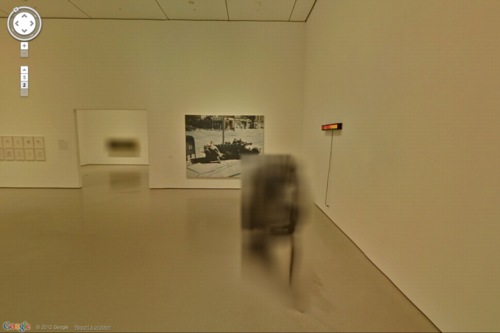 Still waiting to hear back on this one. I can't remember what it was, though from this angle, it looks like the bastard lovechild of Louise Bourgeois and Gerhard Richter raised by Thomas Houseago. Of course, after a speculative mashup like that, whoever it turns out to be will almost inevitably disappoint. Sorry, artist. That's a Reinhard Mucha in the back, though.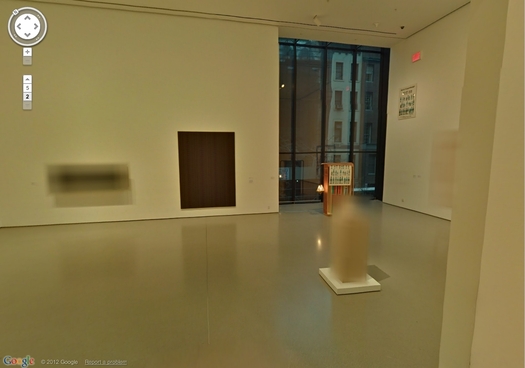 And when you head back there, both the Georg Herolds are also blurred. For a moment. Because you take another click/step, and they're not. The blur disappears. It's an unexpected reveal as Google's sheets of virtual ribbed polycarbonate clatter to the ground.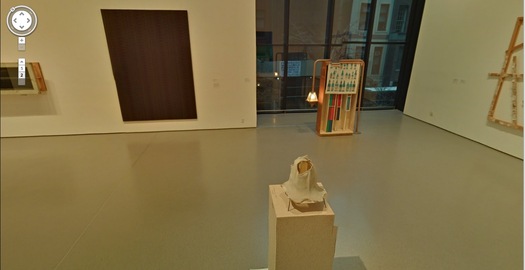 Or is it like that stuff on the facade of the Issey Miyake Pleats Please store in SoHo? You're walking along, blur blur blur, and then you align with the material, and for an instant, you can see in. At least, in this case, for one pano. I suspect this is an oversight, so go try it quickly.
And no offense to Herold, because his underpants dome is quite fetching, but I'd totally get one of those LA acrylic guys to cast me one of these first: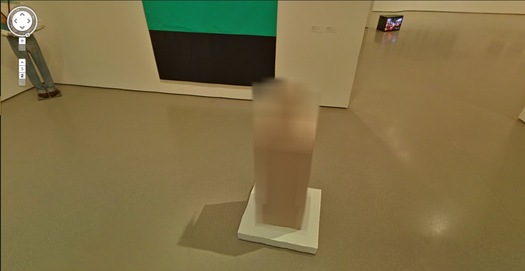 It's like an ethereal Anne Truitt. Also, don't you kind of wish that Kippenberger wasn't turned to the corner, so Museum View could blur its face? Also, it's interesting that the video monitor on the floor always has the same image in every pano. Was it on pause? Did they 'shop it in? Does it unsettle you, too, to have the simulation of moving through space without the simulation of moving through time? That is so Street View.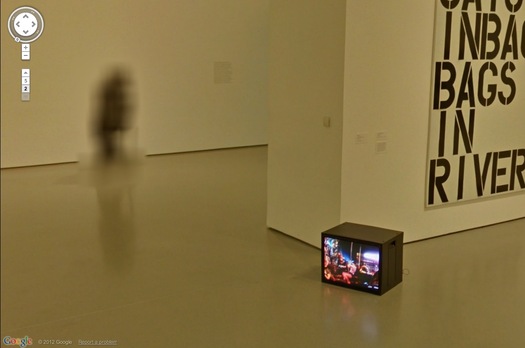 The Keith Haring mural and the Koons look great. [Which, Pace Prints just opened a show of another Haring mural, a unique silk screened scroll of his Blueprint Portfolio.]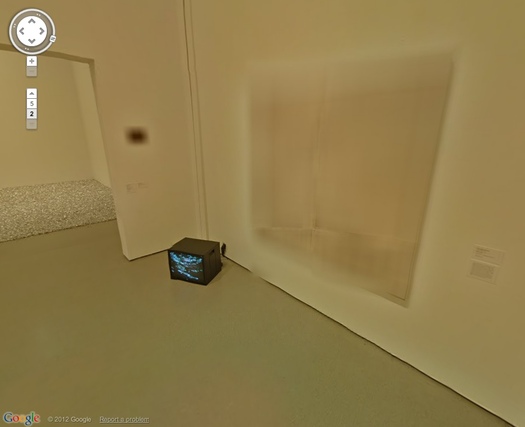 Ahh, but we're here for the blur. Ooh, a very nice double blur from George Condo [right, really?] and Jenny Holzer [left, really? REALLY? Did she maybe insist on the obscuring blur to promote her redacted documents-as-minimalist-paintings show at Skarstedt?]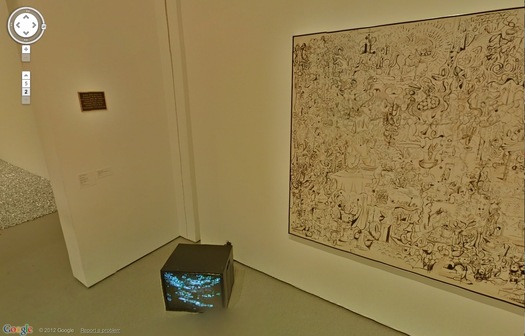 But take another click forward, and the veil drops again, momentarily, whatever that means on GSV's frozen timeframe.


This is awesome, what the algorithm stitching this pano together did to this Holzer bronze plaque. Perfect, really, and such a conveniently discrete, little object. I think I could have that 3D printed before I have it cast.
Such Google Maps-generated anomalies are ususally site-specific by definition. And recreating them is entirely dependent on the alignment of anomaly, real space, and aesthetics. Like the piece I installed in Brian Dupont's Extra Gallery last fall which translated the [fortunately] misaligned Street View seam running through their window into real space.
As Google Maps gets more hi-res, these noticeable differences between the real world and its corporate map simulacrum will diminish, if not disappear altogether. So it seems important to map them, or at least to note them, and to be able to read them while we can.
MoMA Museum View [googleartproject]
Previously: les Blurmoiselles d'Avignon
Blurmany and the pixellated sublime