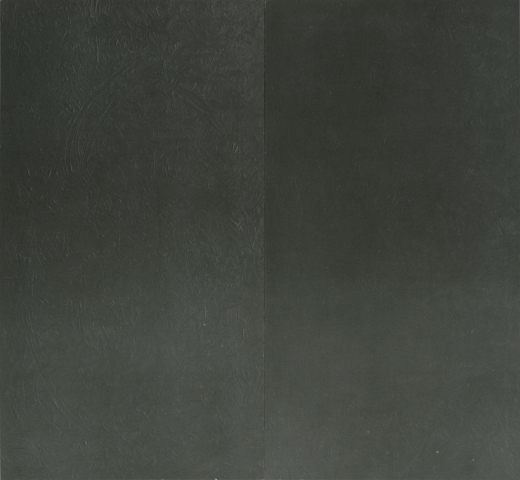 Fingerspuren/Finger Marks, with Palermo, 1970, image via gerhard-richter.com
Despite an 11-year difference in their age, Gerhard Richter and Blinky Palermo became fast friends in the early 1960s. Richter's first wife Ema sewed Palermo's groundbreaking Stoffbilder/Cloth Pictures starting in 1966, and Palermo influenced Richter's move towards readymade abstraction with the Color Chart paintings.
In 1970, while Palermo was studiosurfing among his Dusseldorf friends, he painted the first stencil/multiple version of his blue triangle over Richter's door. And then the two artists collaborated for the first time, on a painting.
Or rather, two paintings: Fingerspuren (Fingermarks) was a grey monochrome diptych, painted by hand, one side by each artist, that formed a 2-meter square whole. Palermo's canvas is the much busier one on the left.
In Dia's 2009 book on Palermo's masterpiece, To the People of New York City, Christine Mehring wrote about Fingerspuren:
It is tempting to see this as a manifestation of what many believe are differences in the artists' temperaments: Richter's more calculated, meticulous manner of painting versus Palermo's more process-oriented practice...It seems more likely that Palermo's disarrayed, isolated marks are gestures of self-assertion. After all, the gray monochrome was the domain of Palermo's friend, who furthermore relayed that the diptych originated from his own working on a gray monochrome and asking Palermo to "join in, and make one too." Fingerspuren remained a merely semi-collaborative beginning to Palermo and Richter's collaborative period.
This collaborative period was at its peak in 1971, when the duo's painted wall and sculpture installation was shown at Heiner Friedrich's gallery in Cologne, and when
Fingerspuren
was included in Richter's first major retrospective at the
Kunstverein in Dusseldorf
.
I haven't been able to find any info on the when or the how of Fingerspuren's subsequent destruction, but maybe its merely "semi-collaborative" nature accounts for some of the why.