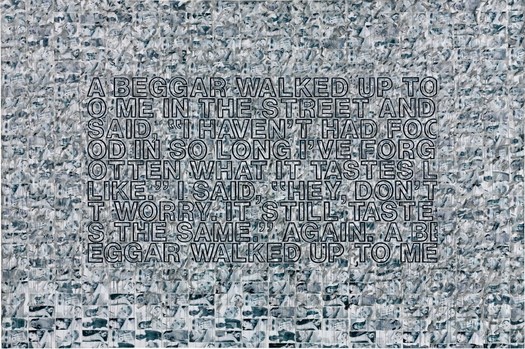 Can you tell I'm trying to clear out the to-post photos from my desktop? In Februarry Christie's sold an interesting, large Richard Prince Joke painting in London that was made in 2007. The date is significant for reasons that the lengthy catalogue description studiously avoids.
on closer inspection, beneath the dripping paint which adds such texture to the surface of Untitled (Portrait), it becomes clear that the entire background is comprised of images of the supermodel Kate Moss either topless or wearing a bikini top. Untitled (Portrait), then, is a contemporary palimpsest, a conceptual layer cake of imagery which allows Prince to juxtapose a range of seemingly discordant materials in order to play a complex game with the recognisability of celebrities from the art world and indeed the world in general: Pollock, Moss, and of course Prince himself.
The auction house namechecks Pollock, and goes on about Prince's de Kooning paintings, which he'd just completed in 2007. But the action paint-on-tearsheet collage Kate Moss painting is very similar in medium and process to the first work Prince made from Patrick Cariou's Yes Rasta photos.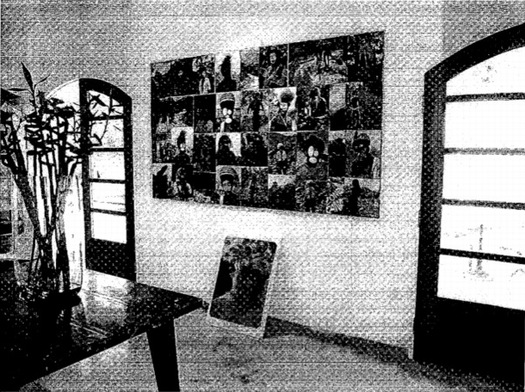 Canal Zone, 2007, Installation shot at Eden Roc Hotel, St Barth's, late 2007
The piece, actually titled Canal Zone (2007), consisted of a loose grid of 34 or so overpainted pages torn from Prince's copy of Yes Rasta, mounted on a board, and exhibited in a small show at the Eden Roc Hotel in St. Barth's over the Christmas/New Year holiday in 2007. Prince had purchased Cariou's book at a local shop, and then began writing, sketching, and painting in it over the course of his annual visits to St. Barth.
The Kate Moss painting seems to have been made in a nearly identical way, from similar source material–reproductions of highly aestheticized, black & white photography–at about the same time. It's not a stretch to imagine Cariou's photos taken–or at least simulated–by Steven Klein, just more of the same genre Prince is already working with.