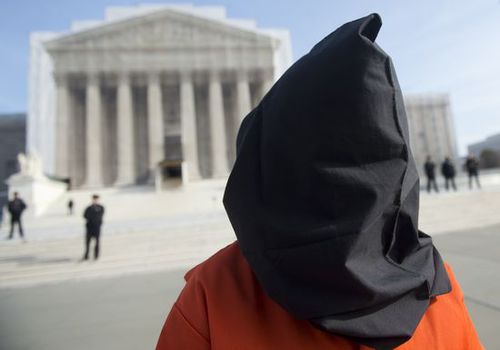 image: protestor in front of the US Supreme Court on Jan. 8, 2013, the 11th anniversary of the opening of the Guantanamo prison. by Saul Loeb for AFP/Getty
I've been meaning for a couple of weeks now to post a photo of the extraordinary construction scrim on the front of the US Supreme Court, which has a full-scale photo reproduction of the actual building. Here we go, since this tweet:
This is art RT @wayneandwax: whoa RT @matthewstoller: The Supreme Court is covered with a Supreme Court themed tarp.

— John Pyper (@johnpyper) December 19, 2012
I had no idea. So I looked it up. And was troubled by the fact that I had no idea it had been in place since last May. During the 21-month west facade stone restoration project, "The scaffolding and ongoing conservation work will be concealed by a scrim that will mimic the Court's architecture."
The Supreme Court building was designed by Cass Gilbert with John Rockart, and completed only in 1935. From its overall classical Greek temple design to the sculptures on the facades to the smallest ornamentations of the bronze flagpoles and handrails, is highly symbolic. As Chief Justice Charles Evans Hughes said at the laying of the cornerstone in 1932, its very creation and existence are symbolic:
The Republic endures and this is the symbol of its faith…the national ideal of justice in the highest sphere of activity.
So it is entirely appropriate, then, to take a symbolic view of the scrim as well, and its illusionistic simulation of Equal Justice Under Law. As symbolic curtains go, it's the most inadvertently damning drapery since Colin Powell covered up the UN Security Council's Guernica tapestry in 2003.
The anniversary of Guantanamo coincided with the unreleased ruling in the hearing on Pvt. Bradley Manning's illegal and abusive detention without charge. The cancer of vengeance and torture that the US government first directed only toward foreign others has spread to its treatment of our country's citizens.
And so the thing that gets me about Saul Loeb's photo above is not the hooded Abu Ghraib/GTMO/Fort Meade protestor, or the Court's photogenic tarp, but the police officers spread long the steps between them.
Interesting, related, and surprisingly full of scare quotes for a 2009 show: Ben Street's review of Goshka Macuga's Whitechapel installation about Guernica, which included the UN tapestry.