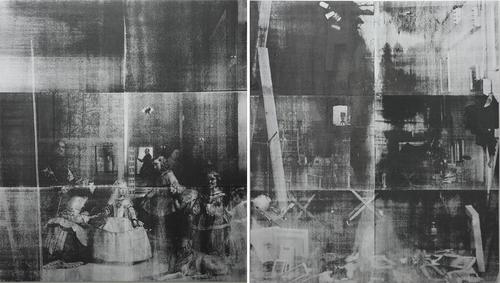 "In the future, everyone will be a foundation." –@bhqf in an art-nerdy new post by @phillipsauction: ow.ly/hrgnW

— Artsy (@artsy) February 5, 2013
From said "art-nerdy post," "Mining the Past with Bruce High Quality Foundation," published last week by Phillips on Artsy:
The overt appropriation in this work, unabashedly titled Las Meninas, is multifarious in terms of the iconographic and the aesthetic. First, with analogous titles, the left' panel of the diptych is a reproduction of the 17th-century painting by Diego Velázquez. The group portrait of the Spanish royal family (and the inclusion of a self-portrait of the artist at the easel) is iconic and stands as the Velázquez's most famous work. As Velázquez presents himself in Las Meninas (circa 1656) as an unrivalled painter welcomed into the royal sphere, the appropriation of the work refers back to BHQF's rejection of the "celebrity artist." Las Meninas (2011) is juxtaposed with a silkscreened photograph of the BHQF studio, notably absent of any artist, however, scattered with materials of art production. Both versions of Las Meninas are paintings regarding notions of the artist and ultimately reveal the processes of art-making.
Formally, the black on silver silkscreening application of BHFQ's Las Meninas serves as a visual allusion to Andy Warhol's seminal silkscreens of the sixties. By using visual codes, BHQF's specific reference to Warhol is used to further articulate the role of the artist. Warhol serves as the clear precursor to the contemporary status of superstar artists with fame, celebrity and notoriety delineating key themes in Warhol's work. Thus, through appropriation of iconography and style from icons of the past, BHQF formulates a cohesive dialogue about contemporary art practice today.
"It's been important for us to think of art history as a material, as more stuœff to work with, whether it's to honor or to disparage it. It's as much a material as anything else, wood or plaster." (BHQF in an interview with Cameron Shaw, 'Enter the Aft'erlife: A Conversation with the Bruce High Quality Foundation', Art in America, March 2009).
Las Meninas will be offered in our Contemporary Art auction, 14 February 2013, in London.
Which, yes, here is Lot 28, Bruce High Quality Foundation, Las Meninas, 2011, ESTIMATE £150,000 – 250,000:
The overt appropriation in the present lot, unabashedly titled Las Meninas, is multifarious in terms of the iconographic and the aesthetic.
First, with anal…&c. &c.
How can anyone say there's a crisis in arts writing, when art marketing companies are tweeting about blog posts by auction houses republushing the lot descriptions excerpting artist q&a's from art magazines owned by collectors, in their massive, coffee table-sized catalogues literally every quarter?
Given the nature of the work itself, I say we should celebrate this vivid example of the Bruces' influence on Phillips' et al's appropriationist literary practice as a synergistic triumph, and wish them well as they seek to clear the ambitious reserve price this week.
May 2013 Update: So I guess the 181,250 GBP this diptych brought in London inspired a collector in New York, or maybe they just realized their Bruce was just one of [several? many? a few? two?], because there is another BHQF Las Meninas coming up at auction at Sotheby's on May 15. It's the same screens, but with different pulls. Also, a lower estimate ($80-120k), presumably to target the underbidder from Phillips.