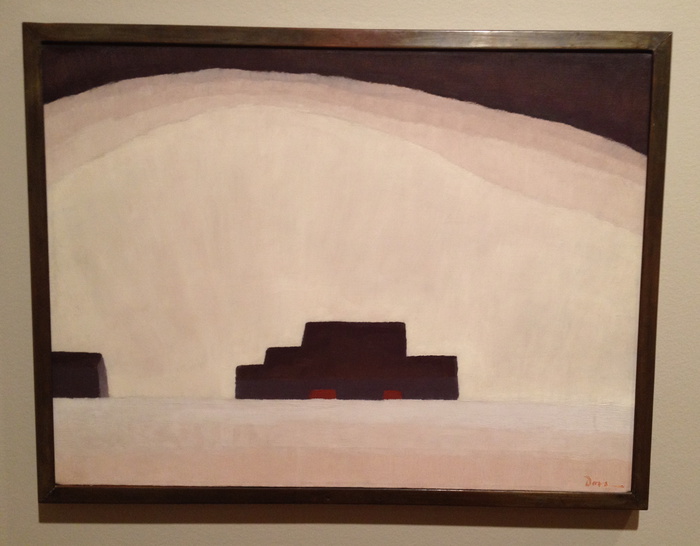 Arthur Dove, Snow Thaw, 1930, phillipscollection.org
In this interview with Hans Ulrich Obrist, Franz Erhard Walther talks about becoming interested in the early 1960s in frames:
The original idea was to have a frame with nothing in it. It asked the spectator to project his or her idea, image, object, whatever. So, a projection field. Through the decades, it's a main theme for me, working with a frame, and the idea of projection, filling the frame by imagination.
Which I find particularly interesting because I've been looking at just the opposite: artists who paint frames around their work.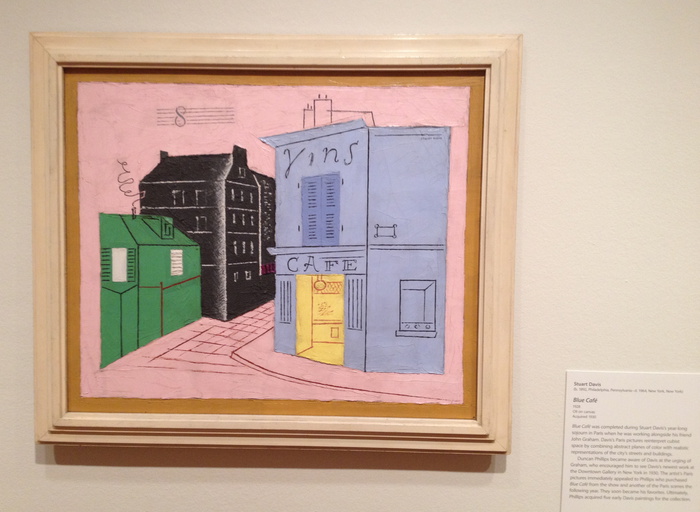 Stuart Davis, Blue Cafe, 1928, phillipscollection.org
Folks like Seurat painted his frames and considered them as integral elements of his works, of course. But at the Phillips Collection a few weeks ago, I noticed that American modernist painters like Stuart Davis and Arthur Dove were painting frames, and painting borders around their paintings. It gives the paintings a sense of self-containment, completion, wholeness, but it also sets them apart. With aluminum strips on each side Dove gave one later collage a window effect. ANd Davis did some kind of frame treatment on nearly every painting in the Phillips. [And on prints, the border of the paper beyond the stone serves the same formal function.]
I imagine it was something early modernists had to take on themselves because they didn't want some collector or dealer slapping a pie-crusty traditional frame on there. It was a control thing. But also a gesture of breaking with the norms of the established painting and art world of their day.
In either case, frames were still the place where the terms on which the artist's work met the world were set.
Also, I just love this Dove painting, even more than the many great Doves in the Phillips collection.