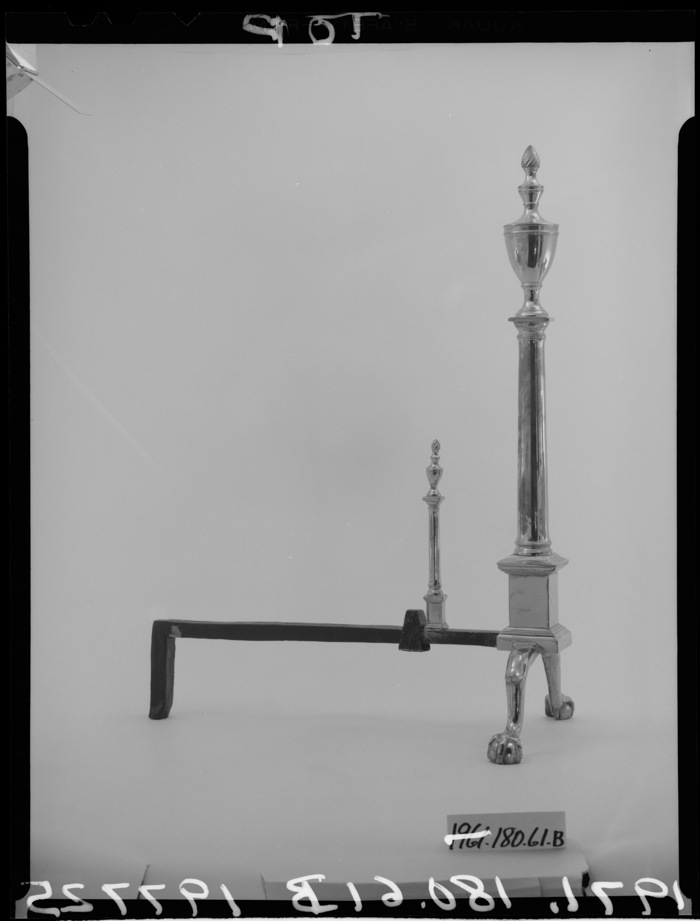 Untitled (Andiron Attributed To Paul Revere Jr.), 2014, whoops, 2015, obv
[UPDATED, see below; UPDATED AGAIN, see below that]
I am stoked (pun recognized and allowed to stand) to have a new work in the Metropolitan Museum. Despite its minty freshness, Untitled (Andiron Attributed To Paul Revere Jr.), 2014, is currently on view in The American Wing, Gallery 774, the Luce Visible Storage Gallery, officially known as the Henry R. Luce Center for the Study of American Art.
I have not seen it installed yet–I just made it a few minutes ago, cut me some slack–if you're at the Met, maybe swing by and send me a pic? Ideally, the piece should be installed just as it's depicted in this beautiful photo.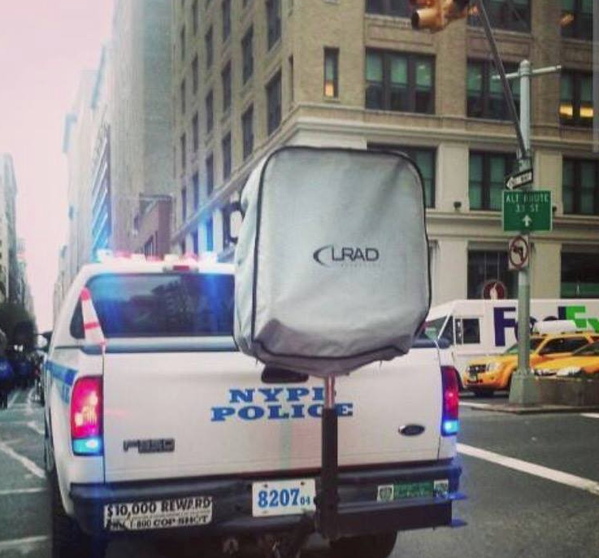 Installation view: Protestors' Folding Item (LRAD 500X/500X-RE), ink on Cordura, nylon webbing, LRAD, 2014, Currently: NYPD Order Control Unit
Unlike a related work, Protestors' Folding Item, though, this piece doesn't have one, required exhibition format. That work resides in the NYPD, which is proving itself to be seriously unaccustomed to handling artworks and regularly unwilling to exhibit it as it was designed and intended to be seen. For now, though, we'll assume the Met knows what they're doing. If we ever needed to show the work outside the Met, and loans didn't work out, I might even be fine with this image. It's just that good.
Actually that's probably not a safe assumption at this point, just minutes into the artwork's existence. The NYPD's egregious VARA violations notwithstanding, I am really liking this way of working; I say custody of that found object is as overrated as the artist's mark. Appropriating objects who've already found a place in the world takes a lot off my plate, and I'm glad. It sure helps my logistics. I don't need to rely on collectors to steward the work, or worse, leaving my kids a storage unit full of unsold merch, And while there are certainly ways I could imagine selling the work, it will exist just fine apart from the vagaries of the market.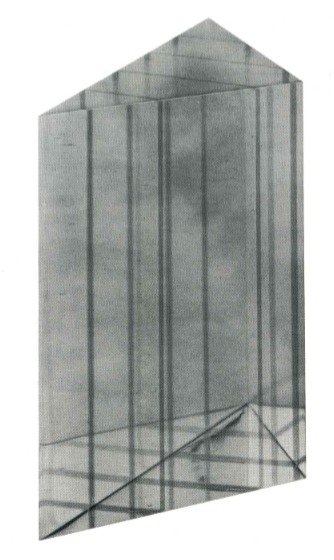 The challenges instead are informational: it depends on what your definition of in is. I'm thinking about the LA artist Terry O'Shea, who delivered the work LACMA had acquired [above] by throwing it into the La Brea Tar Pits. Or more recently, the sculptures Jamie Isenstein showed as video projections at Andrew Kreps in 2010 [below]. The JFK chairs Danh Vo bought at auction and dismantled into his own sculpture seem positively classical.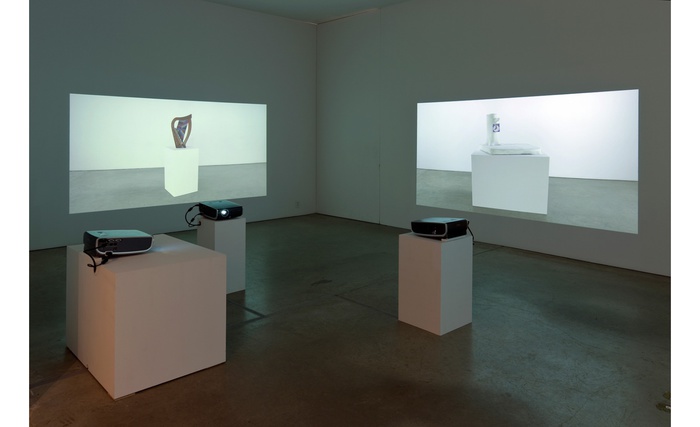 As for Untitled (Andiron Attributed To Paul Revere Jr.) itself, I mean, my gosh, it just broke my heart, right there in my search results. What is sadder than a single andiron? Can you look at it without imagining its missing pair? No, you can't.
It's not just a "useless object,"; its usefulness has been torn from it. It's postively bereft of use; it's had sculpture forced upon it. The Revere attribution only deepens the pain, like complimenting someone's dress at a funeral. 230 years of history, and 45 in the Met's collection and we still can't pin down that Revere connection? It does not get better.
The andiron itself came into the Met's collection via one of the American Wing's earliest supporters, Mrs. Giles (Flora) Whiting. An early investor in IBM, Mrs. Whiting also had a keen eye for American decorative arts. And she was a photographer of flora. After her death, the Museum accepted a veritable 740 Parkful of American furniture and housewares, and some gelatin silver prints, which have yet to be digitized. Mrs. Whiting's works are thus in the Met, but are entirely unseen, the diametric opposite situation of Untitled (Andiron Attributed To Paul Revere Jr.). Perhaps a two-person show is in order.
JAN 22 UPDATE: So this piece is turning out well, if not at all how I expected. Which, actually, is what I'd hoped, but how can you ever know?
After this post got a bit of attention on the networks, I thought the next step would be to get a photo of the andiron installed. This was Saturday afternoon, and I searched Twitter for anyone I knew who was at the Met. Then I widened the search for 4sq/swarm users, then anyone posting pics at that moment from the museum. I obviously recognized asking a stranger to take a pic for me would be atypical, but I also figured it could be no odder or more annoying that being stopped and handed a camera by a tourist on the street.
Yeah no. One person who was there, with whom I shared at least a dozen follow/ers ignored or didn't see the tweet request. One did, and apologized that she'd already left the museum. A third was very upset, called me a creep, and blocked me. I apologized, and admitted I had literally not imagined this response at all, and was upset and disappointed by it.
Then #MuseumSelfie Day came yesterday, where asking strangers to take pics in a museum suddenly became an institutionally mandated, hashtag-enabled thing. I tweeted my pitch, then followed up with an offer to paypal $10 to the first person to send me a #museumselfie with the andiron. I repeated the pitch several times during the day. I upped it to $20 in the afternoon. I rightly foresaw failure at 5:15, just before the Met closed. [I should also give a shoutout to Man Bartlett, who, though in a residency in Louisville, immediately tweeted a selfie w/the pic of the andiron on his screen. Like the guy who got a million frequent flyer miles from yogurt packs, I had to acknowledge his reflexes and ingenuity by sending him $10.]
This piece was supposed to be about the loneliness, uselessness, and identity crisis of the andiron, not me.
I joked with someone that the andiron abandoned in the museum's far off vitrine now felt like a baby trapped in a well. I marveled at my despondence, and tried to parse the sheer absurdity and arbitrariness of every aspect of this piece, this project, the social graph, the social compact, the emotions I felt, the reactions it engendered. Completely conjured up out of and about nothing but words, a picture, a fireplace tool, and the socializations around me. [The sharpest response to my $10 offer yesterday was, "Still with the andiron?"] Whatever they are into, idk, but the networks I'm embedded in are not looking to me for impulsive art stunts. I am quite comfortable with this.
Perhaps this approach is also wrong, or wrong for this piece. It doesn't work to stir a mob to a Franco frenzy over a remote and minor museum artifact; this is the net art equivalent of looking for your keys under a streetlight. Maybe I'll go for the slow burn, or the random reaction.
So don't go jamming uptown to the Met for me. Please. Just consider the andiron. Engage the andiron. Contemplate the andiron. Experience the andiron. The next time you're at the museum, visit the andiron. Think about checking out the andiron. Decide not to check out the andiron, because srsly? Realize on the way out that you forgot to check out the andiron. And if you get a pic, great, send it along.
JAN 26 UPDATE
Well this is great. Yesterday, Saturday afternoon, I started seeing tweets from Michael Sarff, who has entered the Met's Luce Visible Storage Gallery, only to find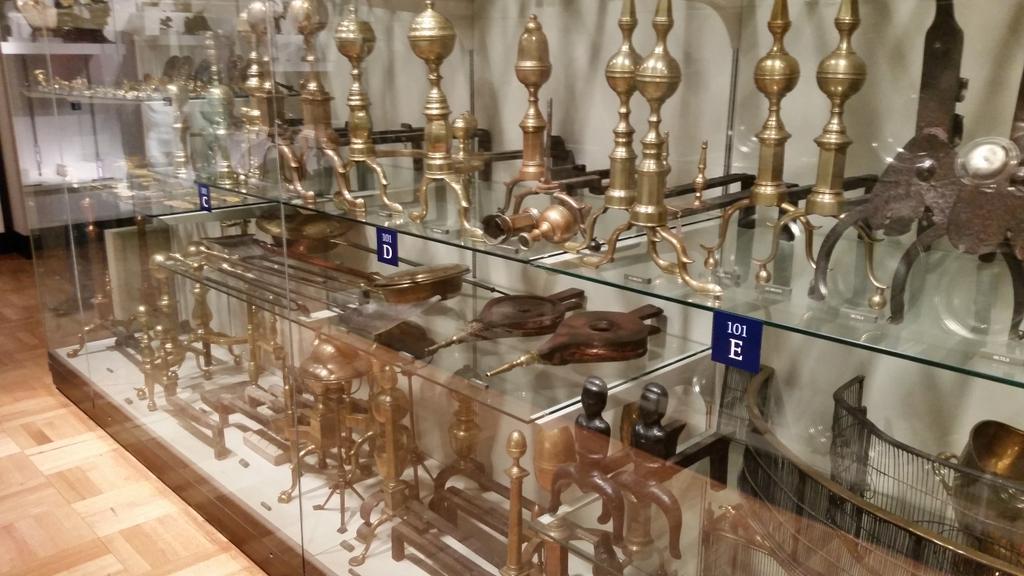 Dang @gregorg this is a needle in haystack problem pic.twitter.com/0cX3L6wJey

— michael sarff (@mriver) January 24, 2015
several cases stuffed with andirons. A grid of andirons. Visible storage is like an IRL Google Images search result.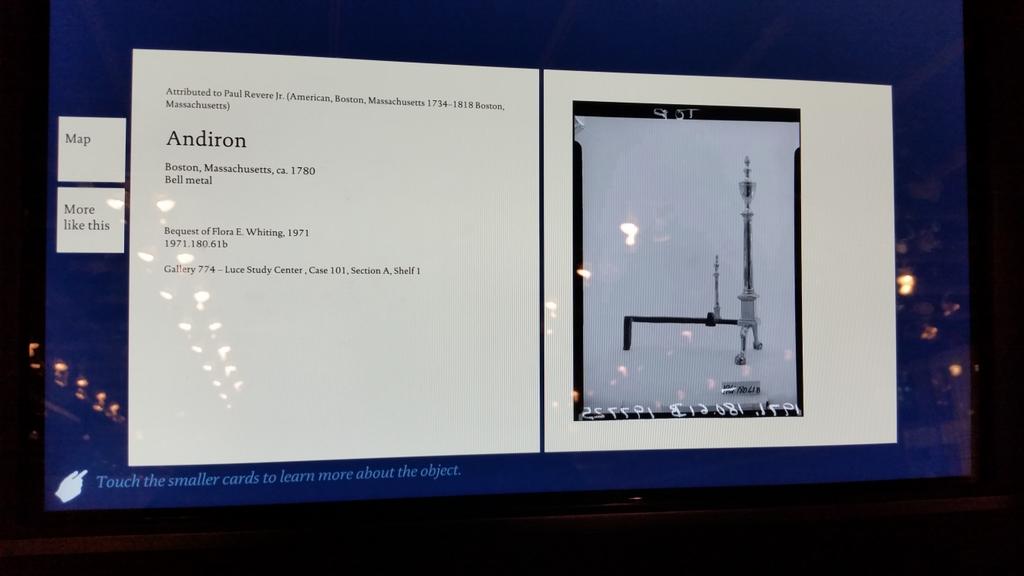 Ok. @gregorg This helps – Case 101 section A shelf 1 pic.twitter.com/ZZGFGf0WaU

— michael sarff (@mriver) January 24, 2015
But there's the pic, with a precise location, a specific resource locator.
And here they are @gregorg pic.twitter.com/MjNEnKxqMM

— michael sarff (@mriver) January 24, 2015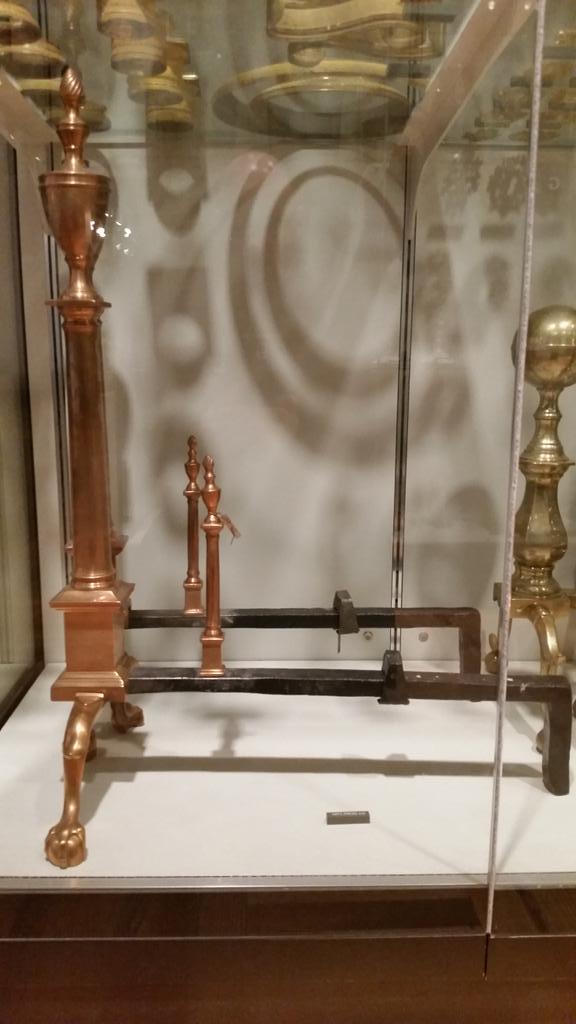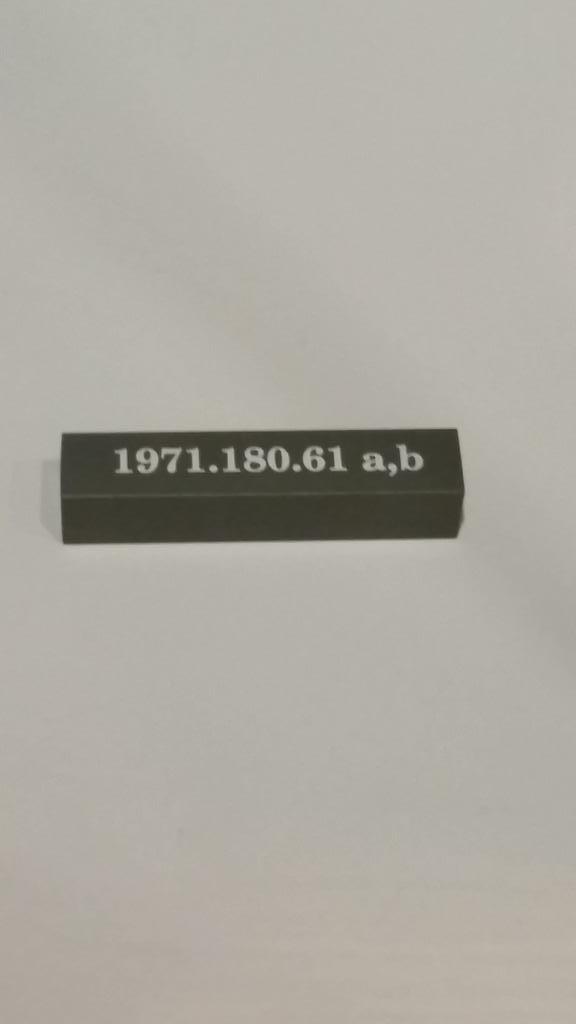 And holy smokes, what is this? THEY? Wasn't there just one? No. There is another. The andiron is a secret twin. It wrecks my loneliness narrative, but the secret twin plot twist is a fair tradeoff. How did this happen? Inattention on my part, surely, plus maybe I was searching the Met's collection database with the "show only objects with images" box checked?



Andiron (Attributed to Paul Revere, Jr.), no image. via:metmuseum.org
Basically, I think I did see this, but didn't understand that each andiron was entered into the collection with its own accession number. There are two other entries for andirons by Revere, not just attributed to, and they each show a pair of andirons. So I read them as two pairs, and the unphotographed andiron as an unworthy pair, and the lone andiron as a loner. The a/b object numbers make the situation clearer, but in the heat of creation, I missed it.
I didn't have long to contemplate this error, though, before another tweet came in:
@gregorg @mriver guess where I am

— Paul Soulellis (@soulellis) January 24, 2015
Paul is clearly a connoisseur of the gridded image search result:
@gregorg @mriver pic.twitter.com/CxTArYapYp

— Paul Soulellis (@soulellis) January 24, 2015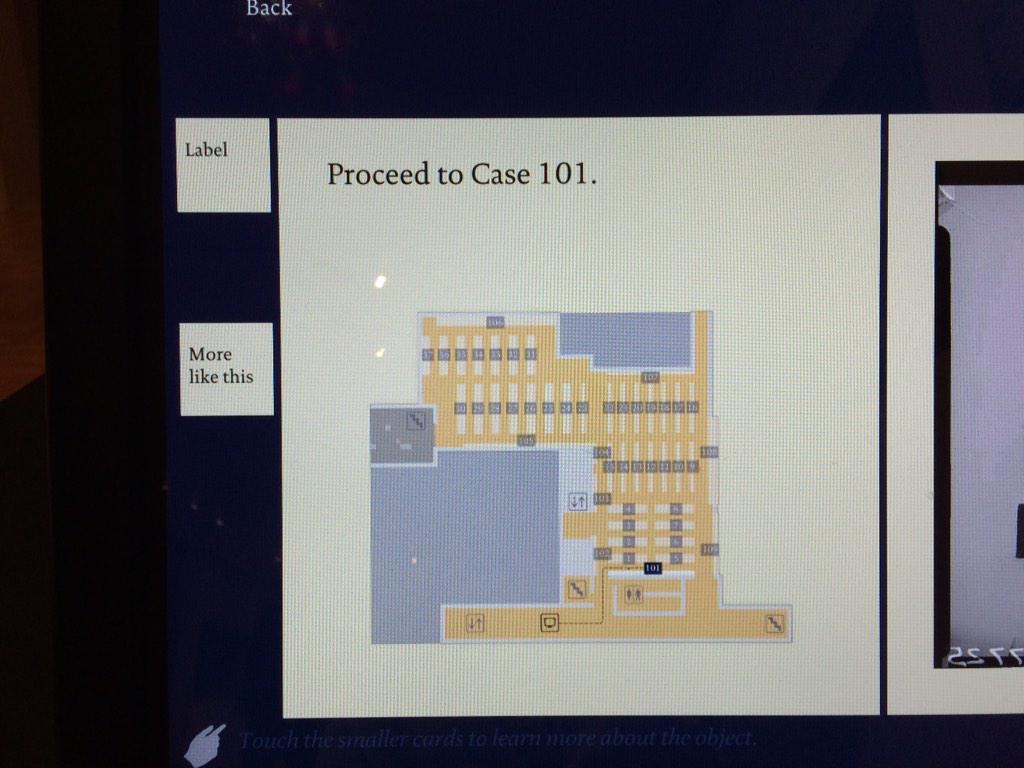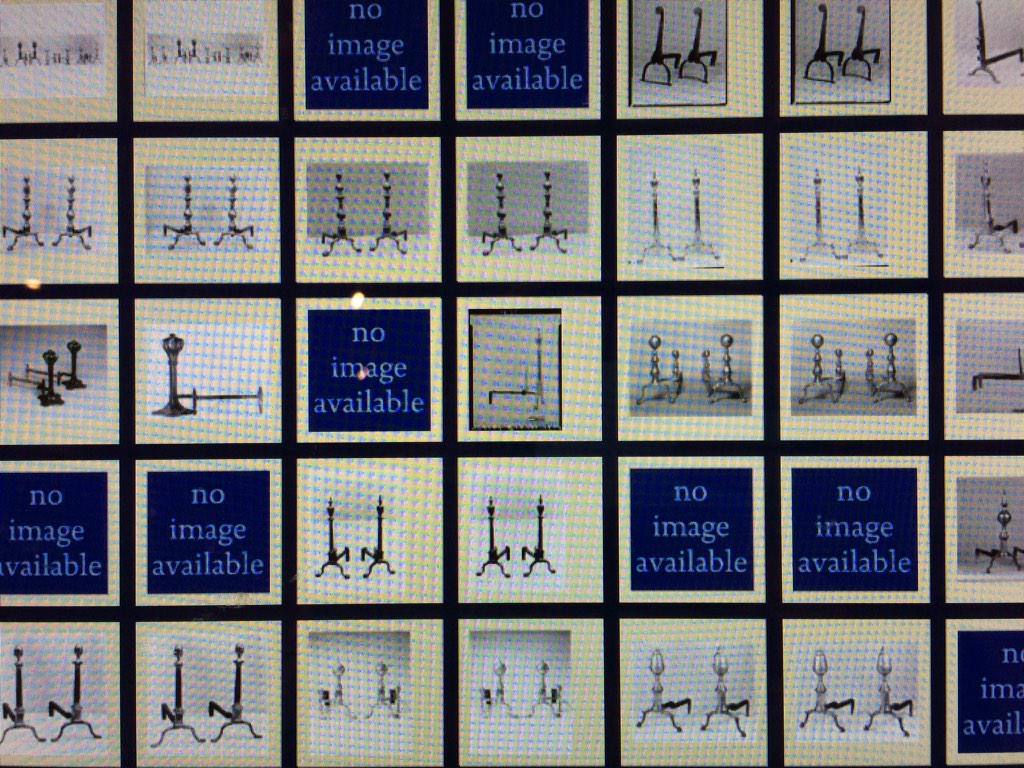 And of the #museumselfie: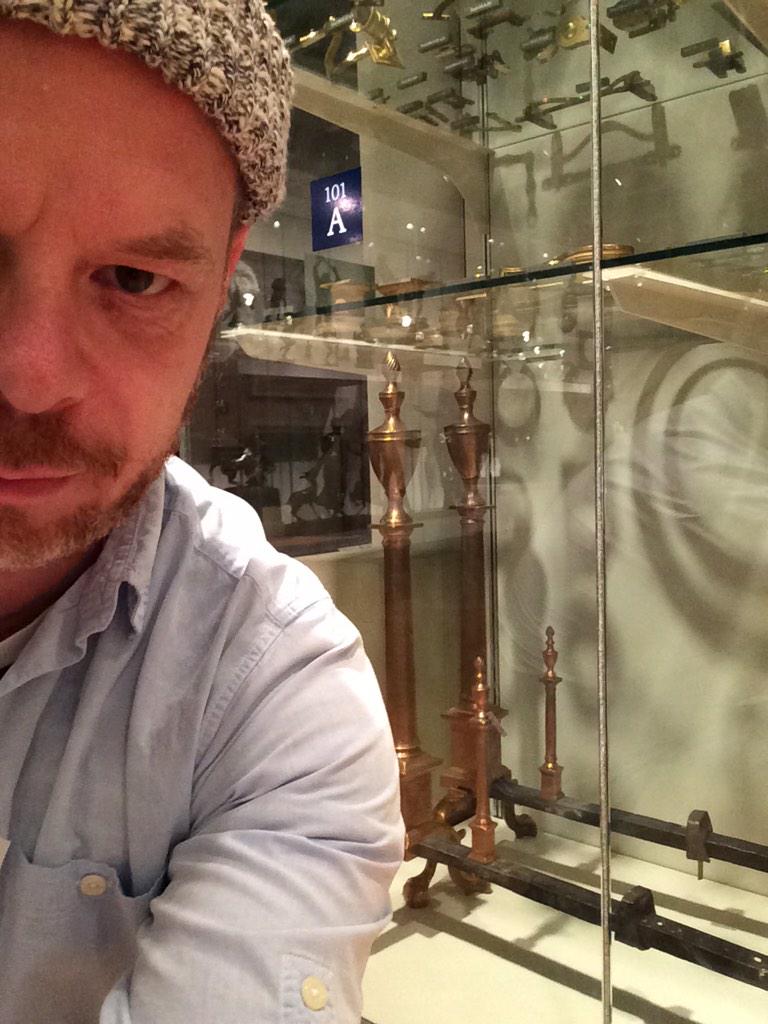 @gregorg @mriver #andiron #artselfie #museumselfie pic.twitter.com/0Ewt1nm0UM

— Paul Soulellis (@soulellis) January 24, 2015
John Powers joked that this could be an edition of 2? A knockoff? Right now I'm inclined to leave the work as it is, with the one andiron, and maybe review my Sturtevant playbook on the interaction between images and difference. In any case, declaring the work turns out to be the easy, offhand part; the rest of it is more unpredictable.
Andiron Attributed to Paul Revere Jr. [metmuseum.org]
Thanks to both Michael (@mriver) and Paul (@soulellis) for the assist